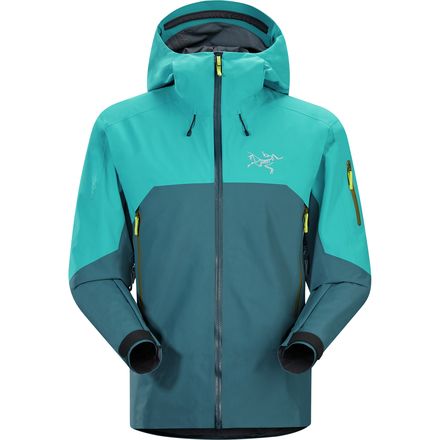 Detail Images

Videos

Community Images
Description
Durability without the tarp effect.
When you're part of a big family, everyone knows the first kid is the experiment, the middle child blends into the background, and the baby of the family is spoiled beyond belief. As the third child in the Arc'teryx Whiteline jacket family, the Men's Rush Jacket is a sweet little combo of utter toughness and luxurious comfort in a guaranteed waterproof, guaranteed breathable hardshell. Whether you're commuting in Chicago or ripping through the snow in Colorado, you'll be in no hurry to get inside when you have this storm-busting jacket.

By using two different densities of Gore-Tex Pro fabric, the Rush jacket provides durable weather protection in a comfortable, flexible shell. Sure, it'd be cheaper to buy a blue tarp from the hardware store, but how well can you layer under that flapping plastic, let alone creep quietly through freshly fallen snow? In addition to being soft and quiet, Gore-Tex Pro is designed for bouts of intense activity with plenty of rest in between. When you're skinning up a steep section, the fabric breathes so you don't drown in a puddle of your own sweat. If you're stopping for lunch, photo ops, or a quick potty break, Gore-Tex Pro won't leave you a cold, shivering mess.
The expedition fit and e3D patterning leaves loads of room for layers to optimize your experience. A silkweight shirt might suffice for spring corn, while you'll need a few tiers of thermal layers for a backcountry adventure in the high Rockies come February. The helmet-compatible hood rotates with your head to avoid blind spots. The powder skirt features the Slide n' Loc attachment so you can create an Arc'teryx snow suit for full-bodied weatherproofing.

Gore-Tex Pro
80D nylon plain weave on shoulders, elbows, hood
40D nylon ripstop on torso, sleeves
Expedition fit, e3D patterning
Underarm vents, WaterTight Vislon zippers
Powder skirt, Slide n' Loc attachment
Hood, helmet-compatible
Unanswered Question
Im looking to purchase this jacket. I am 5'7 and 145lbs with a 40 inch chest. What size should I get? This would by my primary ski jacket so I would layer accordingly under.
Ultimate Winter Shell
Familiarity:

I've put it through the wringer

Fit:

True to size
I've got a few Arc'teryx pieces and this is my favorite. Typical of all other Arc'teryx products, the craftsmanship is impeccable. Top quality and fine attention to detail.

This shell is great as a ski shell because it is cut a bit roomier than the most fitted Arc'teryx jackets, which means you can layer properly underneath it. If you need to put a down jacket on for the coldest days, you don't feel constricted by a restricting cut.

The simple design is well thought out with big pockets situated in the right places for ease of use. Gore Tex Pro sheds even the harshest weather - I've never been damp or wet with this jacket.

Even though the Pro Shell is so tough, the Rush is a remarkable lightweight jacket. Even though it marketed as a winter piece, it could easily be worn as a 3 season jacket for rain, sleet, snow, you name it.

I'm 5'11 and a pretty slender 150lbs and a medium fits me great!
sweet shell
Familiarity:

I've put it through the wringer

Fit:

Runs large
I have had this jacket for two winters and its my go to jacket for all winter adventures. I probably have close to 100 days on it now and use it for BC and resort skiing. I have had in all weather conditions from negative temps up to spring conditions. Does everything you want to it do Breathes well, stays dry, ligheweight, comfortable, and packs pretty well. The pockets sit high enough that the hip belt on your pack doesnt block access and its really durable ive caught it a few times on branches and thought for sure i would rip the sleep but i comes out looking great. length is great to keep skin from being exposed.

I bought a large im 5'11 170 lb. It runs a little big and i probably would have been better with a medium. But i got a really good end of season deal. The sleeves are long which is a benefit to keep skin covered if you are stretching or reaching for something. I pay to have the sleeve shortened a little bit. If i bought the medium probably wouldnt have been an issue.
Bombproof
Familiarity:

I've put it through the wringer

Fit:

True to size
I bought this jacket last year after considering a few other models from a few other companies. I think what did it for me was the brand's stellar reputation, the design of the jacket, and the reviews.

Arc'Teryx is a great company, and they're constantly churning out great gear. My other two pieces of 'Teryx gear are the Atom AR and the Fission SV. The Atom is by far my favorite down jacket, and the Fission is the ONLY jacket I have (and need) for -40˚F/C weather. So the point here is, Arc'Teryx knows what they're doing: they make great outdoor gear that lasts.

So what about this jacket? I've used this jacket in everything from a walk in light rain on 60˚F day, to snowboarding on a -20˚F day (+ wind chill). It it perfectly windproof, it breathes very well, and it's perfectly water proof. Moreover, for being an alpinism-grade shell, it's very lightweight.

I'll share one quick story to convince you that this is the right shell for you, no matter your needs. After backpacking for about three days and ~50 miles in Norway's Jotunheimen National Park, I'd finally made it to the base of the mountain I was going to climb (Falketind). It was pouring buckets of rain, and even though the last approach had only been a couple hours of hiking, I'd been walking through it the entire time. I pitched my tarp, I crawled under it, and to my utter amazement, I was BONE dry. Now here's the good part: because it was so windy, I hadn't had much time to make my shelter wind-proof. So, after crawling in my bivy and realizing I was sleeping in a wind-tunnel, I took this jacket and hung it across the entrance. Not only did it keep out the wind (and rain) the entire night, but the next morning when I was packing up camp, it was dry within 15 minutes of wearing it. I don't know about you, but that's the kind of protection I expect. While the price may be high, this jacket still looks brand new after the months of abuse I've put it through.
Great Piece
Familiarity:

I've used it once or twice and have initial impressions

Fit:

True to size
Fits well although sleeves are a little long (better long than short, and my ape index is negative). Nice fit in core. Excellent jacket, decided on this guy over Patagonia Super Alpine.
Was looking for a new she'll but there were a lot of options and considerations (use). Was really wanting to upgrade so spent time browsing and asking questions... Talked with Emily at BC, super knowledgable and was able to help me pick out the right she'll for my needs! Thanks!!!
Awesome Jacket
Familiarity:

I've put it through the wringer

Fit:

True to size
I bought this as my primary ski jacket. I ski both in the East and West and have used the jacket in temps from -10F. This is the best ski jacket I've ever had. It is completely weather proof, sized perfectly for layering , has sufficient pockets and vents well. Also, the Gore-Tex material is great and has absorbed several hard tree limb hits without a mark. While expensive, this jacket lives up to the price.
Rush keepin' me dry in Yosemite
Staying dry on a rainy day at Taft Point.
Making the most of a Wasatch storm cycle
Love it!
Familiarity:

I've put it through the wringer

Fit:

True to size
Great jacket! Whether you are using it for skiing or just for a rain jacket, this jacket covers it all! Highly water/wind proof. It is thin, but jackets fit underneath. Recommended!
Best shell jacket out there!
Familiarity:

I've used it several times

Fit:

True to size
You cannot go wrong with an Arc'teryx shell jacket and the Rush is no exception. I'm 5'8 and 150lbs and I the medium fits perfectly. I tend to layer a bit under my shell but even if I didn't want to, the medium was my go to size. FITS TO SIZE. Arc'teryx is well known for their techy zippers that tend to last for millions of zips. The big hood is great to go over helmet when its dumping on you and feels fine going without it. Some people don't like the little higher than normal front pockets but I think they are perfectly placed. You can fit a lot into them and never feels bulky. I highly recommend the Rush!!!
Kick the tires and light the fires! See you on the slopes with your Arc'teryx Rush!
5'10" / 180-185. What size do you recommend? I don't like baggy but like to wear a vest under.
I am 5'11'' 170 lbs, I have a good fit for size M, and I still have a lot of space for layers. I think either M or L is good for you.
Fit is really good on this jacket, read my comments below on my fit. I went with Medium and am 5'-9", 160 - 165. Honestly, medium or large would probably both fit fine, but depends how much of the year you want to wear this... just winter... or spring, winter and fall. If all 3 seasons, I would go medium... Vest would prob still fit, but would also not be overly baggy in other two seasons. I can wear a t-shirt under my medium and as long as I sinch the cuffs tight around my bare wrist, I would never notice it could still fit my Mec tremblant puffy beneath it.


Hey folks,



I'm deciding between the Rush and the Sabre. Mainly for winter weather skiiing and also as a dual purpose outer shell for the winter months due to the cost of the shell.



I was definitely leaning towards the Rush... However was stuck on sizing as I don't own any other Arc'teryx shells. I am 5'-9", approx 160lbs (give or take 5bs on the time of year), 39" chest, 32" waist and fairly athletic build. However I also wanted to be able to layer my Mec Tremblant mid down layer underneath the shell for when the temp really drops and the winds pick up for casual winter wear (temps generally run coldest - 30C without wind chill here).



I was thinking medium, but can't be sure. Anyone have any words of advice here? They would be much appreciated!!



Also, my arm length is approx 23 - 24" for what it is worth.



Thanks again.


I own the rush, and I absolutely love it. I use it spring backpacking when i experience mixed conditions, and it keeps me dry no matter what get's thrown at me. And it does a great job keeping me dry skiing, and breathing so my layered jacket doesn't get wet. I am 6'2" and wear a Large, so i would recommend a medium for sure as this jacket fits a little on the large size! It's a great jacket and worth every dime! You'll love it!
I'm same size & build 5'9" 160 and have the medium Rush. get the medium. I love mine! Finishing 2nd season with it and it's never left me cold or wet. I've used it as a rain she'll in summer and used it as cold as -5 with layers in Snowshoe WV.
Awesome! Thanks for the responses guys, I ordered the medium and am very excited to recieve it. When I do get it i'll put it through the ranks with all of my baselayers, etc and report back with the fit!



Thanks again.
Hey guys,



Reporting back on my purchase. As mentioned above... 5'-9" tall, 160-ish lbs... 39" chest.. 32" waist.. Bought the medium, and I am very impressed with the fit. I plan to wear this shell as a multi purpose, 3 season shell (fall, winter, spring).. And In this case I wanted it to fit with just a 260 wool layer beneath and also be able to wear it with my Mec Tremblant down puffy underneath it + more layers if in extremely cold conditions... amazingly both fit well. The body/sleeve cut of this jacket is honestly unbelieveable. The only con to this jacket is the length of the sleeves, which are quite long, however the velcro cuffs are positioned great to tighten around large gloves or bare wrists alike. So that remedies the long sleeve issue.



The Rush is lightweight and the snowskirt is not noticable at all when not being used. I would recommend this shell to anyone. This is my first Arc'Teryx piece, but it definitely won't be my last.



Very impressed.
Bomber jacket
Gender:

Male

Familiarity:

I've put it through the wringer

Fit:

True to size
This jacket is hands down the best jacket i have ever used. I owned a patagonia powder bowl jacket for 3 seasons, it no longer repelled water so i sent it back to patagonia for store credit. Started looking for a new ski coat and found this one! I have been using this jacket for almost two seasons now, and it has done nothing but exceed all of my expectations. When It finally came time to wash it, i through it in the wash with some Nikwax tech wash. When it finished washing, fearfully, i took it out and tested its waterproofness under the sink, only to find it was more waterproof than before! The patagonia lost a bit of waterproofing everytime i washed it, even when i used wash in goretex, and i never washed it with detergent. This Jacket is 100% water proof. I took it on a spring backpacking trip even, and it kept me dry through the rain sleet and snow. The material it is made out of is EXTREMELY durable. I live in the black hills, and where i climb is all granite, very very sharp granite, and i have rock climbed in this coat numerous times this winter on nice days, and there aren't even the slightest abrasion marks. The price is a bit ridiculous, but for a lifetime guaranteed product i personally think it's worth it. I don't see myself needing a new shell for atleast 10 years. I couldn't be happier with this jacket! My only suggestion would be to add a breast pocket for easy access to cell phones or whatever else you may store in there, the pocket on the arm is pretty hard to access by yourself, especially when it comes time to zip it shut again. Besides that, this coat is absolutely amazing! and the Blue Nile color looks great! The fit is great, and still gives me a little room to grow! I usually wear an arcteryx base layer and my Patagonia Nano Air underneath this, and am perfectly warm even on 0 degree days. But i don't get cold very easily! Overall, GREAT jacket! Highly recommend it.
Excellent Choice
Familiarity:

I've put it through the wringer

Fit:

True to size
I am a 6ft weight 195 pounds so I purchased the Large green boa jacket. I added the Atom AR to this jacket for an insulation piece in Large as well. Both fit perfectly. The material is top quality but stiff out of the package. I expect that stiffness will fade with use. Jacket has buttons that connect to the arcteryx pants via the powder skirt. It is a great feature. Even the cuffs are anatomically cut for a better fit.
What is the center back length of a medium?