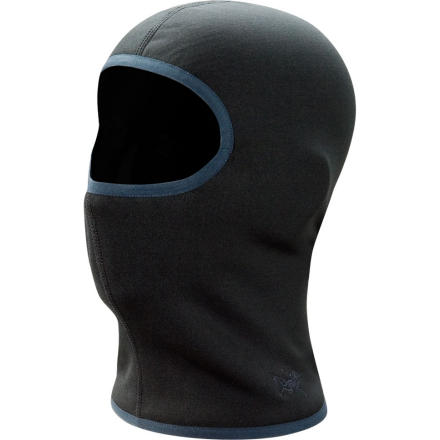 The Arc'teryx Rho Balaclava keeps your head, neck, and face warm when you're forcing your way through a nasty mountain storm. Its Polartec Power Stretch fleece material provides a close fit that's comfortable under a helmet or a hood. Wear the Rho Balaclava as a neck gaiter in nice, cool weather, or pull it up when a major storm front moves in.
What do you think about this product?
Have questions about this product?
A very warm balaclava guaranteed to keep your melon toasty when the mercury drops. Just used it for a week in Norway under my helmet and never felt cold at any stage,even when worn without the helmet. Makes a good helmet liner as well and does not "pile up" like some other liners I have used in the past. Length is also good to keep your neck warm.
Yes, that was a Street Fighter pun. And yes, there's no reason a balaclava can't be functional and make you want to scissor-kick your roommate when donned. That being said, the Rho isn't quite as long as I'd like for my tall head (it doesn't quite tuck cleanly into the base under the neck). But, the Power Stretch makes for a very comfortable and adjustable fit for the face. The eye area stretches and pulls down behind the head to act as a neck gaiter (though I wonder if stretching it that much will affect the fit over the eyes in the future). Power Stretch isn't real windproof, but I didn't want that in a balaclava because that's what shells are for. I bought it wanting breathability, with adequate insulation. Check and check. The stitching is solid and is gray-blue in color. Just another Arc'teryx design that is sleek, effective and durable. Now if you'll excuse me, I have some boards to chop.
A nice Balaclava good for when it gets really cold or you just want to look like a ninja.