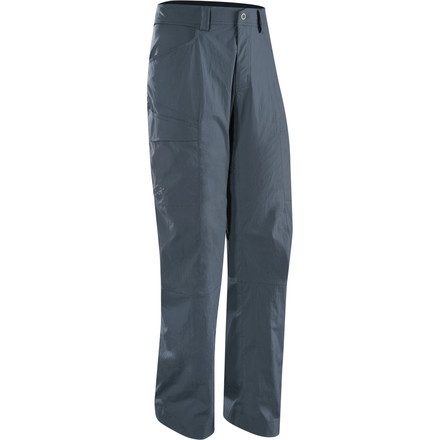 Detail Images

Videos

Community Images
Lightweight stretch nylon, a gusseted crotch, and articulated knees all add to the unrestricted feel you get in the Arc'teryx Men's Rampart Pants. Designed for the trails and cliffs, these pants can take on a multi-day hike or weekend of cragging without breaking a sweat. OK, so pants may not actually sweat―but in these lightweight pants, neither will you.

Lightweight TerraTex fabric takes the durability and quick-drying awesomeness of nylon and adds the flexibility of spandex to boost mobility
Gusseted crotch gives you free range of motion so you never feel restricted by the cut of your pants
Articulated knees are built to be the most comfortable when you're on the move
Plenty of pocket space including hip pockets, pleated thigh cargo pockets, back packets, and a thigh drop-in pocket gives you room to stash your essentials
What kind of color is "wrought iron"? Based on the pictures here, it appears to be gray--comparable to the "graphite" color from previous years. Or is it more brownish?
Best Answer
Hey ejain,



The 'Wrought Iron' is more brownish/gray than the graphite/gray from previous years. Feel free to shoot me any additional questions directly on the Rampart Pants.



Kyle

Expert Gearhead

klivingston@backcountry.com

801-736-4337
Bring back the back pocket flap!
Familiarity:

I've put it through the wringer

Fit:

Runs large

Size Purchased:

32/35 and hem longer
I love these pants for many reasons. I destroy my cloths and have sat on lava rock and while they offer no padding, sliding around on that sharp (ouch!) stuff has not compromised the seat in any way! My keys can roll around in the side pocket when I wrestle with a dog on the ground and they don't fall out because of that wonderful, easy access flap. I liked the security of having it on the back (wallet) pocket as well and miss it in the new style, though I can't say anything has fallen out of the back pockets. They work great for this less hippy female body and I get lots of compliments. I WISH they didn't end up in the wrinkled mess no matter how carefully I wash and hang them. A different fabric might not do that but then, they might not be as light and airy to wear. Great in the summer (they roll up and stay as capris nicely)and I wear the same pair for everything, construction to bushwhacking. I am hard on my cloths and while they are perpetually wrinkled, they are no worse for the abuse I have put them through during the last few years and while I am not usually comfortable sleeping in pants, I have curled up in a bag and not even notice. They don't offer any insulation, but last fall I took two pairs backpacking and just put one pair over the other when it got cold and didn't have to fuss with removing long johns. I don't think I could have stood doing that with any other pants I have ever tried on.
PS. I refuse to iron outdoor cloths no matter how much I wish they looked neater. In my opinion, that is the only thing they could have done better.
warm and solid
Familiarity:

I've used it several times

Fit:

True to size
These are not your every day summer pant as they can get toasty...but they work great in mild weather, will not get too humid, and will last forever! I do not regret this purchase at all.
Just Ok...
Familiarity:

I've put it through the wringer

Fit:

True to size
I took these pants on the John Muir Trail. First, Arcteryx makes top notch products. However, I believe that these pants did not breathe well for heavy summer hiking under a weighted pack. Also, I found that other pants dried quicker (cotton, synthetic) blend after camp washing. With that said, these pants are light and packable. Probably better in 40-50 degree weather if you are hiking under load.
My Favorite Pants yet
Familiarity:

I've put it through the wringer

Fit:

Runs large
These pants are great. The fabric is the perfect weight to wear all year. Ive worn them hiking in the winter and just rolled them up and wore them fishing on a 90 degree day. They dry very quickly but aren't the paper thin material. My legs are a bit bigger around the quad and I typically have a hard time finding pants that fit without being baggy in the waist and these are prefect.
Purchased one 3 years ago and it running old, purchase another one, still good quality and good fit :) Love it
What's the current, actual waist size for the 32x35 size? Last I checked (back in 2013) the actual waist size was 2-3 inches larger than advertised. Is this still the case?
I got the 36x32 recently. Waist is a couple of inches large and length is about an inch short. Otherwise a great comfortable pair of pants. Pockets need some work. a couple of snaps on the leg pockets really would have added a bit of security
Are these relax fit? or Trim fit?

I am 5'7" 130 lb, and always find relax hiking pants are always too baggy on me. Wonder if they make any slim fit hiking pants.



Thank you very much!
I agree about hiking while wearing a baggy pant. These are more of a relaxed fit. For a more trim fit try the Arc'terex Palisade pant. However for my size which happens to be a Sz 34 the waist size is slightly smalled with the Palisage pant.
Great pants, but no room for your boys
Familiarity:

I returned this product before using it

Fit:

Runs small
These are some great pants! The only problem I have with them is there isn't any room for your man parts. The tightness is before you start moving and climbing around in them.
One for everyday of the week
Familiarity:

I've put it through the wringer

Fit:

Runs large
I really like these pants; I've now have 5 different colors that I've collected over the past years. I am retired and am active, so I wear these every day. Ramparts are sized a bit larger than the ones from 5-7 years ago. Easy care, into the washer and dryer and wear. I get comments on the styling as I travel around the country. Universally, good comments all the way around.
Great day to day casual pants!!!
Familiarity:

I've put it through the wringer

Fit:

True to size
Hi guys!!



I got 3 of these in different colors and have used them on a daily basis for the past full year.



Pro:

Very lightweight.

Great built quality.

Easy to wash.

Wearable during rain or snow.

Easy to wear a thermal below them if you want to use them during winter.

Great for running and outdoor activities.



Cons:

Hard to iron them so they always have a wrinkly look. I find it to be cool as they are casuals anyways.

You have to wear a thermal leggings if you want to use them in the winter. This is not really a con just a thought.



They have about an Inch bigger size than expected on the waist.



All in all I have basically ripped the hell out of them by using them then non stop, putting them through many wash cycles etc. They still look as I got them on day 1. Also I get many compliments and everyone wants a piece of them.



Good buy!!



Cheers!!



PS: Like all arctryx products.. could be a little cheaper.!!!
Didn't fit me right
Familiarity:

I returned this product before using it

Fit:

True to size
Well put together! They just didn't fit me right. Too tight in the thighs. Otherwise, fit true to size
Difference in >$100 pants?
Familiarity:

I've put it through the wringer

Fit:

True to size
At first I was skeptical given that Columbia makes similar lightweight hiking pants which are 60-70 dollars less but I decided all the rave reviews were worth giving these a shot...Here is what I found.



Many of the lightweight hiking pants I see have "liners" similar to swim trunks and these have none. There is just enough elastic in the actual pants to make the fit flawless. They stretch on me roughly 1/4 inch around the waist which will be nice especially when I lose weight on a long thruhiking venture. If they made a 33x30 I would have gone with that but most of the other inseams are 32". No issues with mobility or pull and they fit me well all around with enough room in the legs for thermals under if needed. Also considering I have a fairly large butt for a guy (175lb, 5 ft 9.5") they give me enough room without feeling like spandex pants.



The pockets are also unlike any I have seen. The "main" side pockets are not as deep as they could be but they are made-up for by leg pockets which have overlapping fabric to form the closure. Yet another way they cut weight. I like that there are no snaps or zippers or buttons because there is nothing to break when in the back country,



For light bushwacking these do work but I wouldn't recommend them. To give them a good beating I walked off trail through some thistles and wild rose bushes and the pants did not rip but you can certainly feel some of the thorns through them. Nothing came out of the pockets. To top it all off, on a 90+ degree day these pant's kept me pretty cool.



They are well worth the money in my opinion for anyone very active outdoors AND looking for very lightweight pants. As a bonus, these are one of the few brands which actually look nice enough to wear outside.
Do these run long? i don't like having a...
Do these run long? i don't like having a large break at the shoes (extra material gathering at the ankles) typically a 31"L would fit just right... If those existed. Would I want these in a 30"L or 32"L. I normally wear 33x30 (if it doesn't shrink) or 33x32. I am 5'11". Thanks!
Best Answer
Normally wear 33x30 and ordered 34x30. Length fits right to me - just like a picture above. But need a belt for the waist.
Caleb, the Arc'teryx Rampart Pants will not shrink. I'd recommend a 33"x30". Enjoy!
They wont shrink and I have the same size as you and I have had no issues with them. Washed them more times than I can count!!!
Great Pants
Familiarity:

I've used it several times

Fit:

True to size
These breathe really well. I tested pouring water on my pants and within a couple minutes they were dry, it was pretty amazing. The fabric is very durable and the pockets are very handy. They are a bit noisy because of the fabric but it doesn't really bother me since i am not trying to be a ninja in them. The fit was spot on for me in the sense that they weren't snug but slightly bigger which i appreciated since i expected to wear a belt anyway.
Great Pants
Familiarity:

I've used it several times

Fit:

Runs large
I have been wearing this pants for a few weeks now. both in the city and out in the field. really comfortable and useful and also good looking. while they are not water proof they tend to ward off light drizzle, the kind that is very common in Seattle for quite a long time.

I agree they they tend to run a little large. I'm usually a size 34, and with this ones I need a belt to keep them on, It's probably advisable to order one size down.
Great the second time around.
Gender:

Male

Familiarity:

I've put it through the wringer

Fit:

True to size
I had 2 pair of the older Ramparts in 36/32. I burned a hole in one :( when an ember from our campfire landed on me. Needless to say I order 2 more of this newer version in the same size. I was hesitant when I read a few reviews. But don't worry they are inaccurate. My new 36/32's are identical in everyway. I laid them out next to the old ones and the waist, inseam and length are spot on. I wear a 36 in everyday jeans as well and I would have to say these run true to size. Great product.
Still the best pants on the market
Familiarity:

I've used it several times

Fit:

Runs large
the price is steep. but these pants are so bomber. Bug proof, breatable, stretchy and durable. I would fill my closet with these if my wallet were thick enough.



There's no excess material to manage. The material is strechy so the pants move with you, allowing for a streamlined, athletic cut. That makes these pants passable in many locations from the crag to the (Casual) dining atmosphere (my wife is not sold on this...yet).



The cut is also FINALLY long enough. with a 35" inseem, these work perfectly for taller customers. I am sure that Prana and Mountain Hardwear make great pants. I've heard they do. But they don't sell pants with inseems greater than 32, so I am out of luck.

I had hesitations about getting the 13/14 model Rampart. I loved the past design and hear the changes weren't so desirable. Wearing them now, and I am pretty happy with the cut and the pocket orientation. I will add that i did opt for the smaller waste size and can vouch for a bit of generosity there. I'd argue it's less than 2 inches, but sizing down is recommended.
Love these pants
Familiarity:

I've used it several times

Fit:

True to size
Got these pants for Christmas and absolutely love the sizing and overall fit of these pants. there are no zipper pockets on these pants but the pockets are deep and reliable for most items. I plan to use these pants while winter snow shoeing and fall/spring climbing. So far they are everything I have wanted.