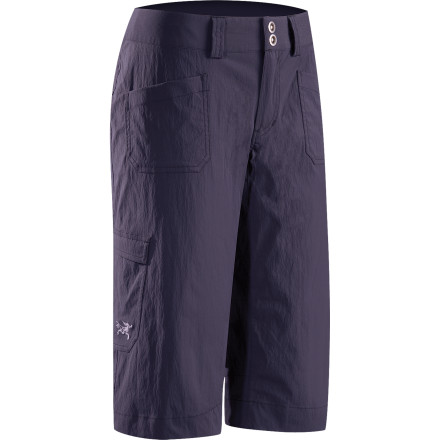 Detail Images

Community Images
Arc'teryx made the Women's Rampart Long Shorts with an ultralight stretch-nylon fabric and gusseted crotch to give hikers and climbers unlimited freedom of movement and premium comfort. The below-the-knee length makes an ideal choice for use with a climbing harness. That is, unless you're a big fan of shorts that ride up inside your leg loops. The Arc'teryx Rampart Long Shorts also come with two cargo pockets to hold a Clif Bar for long hikes or keep your cell handy, so you can call your friends and brag when you send your project. *Only available for US shipment.
:)
Gender:

Female

Familiarity:

I've used it once or twice and have initial impressions
I wear an 8/10 and got these in a 10. They fit great! I wore them around for the day and then went climbing at night. I didn't notice them at all, which means they're perfect (they stretch) for climbing and cute too! I got the blue and they're slightly more blue than jeans, a great shade!
I bought these from Steep and Cheap on a whim, and was very pleased that they fit, true to size, upon arrival.
I took them on a lightweight trip to Malta and have to say they pulled through amazingly. No wrinkles, lightweight, and breathable. I wore them everyday I was there and they looked as fresh on the last day as they did on the first.
Where can I find this same type fabric in...
Where can I find this same type fabric in a long (11-12 inch) inseam but NOT in a low rise. Doesn't anyone make a decent classic on-the-waist rise? I wish I could start my own clothing company for those of us who are aging and active! I just need help hiding wobbly thighs and holding in a pudgy tummy. Things that don't go away with exercise at my age.
The material is Terra Tex. Its only found on the rampart and palisade line. There is a short version of ramparts you could try, otherwise the palisade capris are even longer than these.
Good luck
The Palisade has a higher rise, and a fleece lined waist, in the same fabric.
With an almost 15" inseam, these are definitely LONG shorts (capris?). They fall just below the knee on me (I'm 5'6", 135-ish). I got the size 8 and they fit me well. I've got a little more in the butt/thigh area, but still find these to be flattering (probably due to the 6% lycra in the fabric). These shorts stand up well to hiking, biking, bbq-ing, and just hanging out. The only thing that has bugged me so far is the front pockets: it has been my experience that stuff falls out of them when I sit down. I started using the covered lower pocket, but it's kind of an annoyance to have a pocket and not be able to use it. Other than that, they're great!
Why I hate to order clothes on-line on-sale
I wear a 10, but these run small. When they arrived, it was clear as soon as I tried them on that I needed a 12. I would have exchanged them for any color, but there are no 12s available at backcountry.com. So, now I have to take this *&%$# package to the post office so I can mail it insured in order to get my money back. It's more of a hassle than it's worth. Next time, I'll just go to the bricks and mortar where I can try things on before I buy.
Bought a pair last minute for a trip about five months ago, and I've barely taken them off since. These shorts have a flattering and comfortable fit for my shape (muscular thighs, curvy hips and waist) and hit just below my knees (I'm 5'6"). The length is perfect for giving just enough protection, and the stretchy material is comfy, breathable, and surprisingly durable. My only gripe is that the material is "swishy" sounding, but that's what happens when you buy nylon.
My girlfriend says they rock
my girlfriend picked these up and loves em! "stretchyish and comfy", i think they look fantastic as well! especially the deep dusk color, it's a dark dark blue. very rad! 5 stars
These shorts are awesome!...My only complaint is that they are not made in canada but china. Love the fabric and the color mineral is a beautiful pale green that is much nicer than what's pictured on the website. I hope for the same high quality that I have come to expect from Arcteryx. Great price and great fit. I needed to exchange for size...usually a 4-6...the 6 were way too loose...Customer service is the BEST!
I was honestly very surprised. I often can not find long shorts that look good on my short body (5'5" on a good day). Also I have a hard time finding bottoms in general because of my rear and thighs (I am very curvy/muscular). These fit high enough in the back without gapping and were relaxed enough through the legs. The stretch of the material made them very comfortable and functional. I did a workout in them that involved a lot of squatting and had no problems at all. No chaffing or riding up. They are long enough that they will work great for climbing/bouldering and they look cute for just hanging out. Very happy with my purchase on this one and pleasantly surprised.
Another great product from Arcteryx with a excellent fit and very flattering look. The Indigo is a very nice deep and rich blue (almost a navy). These shorts work well for climbing or hiking, because the material is stretchy and light.
Bought the green pair last year and loved them so much bought the blue ones recently. The color is a dark navy and not what I expected but will be great for getting dirty on long camping and hiking trips. Fabric is very light, dries easily and so comfortable. Love the look.
these shorts are super cute and well made. they run a bit big, so go down a size. the fabric is solid and the design is flattering.
are there back pockets on these?
are there back pockets on these?
Best Answer
Lynn, check out the pic of the rampart..
posted a pic of the back of the pants
comfortable! and flattering!
I bought these thinking that I'd probably return them. I was wrong. I'm short, so these "shorts" are more like capris on me, hitting just below the knee. The fabric is amazing, lightweight and stretchy. I could do gymnastics in them. I have the Hemlock color, which is a really beautiful green. It looks great with a white shirt, for a crisp, clean, athletic look.
Love this short! Does NOT ride up, yet it's a lower rise, and is very comfortable as it has stretch. Great for hiking and climbing..very flatterting fit for a long short, too. Doesn't make you look manly. Sizing is true to fit as well
is 12 the largest size. I wear 14.???
is 12 the largest size. I wear 14.???
Best Answer
Arcteryx's website says the sizes go up to 16.http://www.arcteryx.com/product.aspx?Rampart-Long-W
the picture does not do these long shorts justice. the material is lightweight and stretchy and they fit nicely through the hips so you dont look like you are wearing some big baggy long shorts. really cute.