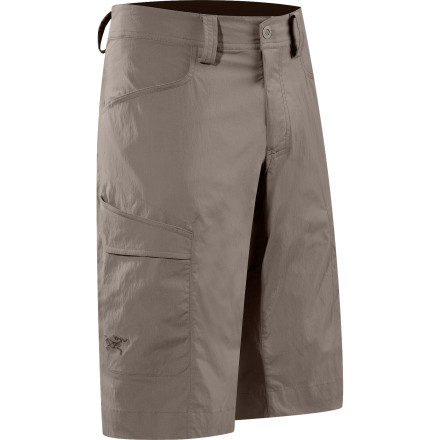 Detail Images

Community Images
Arc'teryx made the Men's Rampart Long Shorts for climbers and hikers who demand total range of motion. A gusseted crotch and stretchy fabric ensure nothing gets in your way when you're trying to send a hard crack pitch or finishing a 20-plus-mile hike. The Arc'teryx Rampart Long Shorts' contrast stitching and medium cut keep you from looking out of place when you wear them straight from the crag to the bar for celebration drinks.

Lightweight TerraTex fabric takes the durability and quick-drying awesomeness of nylon and adds the flexibility of spandex to boost mobility
Gusseted crotch and a relaxed fit give you free range of motion so you never feel restricted by the cut of your pants
Plenty of pocket space including hip pockets, pleated thigh cargo pockets, back packets, and a thigh drop-in pocket gives you room to stash your essentials
Unanswered Question
What is the length of the inseam on a 36" waist pair?
Awesome quality, terrible sizing
Familiarity:

I returned this product before using it

Fit:

Runs large
As always Arc-teryx's quality was amazing, but in the end I still had to return the shorts due to poor fit. I am usually a size 34 and ordered those but they were too small. So I returned those and got a size 36. These were way too big, so now I have to return these as well. I have 2 pairs these in the pants in size 34 and one is way bigger than the other, which I thought was a fluke but apparently it is not and Arc'teryx unfortunately has wide inconsistencies with their sizing. I am sad to say I won't be buying their products online any longer since I am just wasting my money on shipping the items back. A huge disappointment.
Good shorts.
Familiarity:

I've used it several times

Fit:

True to size
I wish the back pockets had snaps or buttons, but otherwise these are good shorts for hiking, fishing, or daily use. Lightweight and comfortable.
OK, i guess...
Familiarity:

I've put it through the wringer

Fit:

Runs small
No complaints on the performance of these shorts, they are great at taking scrapes against rocks and trees, and keeping there shape, also they repel water like a duck. Dirt comes off easily too. But i am not so impressed with the fit. I love the length, but the width of the legs are a bit narrow. That may be great for some, but even with the stretch of the material, I find it a little narrower and more restricting than i am used to. (ie.-Marmot Approach shorts). For the money, i think i could have done better. I mostly wear them for work now, as all the pockets come in handy.
Old versions were awesome, skip this one
Familiarity:

I've put it through the wringer

Fit:

True to size
Arcteryx joins the ranks of companies that just had to ruin a great thing. Two versions ago these shorts were clearly the best available by anybody. The last version was still really good, but they fudged with the button and the fit enough that they were no longer perfect. Now this pair has a gaping open pocket on the right leg with no flap to keep things from falling in or out of it. You can forget amphibious tactics with the new style; as you lift out that pocket fills with water and strips you bare. If I could find the version from three years ago, I'd buy 10 pairs right now (a lifetime supply). I'm not keeping these though.
No Need to Cinch It
Familiarity:

I've used it several times

Fit:

Runs small
These shorts are well made and I'm really pleased with them. But, I have massive tree trunk legs, and I wear a 36 inch waist. Generally speaking, the ratio of waist to leg room doesn't work in these shorts if these are considered "relaxed fit." If it weren't for the stretchy flexibility in the fabric, I would have ripped a massive seem the first day wearing these shorts on the trail.



That being said, after getting use to the "relaxed fit," I really like these shorts and will consider buying another style in the near future. When you find a pair of shorts you really like, you have to at least buy another 3 pairs of them :D
What is inseam length? Also it would be...
What is inseam length? Also it would be nice if you listed this information for all of your shorts right up front not just some because it's getting really, really old having to click on every single short description that doesn't list it to get to this page to see is or isn't the short long enough. Sometimes I find yest it is, but mostly I discover no it is not. This is really, really annoying and makes shopping this site not at all relaxing or enjoyable. Even better - how about a tall and extra short section? I bet short guys/moms of short guys shopping for their sons get just as sick as I am shopping for my tall son - having to go into every little thing just to find out - nope I/the person I'm shopping for can't wear that. They could have told me that a page ago but didn't bother so now I have to. I mean it's not like I'm asking you to on the front page include a novel just 9", 12", 16" it really doesn't take that much space and you do it on many of the items you sell. Please update this site and make it easier to shop. Seriously if you're going to charge me $98.95 for a pair of shorts I don't need things to be anymore painful than what they are. At those prices I'd be working hard to fast figure out how to make it easy, breezy, simple and fun rather than a headache to shop here if I were the seller.
Best Answer
RLSunda,

I am sorry for the inconvenience you're experiencing in finding the information you desire; I know how frustrating it can be to locate certain measurements, especially for clothing. I am ignorant of listing procedures for the clothing and gear that BC posts on their website, so I cannot say why they don't have that information readily available when pertaining to this short, or any other for that matter. However, I'm certain that BC employees will take your suggestion into account and hopefully work to update their stock listings accordingly.

In any case, I did some looking around and found a couple measurements for inseam length regarding this short to answer your question. On REI, they list that particular measurement as being 12.5 inches, but on Arc'teryx's own website, as well as on a couple others I found, it's listed as being 13.1 inches (33.5 cm), so that is the measurement I would keep in mind when figuring out which size to purchase. However, also be cognizant of the fact that that latter length may vary +/- .1 - .2 inches depending on the waist size selected.

I hope this helps, and please don't hesitate to continue to ask questions and make suggestions. Sorry again for the frustration.
Best shorts I've used
Familiarity:

I've put it through the wringer

Fit:

True to size
As usual, Arc'Teryx=a cut above the rest. I've had my Rampart shorts for over 3 years now and they don't look any different than when they were new. The fit is spot on and the snap closure system is great. Pockets are low profile so these don't have that lame cargo short look. The flap system is secure, and while I wouldn't trust them like zippered pockets, this does keep the weight down and increases comfort. Fabric is amazingly stretchy and even a little water repellent, plus holds up better to abrasion than you would expect. These are perfect for hiking even on long backpacking trips and move well under a harness for climbing, not to mention look great around town as well. You can catch these on sale occasionally, you will be glad you snagged at least one pair.
live in these shorts
Familiarity:

I've put it through the wringer

Fit:

Runs large
I have two pairs of these and about three pairs of some excellent mountain hardwear shorts with an integrated belt. These, like the rampart pants from 2012 are the best gear I own. Though the rampart short doesn't come with a belt, it accepts anything (even an elastic fishing or Arcade brand belt).

The elastic material is mosquito proof (admittedly more relevant for the pants...) and flexes with you. The length is great for comfort and style. I don't feel like a G.I. in the Pacific, nor am I tempted to make a fast break or take it to the hole.

The pockets are sleek. They stay smooth to the hips but accept hands without a problem. The thigh pockets are a great place to lose my wedding ring without fear it'll fall out. The top flap stays secure.

I've not managed to wear any holes in the material despite some pretty rough use. I'm expecting these shorts to go out of fashion before they have a blow out.
Does anyone know what the outseam is on...
Does anyone know what the outseam is on these in a size 36??
Not finding any specs on the outseam, but I found that the inseam is about 13". Hope this helps!
Thanks but I found that info . . . . need the outseam to accurately know where they will fall on my gangly 6'6" legs . . . . if anyone knows, please share.
Good shorts, not great enough to keep
Like all Arcteryx products, these shorts are exceptionally crafted. I especially liked the design of a cargo pocket which uses a flap, instead of finicky zippers.

The material and attention to detail are immaculate. Style is sharp.



I ultimately decided to return these because of issues with fitting and the material being a little too warm to my liking. Most Arcteryx pants/shorts are designed for those with flat butts, so if you have pronounced hips like me, these aren't a good fit. Even though I can put them on okay because of the stretchiness of the material, I just don't feel that they warrant the $90 price tag. Try them on before you buy.
Extremely reliable and functional,yet lightweight.
You wouldn't get this from any other guy
I wore these sport climbing in Canada, hiking in Puerto Rico, snorkeling in the Virgin Islands, and everywhere in between, and they are true to form. I knew what I expected when I thew down a fat wad of cash for one pair of shorts (I have the regular length), and they do not disappoint. They stretch a bit when soaked, and they get pretty stiff when you don't wash them for a couple weeks (what? we're all dirtbags here!), but they are extremely reliable and functional. They are never gonna give you up. They're never gonna let you down. They're never gonna run around and desert you. They're never gonna make you cry, never gonna say goodbye, and they're never gonna tell a lie and hurt you.



(we're no strangers to love.)