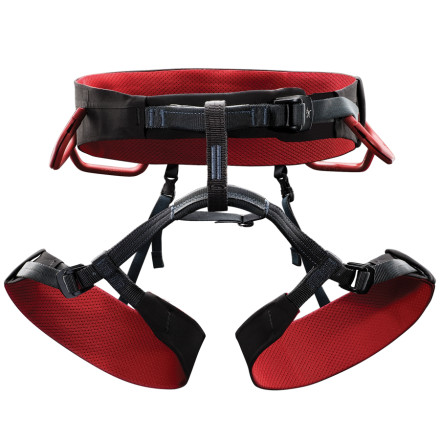 Community Images
Wrap Strength Technology gives the Arc'teryx R320a Harness a level of comfort that far surpasses nearly any other harness while reducing weight to about half that of a similarly sized harness. This unique construction spreads your weight over the entire surface area of the harness to support and cushion your body without the need for heavy, bulky padding. Not only are the leg loops adjustable, but they're also completely removable so you can take them off and have a little more comfort if you end up at a bivy. All of the buckles are self-locking and quick-adjust so you can't forget to double back and can make quick tweaks to the fit whenever you'd like. Take all of this into consideration, and you're going to have a hard time finding a better harness for long, hard free routes.

Large belt and leg loops have Wrap Strength Technology that evenly supports your weight across the entire harness
Wrap Strength Technology reduces the overall weight of the harness without compromising comfort
Self-locking, quick-adjust buckles add an additional layer of safety
Wear safety markers on belay loop and tie-in points let you know when it's time to retire this harness
Four gear loops hold everything you need for multi-pitch routes
Fully adjustable, completely removable leg loops easily handle changes in layers and open bivies
Vapor Mesh fabric improves breathability and keeps you more comfortable while you send
Unfortunately we are all out of this harness right now and do not currently have any on order, that doesn't mean that we will not be getting more in stock in the future. Best bet would be to keep checking back to see when we will have more available.
Ultralight & ultracomfy.
Familiarity:

I've put it through the wringer
This harness may be the last harness I ever purchase--not that I plan on it lasting for the rest of my life, but I don't ever see myself getting anything different--sure, I have an ice-specific harness for the few months of the year when Utah is frozen over, but other than that, I'm in my r320 every day I go out--whether it be for toproping laps in the gym or wall climbing in zion.



Not only is this harness super comfortable, it's also super durable. I've put tons and tons of pitches on it, and it's been holding up like a champ. Even though the price tag is a little bit steeper on the r320, I feel like the difference in quality more than makes up for the price difference. This harness is amazing.



Bottom line: Whatever you do, this harness will do it well and keep you comfortable, too.
Lightweight and durable
Familiarity:

I've put it through the wringer
This is my favorite harness! You could use this all seasons of the year I plan on using it all around the year! It's an awesome harness super light and very comfortable arc'teryx makes great harnesses and my next one will defiantly be one! Super durable harness I've beat this thing.
Love It
Familiarity:

I've put it through the wringer
I love this harness. I received it as a gift about 4 months ago and have been using it four times a week since. It has held up awesome and is a dream to climb in. Probably the comfiest harness I've ever worn. I use it primarily in sport climbing but also do some trad in it. I couldnt ask for anything else and love it so much that my girlfriend wears the ladies version of it.
Not really a review, but as another reviewer as mentioned, the size guide on this is a bit off. I'm about 32" waist and the medium was too small. Unless you have lean legs, you may also have to size up.



Otherwise, the quality and the light weight of the materials are great. You know you'll usually get quality with Arc and hence you pay for it.
I was excited to get this harness, but I found it so uncomfortable that I had to return it. Basically, this harness has two major flaws.



First, the leg loops develop creases along the inside of the thighs. These creases become hard edges and dig into your skin. The creases developed in mine on the second day of use after working a sport route. After that, they were there to stay, and even belaying a partner who was working a route was painful.



The second problem is that the leg loops sit unevenly when hanging. This is caused when the leg loop tie-in point gets pinched off of center underneath the waist belt tie-in point. This results in an uncomfortable hang and the climber must unweight the harness in order to center the leg loops. This takes effort if you're hanging on a steep route, which is when most people are more likely to hang. This flaw was especially bad on my harness because the leg loop tie-in protector was not centered on the leg loops, but I've noticed my climbing partner has the same problem with his R300, which I assume has a centered tie-in protector.



I climbed in this harness for two sessions before it developed the creases in the leg loops, and even though the harness was a perfect and snug fit for me, I expect that the waist belt would have developed the same creases at some point in the near future.



Arc'teryx has some work to do on their harnesses, because this Warp Strength design is poor. Given the exorbitant cost, a major design flaw with the creasing material and the poor workmanship evident in the off-center tie-in protector, this harness barely gets two stars.



I would get a BD Chaos if you can wear fixed gear loops. I can't, so I bought the Petzl Adjama II, which is much more comfortable than this rather weak and overpriced offering from Arc'teryx.
Not happy with this harness.
Familiarity:

I've put it through the wringer
So I've had the harness for 3 months now and wear it for climbing at least 2-4 times per week. The sizing isn't true, as one reviewer stated. I wear size 31 pants and bought the medium. I have to extend the waist loop the entire diameter to get the harness on, and I still struggle a little doing so.



My biggest gripe are the leg loops. I don't know what it is, but they sit differently than my other harnesses. I've tried adjusting them, but I can't for the life of me get a comfortable fit. The loops really ride up on the inside of your leg, and it's easy to not have all the goods in the middle. That really sucks, as you probably know. I had the most uncomfortable hanging belays when I climbed yesterday. This is not a fall friendly harness, either. I guess you get that with the more minimalist ones.



Another reviewer discussed the issues with keeping lots of trad gear on a gear loop. I've noticed one fold, and it was pretty painful on my side where I carry my cams. I am going to return the harness because I'm that unhappy with it. I'd wear my adjama any day over this thing.
Pros:

-Harness is light and fits snug and smooth which is great for gymnastic sport climbing and chimney climbing alike

-Adjustable leg loops fit over extra layers

-Warranty replacement program is outstanding

Cons

- overloading gear loops with trad gear can create permanent folds that pinch skin

-Thin material needs to be washed delicately and regularly by hand to maintain suppleness

- material on harness waist strap eventually wore through after extensive chimney climbing/off width



Would be 5 stars if it wasn't for all 3 of mine developing folds that pinch and are uncomfortable.
THE most comfortable harness I have used
Gender:

Male

Familiarity:

I've put it through the wringer
My first climb I took this harnes on was a big wall, and I loved it. Comfortable to be in all day and all night. Did not give me raw hips when I was doing the hauling. Leg loops come off for sleeping and pooping. Feels like nothing is there its so light. Buy it.
I will start by saying I am a moderately experienced climber, I have owned a few different harnesses and so far this is my favorite. It is extremely lightweight but as far as Strength goes it seems as though it holds up well. I have owned it for about a month and have made about a dozen Rappels with it. I am 6'4" and weigh 235 lbs. with this being said The harness fits very well (men's XL) It is snug where it needs to be in the waist and thighs but has a lot of room in the pelvis and groin for an extremely comfortable fit. There is no pulling or binding even while locked in. The gear loops have held up though I have not used the rear loop due to it being made of plastic. I understand that High Impact Plastics can handle weight, I just had no desire to learn by chasing after any equipment if it failed in the field. I absolutely recommend this harness to anyone looking for a great feel and comfort while climbing. Being taller I dig rig a chest harness to ensure that I stayed upright until I can test it out more. I have read reviews stating that they were concerned with how incredibly thin it is, bottom line is know your equipment and always inspect it before you use it. Enjoy!
Picked this up one year ago and never looked back. This thing is sick. By far the most comfortable harness I've ever worn in terms of all-day comfort, and then it folds up to half the size of other harnesses. Also, a smaller detail, but the gear loops feel much easier to clip than either BD or Petzl.



Leg loops might be a little tight for those with bigger thighs, but overall sizing actually felt large. I'm usually a medium, and I fit into a small cinched as tight as it can go.
Hi there, Is this arcteryx r320a harness...
Hi there, Is this arcteryx r320a harness men's black and red or black and maroon? Also do you have it in Medium?
Black and maroon. It is currently in stock in size medium (Black, M)
Light, comfortable...what's more to like in a harness?

Pluses: Light, comfy, simple, huge rigid gear loops make racking a pleasure
Minuses: Super spendy, the "haul loop" on the rear is just a piece of plastic. Probably plenty strong to haul rope, but I worry about the longevity of this piece of plastic.
I had the old 320, this one is an improvement imo. I got a large, Im 6'1" bout 200, I have large quads. The only problem with this is that when I tighten the waist belt it like bottoms out almost, (I have a 34-35" waist). and leaves an incredibly long tail to tuck away, will prob trim it. On the other side due to my quads, There is very little extra length on the leg adjustment straps. Not even long enough to tuck away under the keepers on the leg loops. So yeah its made for skinny guys with smaller thighs I suppose. I may have been able to squeeze in a medium but the leg loops wouldnt be long enough I think. I overlook these issues because this is the most comfortable and stable feeling harness Ive worn. I love it. Also doesn't constrict me in the crotch like my old 320.
I purchased this harness in Men's Large and found that the waist belt and leg loops were not true to the sizing chart; both were 2" smaller than advertised.

In the end, I went with the Arc'teryx 350a All-Around harness instead which fit closer to the sizing chart, but also has adjustable leg loops. The R320 is admittedly lighter than the 350a, and seems very comfortable. In particular, I can see the benefit of removing the buckles from the leg loops to save on weight, instead relying on heavy-duty elastic to make the loops dynamic in their sizing.
Great Harness, worth the money.
OK, I was iffy about shelling out the dough for this harness, but I was not disappointed. This thing is amazing. The Warp Strength tech on the leg loops and waist belt allow the harness to be super minimal, breathable, and extremely comfortable. But don't let the minimalism of the harness make you weary of it's safety or support capabilities, I am a beginner and fell on this thing a number of times; the conical leg loops really hold your weight nicely and if you get hot and sweaty when climbing like me, the breathable mesh is a great feature. ArcTeryx has done it once again and jumped ahead of the pack in new, innovative gear tech. Try this thing on in a store and you'll feel the difference immediately.