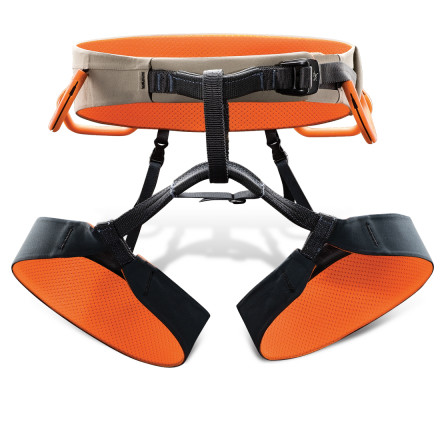 Videos

Community Images
Arc'teryx proves with the R300 harness that light weight doesn't have to equal a lack of support. To set this harness apart from the rest, Arc'teryx abandoned traditional design and used Wrap Strength Technology construction to shave ounces while ensuring excellent support at all but the longest hanging belays.
Warp Strength Technology helps spread weight across the full harness structure for even and minimal loading
Ovalized leg loops offer an ergonomic fit, while two drop seat buckles let you take care of business when nature calls
Wear safety markers on belay loop and tie-in points complement a self locking buckle for maximum safety
Four gear loops and non-structural haul loop accommodate your pro and other essentials
Light and tough
Familiarity:

I've put it through the wringer
I've used this for 2 seasons now (and hundreds of gym sessions) and can't be happier. Other than dirt on the gear loops it looks as good as new (no visible wear on any structural points). I love how light it feels. The gear loops are awesome. I can fit a full double-rack (cams, nuts, and draws) on the 4 main loops.



My only complaint is that the little buckle that holds a nylon strap in place that the rope goes through when tying in has rusted and bent a little bit. It comes undone and is annoying to re-connect.
Amazing!,
Familiarity:

I've used it several times
This harness is amazing! I used to have the Petzl Sama harness and it was not near as comfortable as the Arc'teryx. It doesn't even feel like you are wearing a harness at all. I also love how the gear loops are shaped to help bring everything forward for easy access. I haven't been rope climbing a lot lately until now but I am really enjoying it and the harness makes it a lot more enjoyable.
Light and comfortable
Familiarity:

I've put it through the wringer
I can't say enough about this harness, it is so comfortable and extremely light. I've tried friend's harnesses and am always amazed how much more comfort is in this harness. It is worth the money. The leg loops did seem tight at first, but I don't even notice them because of the built in stretch. I have been using the Arc'teryx R300 harness for a year and a half and I would definitely recommend it.
Light, packable, comfortable
Familiarity:

I've put it through the wringer
I love this harness. It is light, packs down super small and I find it very comfortable - I barely notice it when climbing.



I was between M and L and had to size up.
Bomber light harness but not comfortable
Familiarity:

I've put it through the wringer
This harness is very well built. After 2 years the belay loop and tie-in points still look barely worn. The best feature of this harness in my opinion is how well it packs down. It's one of the lightest you will find as well.



The disadvantage to this harness is that it isn't very comfortable for hanging in. I don't think its ideal for multipitch trad, big wall, or for projecting sport routes. But it's no less comfortable than many much bulkier harnesses (I don't think its any worse than my old BD Momentum was).
Love, but...
Familiarity:

I've used it several times
I do really enjoy this harness, as a male that is 5'10 around 190 the leg loops at first are pretty damn tight. (I ordered a medium)

It's taken some "breaking in" to get them to loosen up a bit and now they fit much better. I also have big thighs which might just be my problem too. Other than the leg loops, this harness is absolutely amazing so far.
Great for Single pitch trad
So this harness would get 5 stars but, the leg loops bunch up and pinch while sitting on a hanging belay. That being said it's still the perfect harness for sending that hard single pitch trad project. It racks perfectly and I was amazed how much gear could be loaded up on it with out feeling like you were wearing a lead belt! I'm a size 32 in pants and the Medium fits perfect! I just wish the leg loops held their shape better...
Good stuff.
Familiarity:

I've put it through the wringer
This thing is incredibly light and comfortable. As a smaller male, harnesses can feel really bulky on me, but this one hardly feels like it's there. I didn't realize how thin the back padding was, but the suspension system pulls in all the right places and hanging for long periods of time didn't bother me. My thighs are pretty thin and the leg loops seemed incredibly small at first, but they aren't a problem.



As per usual, the top-tier price comes with top-tier quality from Arc'teryx and I have no remorse spending a few dollars extra on this harness.
A Good Choice
Gender:

Male

Familiarity:

I've put it through the wringer
i found this harness on sale and had heard great things, so i gave it a try. it really is a nice harness. it's very light, easily packable and distributes weight evenly.



however, the gear loops have come apart on me a couple times. they're easy enough to put back together, but it's annoying. a sterotypical looking climber would be happy with these leg loops. i have pretty big thighs though, and the initial stretch/break-in period was annoying. but the loops fit fine now, and i even wore them ice climbing. i would prefer an adjustable leg loop though. finally, the material of this harness can get a bit toasty during muggy climbing sessions. i'd be interested trying one of their other harness that has mesh material on the legs.
I have had a couple of these and it is the most comfortable harness I have ever owned. Super light weight, really packable.
Arc'Teryx R300 Climbing Harness
Not as supportive as the old (burgundy and grey) R320
I absolutely loved my burngundy and grey R320 that I wore for the better part of a year of full-time climbing until I ground the waistbelt down to the orange warning fabric on a lovely 35 meter sandstone flare. That old R320 saw me through many routes and pitches, carrying Bugaboo alpine racks, Indian Creek racks, grade IV Valley racks with comfort and support.

When I wore that old friend down, I immediately purchased the new R300 (orange and grey) and noticed that the leg loops were a bit tighter but no big deal, right? It didn't take long to find that the new model didn't quite offer the support of the old version. The support for gear loops (a seam along the length of the waistbelt) has been redesigned. The old model had a seam that was straight across the waistbelt, and the new seam is contoured. On my body, with a Creek rack, the new R320 creases along the seam and is subsequently much less supportive at hanging belays than the old model. The difference was so dramatic that I had to retire the R300 after a couple of months because I couldn't get used to the discomfort. Once the waistbelt had creased, the crease became permanent.

I still have my old R320 and checked the waistbelt to make sure I wasn't hallucinating, and indeed the old harness has a completely intact and uncreased waistband after 10 months of hard use, whereas the newer R300 is creased after only a couple months of climbing.
Great Harness. Have had it for about 3 months now. Very very comfortable weight distribution, even on long belays. Came from an older version of the Petzl Hirundos which was great, but this R300 is almost just as light (exactly the same I believe?), and much more comfortable in my opinion. Had a large in the Petzl and tried a Medium in the R300 as the Petzl was a little loose. Had to return it for a large, which cinches down much nicer than the petzl. I'm 6'1" and 180 pounds.
First off I like the colour scheme, its simple and cool.
This baby is comfortable and streamlined. The warp technology does distribute the weight well without adding bulk. I love how it feels so minimalist but is so burly.
What was Arc'Teryx thinking when they chose...
What was Arc'Teryx thinking when they chose the color, carbide, for this harness? Why not stay with the same color or choose deep blue, a graphite gray, or something different? It's cosmetic I know, but seriously? Is there another color option available?
uhh, don't mean to stop the rant but, a lot of companies do that...I wish arc'teryx still made the Silo 30 in orange...get over it
Best Answer
Good question. The consensus is that Arc'teryx was halfway up the nose (all of them, at once) and then out of the blue along came Alex Honnold, plugging jams up the stovelegs and looking meaner than an Egyptian dust storm. Now, he may look like a friendly baby calf when he's on the ground, but this was a site to be seen and struck more than a bit of fear into the hearts of the 500+ Arc'teryx employees that were hanging off of a single #4 C4. The only positive that came out of this was that, following this event, the Rampart climbing pant is now resistant to biological stains - and Arc'teryx is the first climbing company in the industry to consider this important innovation. As climbers continue to push the limits of human ability, the forerunners will often be spooked to the point of evacuation, as was the case for Arc'teryx on the nose. In the midst of the chaos (not to mention the literal mist referenced above), the Canadians lost their cool. It happens. The product team sent off a PO for a round of Carbide swamy belts, via carrier pigeon, and by the time Honnold moved through and let everyone live, the bird was long gone. So, that's the short version of how the Carbide color came to inhabit this swami belt. Hope you can overlook it for the sake of one of the best-constructed harnesses in climbing. Plus, it will blend in better with your stainproof climbing pants.
Don't expect the performance of a fully padded harness from this one. Having said that, the R300 is incredibly comfortable for a lightweight. The gear loops are bit of a compromise since they lack the rigidity of solid plastic loops found on typical rock harnesses. It took several leading sessions for me to develop enough dexterity to pluck gear quickly from the loops. Overall a great light-weight, low-bulk piece of gear.
Great Harness, but not perfect
Arcteryx has done it again with an amazing design. In the last year we've seen a lot of harnesses appear on the market with minimal padding. Of these, I've found the R300 to be one of the most comfortable. However, the truth behind the matter is that with a lack of padding - or no padding in the case of the R300, comes some lack of comfort. Having experienced several hanging belays in the harness, I'd say that the harness is adequate, but not nearly as comfortable as more padded harnesses I've worn. the most comfortable harness I've worn for such belays is the Petzl Calidris. After 15 minutes or more in the R300 you will definitely be aware of it's presence. the wide Belt and leg loops do a good job of spreading out pressure zones, but even my first bod harness 20 years ago was more comfortable. While climbing you won't even know you're wearing this however...