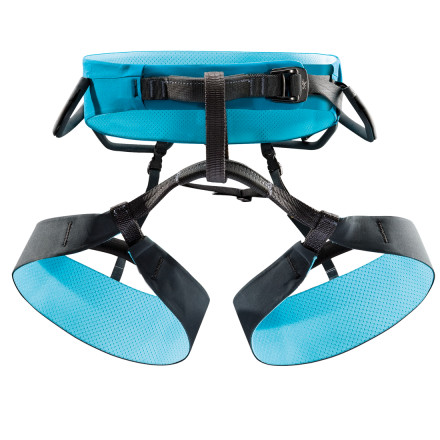 The Arc'teryx Women's R280 Rock Climbing Harness is proof that a little material goes a long way. Designed to be lightweight and offer plenty of support, Arc'teryx built the R280 for female climbers who don't want to limit themselves to just one discipline.
Highly supportive Warp Strength Technology ensures padding and comfort by loading weight across the entire belt structure, thus reducing uncomfortable pressure points
Wear safety markers on belay loop and tie-in points enhance safety and awareness
Ovalized leg loops feature elastic connectors to fit a wide range of leg sizes
Four gear loops and a haul loop accommodate your gear storage needs
Well suited for multiple disciplines, including canyoneering, top roping, or sport climbing
Share your thoughts
What do you think of the
Arc'teryx
R280 Rock Climbing Harness - Women's
? Share a...
Are the gear loops slanted forward, or are...
Are the gear loops slanted forward, or are the parallel with the ground? I find that loops which slant forward are a bit of a pain, since all your gear slides up and it becomes harder to get things off/on my harness.
Best Answer
Hi,

I have one of the other models of Arc'teryx harnesses, and the loops hang parallel to the ground. I haven't personally handled this one though, so I can't quite say. If anything, I'd say they're sort of tapered towards the middle of each loop, if that makes sense. Hope this helps out a bit.
My friend loves it!
Familiarity:

I've put it through the wringer
Got this for a friend and she absolutely adores it. She uses it primarily in the gym, but it's super light and non-restrictive. It feels almost like a second set of skin. I had the men's version, and it tore up within a year. I climb outside a lot though.
Won't go with any other!
Familiarity:

I've put it through the wringer
I was skeptical of this harness. It was light, almost too light. The first fall I took on it, scared the daylights out of me. I forgot I was wearing a harness. You're supposed to trust your gear - and I do, now (especially). This harness has stood the test - every time I put this harness on, I put my "send it" pants on. I've tried other harnesses, but they just don't match up. However, if I'm planning on sitting (at all, be it project or multi pitch) for an extended period of time - I would probably find something a little more padded. Your butt bones will thank you. Other than that, this harness does just what it's made for.

Normal wear will happen - but I've had this piece for about 2 years, have used it steadily both indoors and outdoors, and am just starting to notice wear on it. Makes me sad to think that I'll have to see her go, she's been nothing short of robust and has exceeded my expectation of a light weight harness.

Size wise: it runs how most Arc'teryx items fit. I'm a small in their apparel, so I'm a small in their harness. Fits like a charm.

Also, that picture/position - I call it the unfortunate frog. works greaaaaat for slabby starts. Skin and friction, couldn't ask for a better medium. Ha.
Not as good as the old one
Familiarity:

I returned this product before using it
I have an older R280 harness from 2010, got this thinking they'd be the same. Nope! Chuck Testa... I mean, it's not as comfy as the old one. The edges where material is welded together are rough and chafe. No big deal if I'm wearing pants and shirt but the sizing is a little off too - leg loops were tight while belt is huge.

The quality is not what I am used to with Arcteryx.
LOVE
Familiarity:

I've put it through the wringer
Super light weight and thin. Incredibly comfortable, I hardly notice it's there. I love that there's only one buckle (on the waistbelt), and it's fast-backed, so I don't have to worry about double backing. The leg loops aren't adjustable, but they stretch a little bit, which I like. The fabric on the inside is nice too- pretty soft, so when I wear short-shorts it doesn't chafe my skin.
What harness?
Gender:

Female

Familiarity:

I've used it several times
I decided to buy a lighter weight harness for gym climbing and cragging. My SO has the r320a and he loves it, so I decided to try this version out. Before this harness I was using my Metolius safe tech deluxe, which I love for comfort and burliness. I still use my Metolius for outdoor adventures.

This harness is almost opposite of the Safe Tech deluxe. It's light weight, less adjustable, and it's not something I'd want to be wearing climbing off widths or chimneys. The thing is...it's so comfortable! You really do forget you're wearing it.. The leg loops and waist belt are made from a thin fabric, but they don't cut into my thighs or abdomen, even when hanging in the harness. This would be great for gym climbs, sport climbing, and even trad climbing, but I just don't it expect it to last long if its continually rubbing against granite.

I purchased the small. At first I was worried about it fitting too tight since I have wider hips and toned thighs. While I do have to wiggle to get the harness up my hips, the leg loops and waist belt fit nicely. I can't imagine getting a larger size as I'd be worried that the legs loops would be too loose. For reference I am 5'4, 115lbs.


Step Up
Gender:

Female

Familiarity:

I've used it several times
I've used this harness for almost a month now. It's a pretty stellar harness and definitely a step up from my last one. It's light, packable, and fairly comfortable. That being said I feel like it could be a bit more comfortable. When I've fallen a couple of times on top rope the leg loops shift in an awkward way which makes getting back on the wall or making moves a bit weird. I haven't had this problem when leading. Other than that I love using this harness and glad I bought it.
This harness is truly light, but like every other Arc'teryx item, it is put together very well. Sturdy gear loops, non-adjustable legs which I love and a very flattering fit for any woman. Had mine for 2 1/2 years now and still like brand new!
This harness is so light and well made; it's so comfortable that I often forget I'm wearing it! I could hang in it all day. It's minimalist in design but has very well thought out features. I especially love the stiff gear loops that are front-tilted so gear falls forward and is easier to grab when you need it. The lining is a light, cushy mesh that keeps me cool and dry even on hot days. I can't even express how much more comfortable and functional it is compared to the other harnesses I've used (Black Diamond Momentum and Petzl Luna). Plus the "bondi blue" color is so, so pretty! I'm definitely going to be wearing and loving this for many years.

I only wish Arc'teryx made a similar women's harness for ice climbing! I'm an XS so I won't fit the men's version...
does this harness have a haul loop?
does this harness have a haul loop?
Yes it does.

Hope this was helpful :D
it does but not a load bearing one. don't go over 25 - 30 lbs
Absolutely love this harness. Very comfortable, lightweight and secure at the same time.