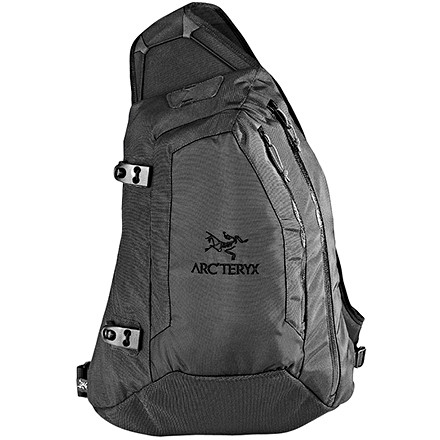 Detail Images

Videos
The Arc'Teryx Quiver Backpack gives you easy access to your skins, probes, and other necessities during light-and-fast backcountry descents. The Quiver's unique three-point, single-strap design spins around to put the pack bag and zippered opening right in front of you. A main compartment and outside zippered pocket hold your gear, and a hydration sleeve secures your precious water. A small waist-belt keeps the Quiver close to your body when you hit the steep and deep.
Favorite around-town pack of all time
Familiarity:

I've put it through the wringer
Perfect in every way. Until the zipper blew out after years of daily use. When I gave it to Arc'teryx to send up to Vancouver, BC, where they do repairs, they said since the pack isn't made anymore they'd like to give me credit to buy something from their current line up. Nothing in their current line-up appealed to me, so I requested to send it back and I'll do a running back-stitch by hand, but instead the warranty facilitator hunted down a never used demo-model for me! Ridiculous customer service.

Obviously a review on this pack doesn't help anyone now, but consider it more of a review on the outstanding customer service you can expect.
Arc'teryx Quiver Backpack - 671cu in
Nice bag
Gender:

Male

Familiarity:

I've used it several times
It took some getting used to the sling-over-the-left-shoulder style, after 2 months it's all but replaced my other day packs. I got it mainly for the summer festival season and next ski season (90% resort), and paired it with the platypus insulator system. I had to cut off the insulation for the hose, it wouldn't fit (and I like to be able to remove the hose completely), but the bag can still carry a change of summer clothes or an extra layer in the main pouch with a full bladder in the insulator. Front pocket has a useful size (no internal organization though). I can squeeze a textbook + notebook or 2, and my 13.3" Asus fits nicely. The top shock cords carry a shell, towel, shoes, etc. they're pretty handy. And the bag itself is completely waterproof. I took it to Governor's Ball a few Fridays ago, in the middle of Tropical Storm Andrea. The only moisture that got in the bag came from wet clothes I stuffed in there, all the rain that fell (they kicked us off the island, emergency flood situation) and 3 inches of muddy water it was sitting in for a good hour+ couldn't penetrate the bag. Careful stuffing the bag though, especially if you don't want to use the waist strap, as it will weigh on your left shoulder after a bit.
If you are right handed this is a really nice lightweight quiver. I just grab it with my right hand and pull it in front of me for easy access without having take it off. I did remove the second cross the belly/ body sling, and modified it to make it optional. But besides that its awesome if you need to have a small amount of gear on at all times for quick access. Running with it is also surprisingly comfortable without the cross the belly strap.
Can this pack fit in a 15" macbook pro?...
Can this pack fit in a 15" macbook pro? planning to use it for uni and when i go out rock climbing
The bag can not fit a 15in macbook pro it unfortunately. It might be able to hold a 13in though.
Wicked awesome diaper bag
I actually do use it for a diaper bag - 3rd kid, doing well in my career - rewarded myself with this bag. Wife hates is - says it's stiff and too small. I love it! Holds just what the baby needs for our outings - two 8 oz pre-made Isomil bottles, a couple of Gerber 2 food selections, a diaper change pack, a couple of outfits and a rain cover for the infant carrier - and all hands free so I can hold little Jack while tending to the needs of the family. Having this bag reminds me of the beauty of Utah snow-shoeing as I'm grinding through my daily activities in Houston - admittedly tool-y - I'm sorry!
So technically speaking, small outer pocket, medium sized main pocket with a hydration bladder pouch organizes all I need very comfortably. Bag drapes over my right shoulder - great for a lefty - then strap and buckle goes from left hip over to the bag. Perfect. Thanks Arc'Teryx for working hard to make a great bag.
This backpack is nifty. I honestly use it all the time. For my 20 mile bike ride to work, it's a great way to utilize space without straining my back, and my stuff also stays secure because of the cross body feature. There's no annoying 'flopping around' that occurs with the typical two-strap backpack, and the backpack is also easily synched for the desired tightness. Other's argue that it's too small, but I've been able to fit a Macbook Air, textbook, and small personal items in there just fine. There's also another inside pocket within the larger one for valuables, etc. Overall, a fantastic backpack. I get compliments on it all the time, and am really glad that I bought it. My only desire would be a smaller, water-tight pocket within the smaller of the two pockets on their, but a small water-tight case easily fixes that dilemma. I'm highly satisfied.
Not so good for the price
Not too happy with it, weighs a lot empty, doesn't hold much and slings over the wrong shoulder.
I'm actually looking for something that...
I'm actually looking for something that would make a suitable quiver...
you know, for arrows?
Best Answer
Your best bet is probably a quiver, they're great for holding arrows. Sadly, I don't think Backcountry carries any quivers.
what size hydration bladder would be good...
what size hydration bladder would be good for this?
Probably 2 liter. Might be able to get a 3 liter bladder in there.
Excellent pack - for my particular needs
In the winter I volunteer to be a snowshoe guide for 4th graders. Easy trips, on the level, duration about 1.5 - 2 hours. What I needed was a small pack to hold visual aids: not just photographs, but also perhaps a beaver pelt and skull, or the lower leg of a deer. One of the other guides has this backpack and recommended it. For me, it's ideal: very secure, quickly swings round in front to be accessible, has two compartments so that I can keep my materials sorted out, and has just enough capacity to do the job. Much better than a conventional backpack (has to be taken off and put on the snow), or a fanny pack (too small). But it's far too small if you need to carry a lot of gear for more ambitious trips, or carry a DSLR camera and lenses.
Hardly notice I have it on.
Held my shovel and probe no problem along with my sandwich and a drink. Never even knew I had it on when skiing. Exactly what I was looking for. Only complaint is I wouldn't mind it being a little bigger.
Can I use this for School? I'm interested...
Can I use this for School? I'm interested in a sling bag that won't bounce around when I run, but can also carry my textbooks. I usually have one textbook, a five star notebook, two reading books, and a small notebook in my bag at once, along with a graphing calculator and my agenda. Will the quiver hold all of this or should I look elsewhere?
You could put all that in there, and it will be pretty full. I've hiked,skied, run and biked with my Quiver and it works really well. Perfect for travel, too. The hipbelt is the key to it staying in place.
Great pack if you travel light
This is a really high quality bag. The three point system is particularly useful for situations where you are going to be moving quickly. If I pull the straps tight, I can do a cartwheel and barely feel it shift. Also, is it very water resistant. I have been using it for cycling, and none of my stuff got wet at all after a 30 minute ride in medium rain.

The bag is, however, very small. I tend to pack light, but if you are used to filling something lile a northface borealis, this bag will take some adjusting. It also poses a bit of a learning curve for your body, and it took my left shoulder about two weeks to fully acclimate. Overall, great bag for climbing, cycling, day hikes, and city use. I would reccomend it to any friend.
The Quiver has a lot of potential. Unfortunately, for me, I couldn't get used to the the unique 3 point strap design. I thought about returning it, but, my son "borrowed" it and he loves it. The only thing we added was a sleeve for his laptop. Other than that it's become a part of him.
I love this pack. The wife and I use for travel, work, and day outings. Perfect for skiing. Im considering buying another for patroling.
I'm really liking to ergonomics, look, and...
I'm really liking to ergonomics, look, and size of this pack. As others have asked, is it possible to fit a laptop in it?
I've carried my 14" lappy in my quiver, but if you've got a bigger screen, it gets tight!
It is perfect for my netbook, but my full size laptop doesn't fit.
What are the actual dimensions of this...
What are the actual dimensions of this pack? I am looking into minimal camera and/or laptop bags.
Per Jenny at Arc'Teryx
The dimensions of the Quiver pack are as follows:
-bottom width 12"
-top width 9.5"
-height 17.3" (measured from base of pack up to the top of shoulder strap)
-depth 6.5"
and the length of the two zippers are 9.5" and 14"
Will this hold a macbook pro (15")...
Will this hold a macbook pro (15") computer?
No, it will not. It seems like it will hold a 13".
Are you familiar with the Petzl snowscopic...
Are you familiar with the Petzl snowscopic axe/poleand is it compatible with the arcteryx quiver?
Yeah. It might be a little awkward but you could carry it.