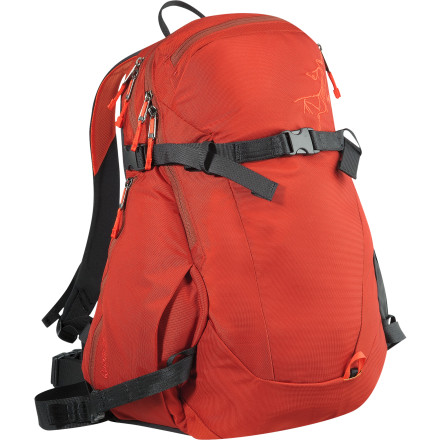 Detail Images

Community Images
Arc'teryx designers poured untold amounts of energy into perfecting the lowered, wide, and flat shape of the Quintic 38L Backpack. This shape specifically accommodates the movement patterns of skiers and snowboarders. Stable and predictable when fully loaded with your avalanche safety gear and winter kit, this bag serves as the ideal companion for medium-range backcountry tours and skin treks that are a little closer to home.

Hypurcel foam and LD60 foam back panels cushion your upper and lower back in order to reduce stress under heavy loads
Low, wide, flat, streamlined shape keeps the bag's center of gravity as close to your body's center mass as possible so the bag moves with you while you ski or ride
Horizontal frame stays help this pack retain its shape, provide additional support for heavy loads, and improve frame strength
Side zip access allows you to reach into the main compartment while you're on the move
Top pocket designed specifically to hold skins and goggles for quick access
Tool kit compartment loads from the top and offers individual sleeves for each item
Highly durable shell materials resist heavy abrasion and punctures
Hydration hose slit and internal reservoir pocket makes it simple to carry water and route your hydration system (water bladder not included)
External carry straps offer multiple configurations for carrying skis or a snowboard
Helmet attachment accommodates either a full-face or half-shell helmet
Internal and external zippers are made from high quality #5 and #8 zippers, both designed to withstand heavy forces
Pro skier Eric Hjorleifson had a part in designing the Quintic 28, which is the smaller version of this pack
Share your thoughts
What do you think of the
Arc'teryx
Quintic 38L Backpack - 2319cu in
? Share a...
Poor - Better alternatives out there
Gender:

Male

Familiarity:

I've used it several times
My girlfriend have this backpack and we've tested it on about 5 alpine ski tours this season. Bought it for about 100 USD on a special offer, but she still regret it. I'm generally pretty satisfied with arcteryx products, so if anything, I should be biased towards liking this backpack, but I really don't. I'll shortly list my biggest issues:

1) No hood
I would never buy a backpack without a hood. Always nice to be able to cram stuff in or attach it under the hood.

2) Lack of possibilities
They call it minimalistic, but I'm more tempted to call it vain. Although it may look a bit more tidy than let's say a kestrel 48l, the lack of possibilities in regards to attachments is drawback. The wind, temperature and general exposure to the environment will demand that you adapt your layers. This is easier if you don't have to open overstuffed zippers in the process. Not all of the

3) Poor design for ski-carrying
This was the biggest issue we had with this backpack. It's trying to cater both snowboarders and skiers needs, but ultimately fails. When moving through vegetation in the lowland, you don't want to have the skis horizontal as it will snag. Having the skis at the side with the top angled towards the center of the backpack and over the persons head is the consented preference where i'm from. This way you can see the top and adjust to branches or other obstacles, and you don't hit the back of the skis with your heals or other stuff while walking. There's no way you can do that with these. Even if you tighten them at the side they will still wiggle back and forth. The lack of straps will make it impossible to fixate them in the position you want, and that's pretty s**t for a backpack made for skiing. For some reason the ability to carry a snowboard isn't really that comforting while you're struggling through the woods.

You only need one!
I call bull-shit on the whole concept of ski-backpacks, as there are plenty backpacks that are great for all kinds of activity. That's just the industry trying to play you. You don't need a "ski backpack", you just need one well-designed and adaptable 30-50l backpack. I personally use osprey kestrel 48l and I love it. It's not perfect. The attachment of the hood isn't adjustable, but otherwise pretty close. Highly recommended as an alternative in this segment.
As I'm not using this backpack for ice climbing, I don't really find the problem mentioned by other users. On the other hand, I use it for trips and I find it give me a lot space and made very organized. I can get my drinking bottle and camera very easily without taking off The backpack. Moreover, I find the material is quite premium and tough. Although it may not a "perfect" backpack, I will say it is still a very good one!
Very happy can own it!
The only unhappiness is that I find the price dropped after I brought!
Bomber, not perfect but awesome
Familiarity:

I've put it through the wringer
Over 2.5 years, probably close to 100 days touring with it and I love it.

My only reap gripe is the weight, it's a heavy, burly pack. I have the 38L and I wish it was 1lb lighter.

Pro's:
- Feels like its welded to your back , carries awesome and rides awesome. Cinch it down properly and you just don't notice that it's there.
- Climbing icy colouirs with a snowboard on a windy day is akin to having a sail on your back. Cinch your board to this properly and it's a breeze.
- Throwing the skis on in split mode is a breeze, I use the cross pack carry. Splitters take notice and have a couple orange voile ski straps in your pack. Have a 24" so you can easily go through around your binding baseplates to keep them from banging around.
- Design, takes some getting used to but it's so nice to have everything where you need it and not to have to fumble around to find something.
- Snow tool pocket design: awesome! I often ride with a Petzl Quark and a 58CM Grivel Air Tech Racing, with the big snow pocket design I can ride with these inside my pack, I like having the weight closer to my center of gravity and I also like not worrying about losing a tool should I take a 50mph ragdogll. It's nice to just let her rip and not have to worry about any razor sharp steel points on your back. +++ It's easy to just unzip and pull an axe/tool out if you need to, no need to unstrap anything.

Con's:
- Hydration bladder holder + the exit for it could be better, there should be a loop to hold it
- Heavy, I mentioned this.
- It's heavy, for the weight I'd like it to be 42L, it seems as if this could be accomplished by adding just a little extra (light weight) fabric here and there.

Overall I'd buy it again, no regrets on this one.
arcteryx fail
Familiarity:

I've used it once or twice and have initial impressions
3 main issues:

1. The hydration pocket is super poorly designed! Arcteryx seems to have an issue with this - I bought the Arcteryx Bora 80L off BC a few years ago, and its hydration pocket is wacky too (in the lid of the pack. Why would you want your heavy water up so high?) In the Quintic, the hydration pocket doesn't have a strap to hold the top of the bladder up high, so the whole thing just kind of slumps to the bottom of the hydration pocket. Also, the hydration pocket has a vertical zipper along it, and no hole for the tube to escape! This means that you have to run the hose out of the top of the zipper, and over the course of a few hours, the hose works the zipper open.

2. The snowboard carry is poorly designed - there are no compression straps that actually cinch down on the width of your snowboard. It just kind of hangs in the loops, and can wiggle freely.

3. The A frame ski carry is poorly designed too! The bottom ski carry straps tie directly in to the waist belt (presumably to transfer more weight to your hips as you hike.) The non-adjustable-length ski carry straps then attach to the center of the back panel of the pack. If you fully stuff the pack with gear, the un-adjustable straps aren't long enough to allow you to wrap the hip belt around your waist! (It ends up pulling the hip belt away from your waist, and it bunches up, all ugly.

redeeming qualities: looks like the fabric is waterproof. looks cool. don't buy this pack.
Does this have attachment points for ice...
Does this have attachment points for ice axe?
It would be pretty easy to attach one ice axe, but if you are technical climbing with two, I don't know where you'd find a place for both.
apart from the ski carry loop, there are not separate loops. the ski carry loop is big, you could fit two axes in it at the same time. If you wanted axes AND diagonal ski carry at the same time, you'll have to rig something up yourself. Just buy some webbing and tie your own axe loop at the bottom of the pack!
Best Answer
also, don't buy this pack. see my review above.
There are 4 loops that may fit 2 ice axes. If you look closely, there are loops around the bases of the top and bottom carry straps.