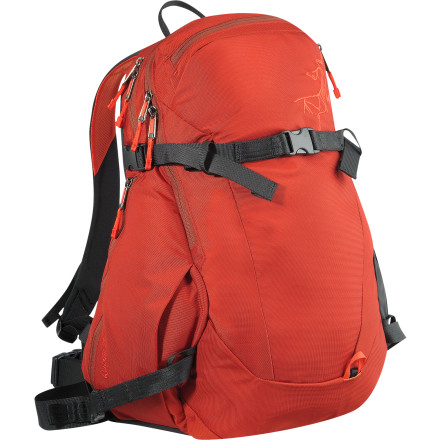 Detail Images

Videos

Community Images
Designed for those who need to qualm their powder fix, the Arc'teryx Quintic 28L Backpack offers easy access to your gear and provides a solid, stable pack that doesn't throw you off-balance while you ski, bootpack, or sail through the air.
Sculpted lumbar support built into the body of the bag gives you a low center of gravity so you don't feel off-kilter while you ski
Separate compartments for your safety gear, skins, and spare puffy keep things organized and well-balanced throughout your pack
Durable materials, durable construction, and watertight zippers provide a reliable, steadfast partner for side or backcountry tours
A side-load main compartment allows you to access items while in transit
Top pocket stashes your skins and goggles, while a side pocket stores your H2O bottle
External strap configuration system gives you two ways to carry your skis or your snowboard (A-frame, diagonal, horizontal, vertical)
Individual attachments hold your full-face or half-shell helmet and poles
Go to Ski Pack
Familiarity:

I've put it through the wringer
This little bugger just won't quit! It is super comfy, the craftsmanship is excellent and the pocket layout is thoughtful. I love the diagonal ski carry, but do find the straps to be a bit clunky. The pack hugs your back like no other pack I have tried and I find this makes it very adept for skiing, the pack just moves with you and you do not notice it is there?unless it is packed to the gills anyway! Get it, you will love it.
Great for Snow Sports and Camera Work
Familiarity:

I've used it several times
I bought this bag as a "don't need to take it off" camera bag, and it works wonders that way. I can keep an arsenal of lenses on my back and switch them in and out through the side pocket without removing the pocket. Score.



For snow sports, I really like this bag. Fits nice, just the right size, and the straps are durable for edged objects like skis and snowshoes. I particularly like the shallow pocket at the top and the zippered bottle pocket (big enough to hold a 20 oz insulated klean kanteen).



My one beef: as a snowsport pack, the zipper pulls on this thing are inexcusable-- too small. Easy enough to remedy, but I buy Arc so that I don't have to think about things like that!
arcteryx fail
Familiarity:

I returned this product before using it
3 main issues:



1. The hydration pocket is super poorly designed! Arcteryx seems to have an issue with this - I bought the Arcteryx Bora 80L off BC a few years ago, and its hydration pocket is wacky too (in the lid of the pack. Why would you want your heavy water up so high?) In the Quintic, the hydration pocket doesn't have a strap to hold the top of the bladder up high, so the whole thing just kind of slumps to the bottom of the hydration pocket. Also, the hydration pocket has a vertical zipper along it, and no hole for the tube to escape! This means that you have to run the hose out of the top of the zipper, and over the course of a few hours, the hose works the zipper open.



2. The snowboard carry is poorly designed - there are no compression straps that actually cinch down on the width of your snowboard. It just kind of hangs in the loops, and can wiggle freely.



3. The A frame ski carry is poorly designed too! The bottom ski carry straps tie directly in to the waist belt (presumably to transfer more weight to your hips as you hike.) The non-adjustable-length ski carry straps then attach to the center of the back panel of the pack. If you fully stuff the pack with gear, the un-adjustable straps aren't long enough to allow you to wrap the hip belt around your waist! (It ends up pulling the hip belt away from your waist, and it bunches up, all ugly.



redeeming qualities: looks like the fabric is waterproof. looks cool. don't buy this pack.
More Than Just a Boarding Bag
Familiarity:

I've used it once or twice and have initial impressions
This is a relatively new item to me, but it was love at first sight. This is the perfect fit. Its not too big, not too small, meets right in the middle. I am 5'4 and the pack goes from my shoulders just below my tail bone. The Shoulder straps are very comfortable. This bag is so versatile. The straps can be maneuvered around to hold skis, board, and ice pick. Currently it contains all my climbing gear I take to the gym. An added bonus to the bag is it has a life time warranty and its bright yellow!
My Go-To Pack
Familiarity:

I've put it through the wringer
I have 50+ touring days with the Quintic 28 and I have to say, this is the last ski daypack I'll ever buy. As with just about every other Arc'teryx product, the Quintic's design is well-thought out and near perfection.



The dedicated avy tool pocket opens extremely wide for quick-access and the two top pockets, one of which opens up into the main compartment, have enough room for snacks, snow study tools, a spare goggle lens and a small selection of medical supplies.



Access to the main compartment is through one of the side zippers and this compartment, even on the 28L, easily holds my Arc'teryx Cerium LT Hoody, a spare pair of gloves and a 1.5 liter CamelBak.



My two favorite features of the pack are the pocket opposite the main compartment zip, which perfectly fits my 116mm, 180cm long G3 Skins (or a Nalgene bottle if you forego a water bladder) and the ski carry: You have the option to swap the buckles around to achieve A-frame and Diagonal carry for skis and Horizontal or Vertical carry for snowboards, making it an extremely versatile pack.



The Quintic's tear-drop shape distributes weight extremely well and the wrap-around design hugs your body to stop the pack from wobbling around, even while carrying skis. This design also allows you to access the two side pockets (main compartment & skin/Nalgene pocket) without taking it off.



I made one small modification to the pack: It lacks a hook for a water bladder so I sewed one into the top of the main compartment.



All in all, I love the Quintic and I'd recommend it to anyone looking for a single-day ski pack that won't let you down.
Hey gang... can anyone comment whether...
Hey gang... can anyone comment whether this is any good for warm weather day hikes and around town use? How is the ventilation on your back?
Best Answer
Hey David, it would work pretty well for that purpose. There is no ventilation built into the back of this pack, or at least not like you would find on a summer backpacking back. However the design will allow a small amount of air circulate through perforations on the straps and back of the pack. If you are looking for a small year round pack this isn't a bad choice at all. I often use my winter ski packs for day hikes in the summer.
Dan... thanks for the feedback. I placed an order for the pack and will give it a try. What I'm REALLY looking for in this case is a pack appropriate for international travel--with a camera. So needs to be good for planes, inconspicuous, and still allow me to occasionally hike a few miles with a tripod strapped to the outside. I'm particularly interested in the side entry of this pack--and whether I can get my camera in and out while still wearing it. I suspect the ski straps will hold a tripod just fine.




So... first night out with the pack. Gotta say... this could be a perfect photo pack. Tripod never moved, and I filled the main compartment with four sizable lenses and a 5D. I could get everything in and out without taking the pack off, which was fantastic.



A little more testing is in store, but this looks like it could be a real keeper.



OH... and it was 80 degrees here while I was wearing the pack. While, yes, it could be better ventilated, it was actually a lot better than I imagined it would be... and definitely tolerable for a warm weather pack for non-strenuous conditions. I'll try it on a hike next and see if drown.
Beautifully designed
Familiarity:

I've put it through the wringer
Just got back from a weeklong trip in Jackson Hole, where this pack was a mainstay for me. The durability is second to none- the zippers, seams and materials are all bomber. The design of this pack is probably my favorite part. There are a number of smaller pockets which is super helpful for organizing gear (water, energy bars, go pro, trail map, etc). The fact that the main part of the pack can be opened up on the side, while having the pack still on one shoulder, swung around, is huge. I actually was able to carry my DSLR and a larger lens in there (with some fleece for padding), and could just easily swing the pack around to snap a shot.



I also loved this pack while traveling. I could keep a TON of gear in here and even was able to fit my macbook pro 15" inside easily (although keep in mind it would be good to have some padding around it).



An expensive pack, but for me, really is worth the price when you're on the trail or slopes and know exactly where every piece of gear is and have super easy access to it.
so i bought the quintic 38 the other day,...
so i bought the quintic 38 the other day, and im wondering if it was the right purchase. i was looking for a pack that i could serve multiple purposes ie. commute/day pack/day hike/travel/carry on/climb (just the approach) etc. but it just seems a little bit of a pain to pack the thing. i love the shape the look and everything about the pack. was wondering what your thoughts are on the size, if i should maybe reduce to the 28L or consider another pack from arcteryx to fit my needs. any suggestions or thoughts would be appreciated. thanks
Hey Brian, I'm curious what you've thought so far? I'm in the exact same boat with the 38
Great pack
Familiarity:

I've used it several times
I got this one as a replacement for a Silo 30 that I had a lot of ski days on and had for a few years. Loved that pack but the coating inside peeled and arcteryx replaced free of charge. Just got back from ten days using it for resort skiing and travel. It can take a lot more in that you'd think and carries the weight and bulk well. Pockets are great for organizing when traveling, silo was always a little too uncomfortably minimalistic for that. Hardly felt it when skiing, no bouncing around/fatigue/etc. Side pocket you can open without taking the pack off is great for a thermos. It's a ridiculous and nice comfort to have some hot tea on the lift :-). Avi gear fits in nicely if a bit tight for my shovel. It's not as uncompromisingly minimal as the silos were and the materials feel more conventional and not as 'industrial' somehow but it's a better overall pack.
Perfect
Gender:

Male

Familiarity:

I've used it several times
This pack is perfect for day hike. I have used it two day hikes. I used it skiing in Steamboat. It was perfect to hold my water bottle and extra layer, go pole or poles. munchies for the lift.Feels very comfy on back. The weight is perfectly balanced.
Great Pack
Familiarity:

I've used it several times
I love this pack. I use it for downhill skiing but I'm sure it would be great for any snow sport. Excellent design and lots of pockets.
Arc'teryx Quintic 28L Backpack
Pockets GALORE!
Gender:

Male

Familiarity:

I've put it through the wringer
I own the M20 and Silo 40 packs, The quintic 28 has single handedly replaced both packs. I found the lack of pockets always a pain when skiing or doing day trips. The main compartments can be acessed through a side pocket and is generous enough to store quite a bit of clothing or gear. There is another zippered inside pocket the main compartment to separate and store smaller items.

Overall there are 5 zippered pockets on the outside which allows for quick access to a multitude of items. Inside the pockets are deviders and other pockets to store specific items (kets, skins, shovels etc). Its about time arcteryx created a pack with a lot of pockets (that are well thought out!).

Overall fit is nearly as good as the silo (although I prefer its formed support) I also found the silo a lot more bulky. The quintic has just enough support to allow the body to move and stay comfortable with a pack loaded with gear.
the perfect daypack?
Gender:

Male

Familiarity:

I've put it through the wringer
This pack feels like someone has thought through the sequence of things that you do with your pack when skinning up and skiing back down, and there are great touches that make it a touch slicker than your average pack with loads of pockets.



The compartment for the avy gear is generous and space can be traded between this and the main volume of the pack. A great side pocket for a water bottle allows you to drink on the move even if you don't like bladder systems and the side pockets are different colors so you know which side you put your bottle in. The ski carry is solid both in A frame and diagonal, with well reinforced loops that won't be cut by ski edges after a single use.It also has a good system for attaching a helmet. Access to the main compartment is through a side zip which at first I thought may be too small, but in practice seems fine. Two small quick access pockets on top for swaping out gloves / goggles / sunglasses work great.



Overall size in the medium is about right for a 'touring for turns' day trip - there is a bit of spare room on the essentials so that you could squeeze in some more technical gear such as a rope or ski crampons if needed.



There is nothing that I would change.
Why is this priced $25 above MSRP? Its...
Why is this priced $25 above MSRP? Its listed at $199 everywhere else, is it a mistake?
Best Answer
Possibly because Arc'teryx is going to raise the price. If you hop on live chat to place your order, they will generally price match most things.
Price dropped to $199, thanks Backcountry I just ordered mine!
Is there any way that backpack hip belt...
Is there any way that backpack hip belt damage jacket when wearing heavy stuff since it do not have traditional hip belt? How this pack carry ski or board since I do not see it as a good support pack to carry heavy stuff. Thx
I can see that unpadded waist belt wearing through shell over time. That surprises me, considering the premium you pay for Arc'teryx.

For high activity and heavy weight I'd stick with a proper padded waist belt.
Agree with you Pat.



I wonder how comfortable is pack when wearing ski or snowboard and using non padded waist belt.




Best Answer
This pack is not meant for that. It's a minimalist pack. I have an early version (the RT25) with an unpadded belt. I wouldn't worry about wearing a shell unless you are really overloading the pack.
I have no problems with the hip belt on this pack and I regularly use to carry my skis. The support is fine, I have not experienced any soreness (I normally ski with just a base layer and a shell) and there are no signs of wear on my shell after 2 years of use.

To temper this, I would say that I generally think that most hip belts are overly padded so if you are of a sensitive nature then perhaps disregard my opinion.
Depends on what kind of shell you're wearing! Arc'teryx Gore-Tex hard shells use extremely abrasion resistant face fabrics. You will not wear a hole through them with this hip belt.



Regarding comfort, there are essentially two bolsters created with the design of this pack. Allowing the pack to wrap around your lower back, giving it a very comfortable and stable fit.
Kootenay Mountain Culture review