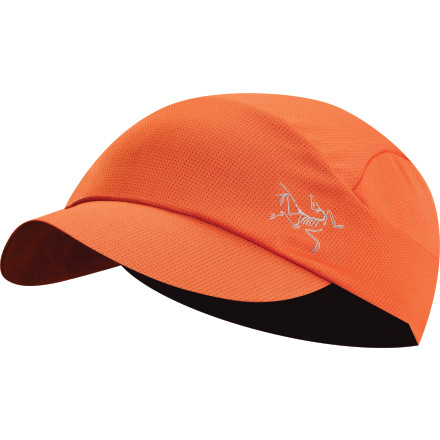 Detail Images
Extremely light weight & packable hat
Familiarity:

I've used it once or twice and have initial impressions
You can pack it into anywhere because it's brim is soft & relative short. I wear it to golf in a sunny and very hot day, near 97F, it wicks extremely good. Of course the relative short brim is convenient when using cameras, but it also relatively weaker to shell sunshine. But I still love it because of its excellent moisture management.
Interesting and Different
Familiarity:

I've used it once or twice and have initial impressions
This hat is not at all what I expected, and I haven't decided yet that it will be a daily use item, but I think that it is so different from other hats that it's very likely to be very useful in certain situations.

Some key things that set it apart:

-- It is physically very small -- so small you could fit it in the front pocket of your jeans. That seems useful to me for leaving it in a bag for "just in case" or for using it when I'm really traveling light. Really: it's tiny.

-- The brim is quite short. For video/photo work, this is really helpful to me since it allows me to lean into the camera without hitting microphones, flash units etc, that stick off the top of the camera. (Or when I'm using a bigger camera, it prevents me from hitting the camera itself...)

-- The material is ultralight and I suspect very quick to dry. The top of the hat is mesh, so it is cooler than your standard cap. It's also a relatively shallow cap, so again that makes it a little cooler.

I wear a cap to keep rain off my glasses and to shade my face from the sun. The Poco is a solid performer in this regard, while at the same time representing a minimalist option.


Not worth the price
Familiarity:

I've used it once or twice and have initial impressions

Fit:

True to size
I've come to expect to pay a premium for Arc'teryx products and have happily done so when it comes to their jackets and packs.... BUT, this is one over priced piece of equipment. Recommend the Spiro Hat for the money. A much better value.
Nearly great
Familiarity:

I've used it several times

Fit:

Runs large
I have another Arcteryx mesh cap that I like very much so I picked up 2 of these Poco caps hoping for similar results. It was not to be.



These are simply fitted caps with no adjustments or inner hat band. The material just sits right against your head. If they fit perfectly out of the box, you may do fine. If not, you don't have any recourse. I ordered 2 in the same size, but while one fit pretty well, the other was too loose. While strolling around the smaller fitting one was fine, but when you start to really work and sweat into the hat the material relaxes and gets looser. It ends up feeling like a soggy thing oozing down your head. An elastic band inside would have helped, or at least some sort of adjustment on the back would let you take up the slack as the material wets out.



The brim is sort of rubbery and tends to deform and even get pressed against your face when you are out in a stiff breeze. It regains it's shape well after being stuffed in a pocket which is nice, but it is a bit too soft for breezy alpine use. If you wear it under a hood, the hood also tends to deform the brim and make the view of the world vignetted.



The hat is soft and wicks well, but the fit and overly soft brim limits my enthusiasm for it.
Can you flip the brim of this cap straight...
Can you flip the brim of this cap straight up like a cycling cap?
Max, you can flip the brim up like a cycling cap and it will stay in place. The Poco is great for use under a cycling helmet or on it's own for running, etc.