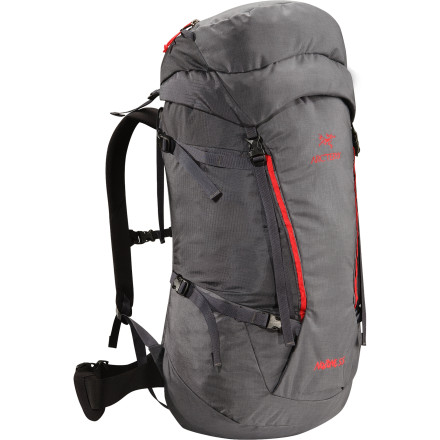 Detail Images

Community Images
Whether you're stripping it down to bare essentials for a day of climbing or loading it up for three to five days on the trail, the Arc'teryx Nozone 55 Backpack is ready to accommodate your alpine agenda. Arc'teryx built the Nozone with ballistic textiles, the advanced Arc'on suspension system, and a careful collection of features get you where you're going without loading you down with unnecessary weight.

New rigid but lightweight Arc'on suspension system features high-density PE foam and two lightweight stays that channel the weight of the load to your hips and can be removed for shorter treks or when you need more flexibility
Laminated design cuts the number of layers in the suspension by more than half
Dual-density, anatomically shaped shoulder straps with a modular sternum straps eliminate hot spots
Removable, thermo-formed triple-density hip-belt maintains comfort with more weight over longer distances
Main compartment accessed by top drawcord that's easy and intuitive and allows you to expand the capacity
Tough but lightweight fabrics stand up to demanding use and shed precipitation in heavy weather; reinforced high-wear areas add resilience
Four side compression straps help manage load packing and bulk
Removable/extendible top lid features two zippered compartments
P'ax ice-axe holder keeps this important tool safely contained but in easy reach
Dual daisy chains work with included bungee to lash on extra gear
Dual haul loops reinforced for extra durability
What do you think about this product?
Have questions about this product?
Heading up to Lone Peak earlier this fall.
Minimal, slick Arcteryx design
The NoZone 55 is a minimalist, light weight pack from Arcteryx's Ascent alpine climbing line of packs. It is light, yet the fabric seems tough. Banning Lyon's review, below, takes issue with the waist belts pod-pads. I found them to be a little bit of a bother -- each time I put the pack on, I had to slide them along the waist belt, so that they were aligned on my hips. But, once there, they were sufficient. (Full disclaimer, I've only carried light loads so far.) The compression straps work well, and it was easy to cinch it down for smaller loads.



The stripped down pack has ample attachment points: two daisy chains, two buckled for ice tools, compression straps work for A-frame carries. The main compartment is closed via two drawstring cinches (with large release tabs that make it easy to open with gloves on) -- one for the main compartment and one for the expansion sleeve. The pack lid is removable. (Also, "Tech Specs" says there are two pockets on the top lid. Others should check me on this, but I only see one.)
Light, very durable, but not quite enough padding on the hipbelt
Disclaimer - I'll preface this review with my cut and paste statement that I work as a backcountry backpacking guide in Yosemite National Park. Nearly all of the products I take the time to review have seen at least a half a season, if not more, of use... and I'm committed to not bothering to write a review until I feel like I've really gotten to know a product. Sorry if you've read this before, but when I read reviews from park rangers or other guides I like knowing that the review is written by someone using this stuff out in the field, not just in a park or their backyard.

This pack is a stripped down, minimalist mountaineering pack. Most Arcteryx packs are very comfortable, but are heavy enough that I avoid them (Bora, Altra, etc). I often hear people say that the weight is worth it because of the comfort. To some degree this is true, but it doesn't matter how comfortable it is if your joints have to carry the load. Your knees don't care how good your hips feel.

So, when I saw the weight on this pack I was ecstatic. I picked one up immediately. I figured I might do a little mountaineering in it, but 99% of the time it was going to be a straight trail pack. I like stripped down minimalist packs, and refuse to use a pack over four pounds, and prefer to try to keep them under three (which is tough while remaining comfortable enough for me).

This pack exceeded my expectations in every single regard but one. First, its incredibly durable. My packs are always getting put down and picked up on granite, so they see a lot of severe abrasion. I've had some packs literally last a couple trips before developing moderate holes. This pack would make it years on Yosemite's granite.

I also like the layout. One small side pocket, one zippered pocket on the lid... that's all I need. Hell, my old faithful Granite Gear Nimbus Latitude has no zippered pockets (or lid), and I love it. That made this pack feel luxurious as far as storage goes.

Comfort... wow. The backpanel on this thing is absolutely the single most comfortable backpanel ever made. It distributes weight perfectly into my lower back, and a long torso kept the weight entirely off my shoulders while keeping the weight well over my center of gravity... and this is with a load around 35 pounds, with a bear can strapped between the top of the sack and the lid. The backpanel is very, very rigid and creates a very solid structure to the pack. That they managed this while keeping the pack at a hair over three pounds is astounding.

Now... to the only single downside, and ultimately... a deal breaker. The hipbelt uses two lightly padded ovals (one on each side) that function as hip padding. They can be slid over the several inches of empty space along the hip belt to provide a sort of custom padding for one's hips. The idea is fantastic. However, these 'pads' are so lightly padded that with a load of about 30 pounds I wound up getting pretty severe bruises on each iliac crest... and that was on a short four mile test hike.

If Arcteryx beefs up the cushioning on these pads, or offers various levels of padding on a few interchangeable hipbelt cushions... I would quite literally buy three or four of these packs and horde them decades to come. That is how much I love this pack. Even with the painful, spartan hip pads I'm still giving it five stars. Its great to see Arcteryx finally throwing a few bones to those of us who want lighter packs with fewer features.

Very sadly... I'll be returning this pack. I've ordered the Nozone 75 because its still under four pounds... and it uses a simplified version of the Bora hipbelt! I'll have a review for that pack sometime in the future... once I can put a few trips on it.