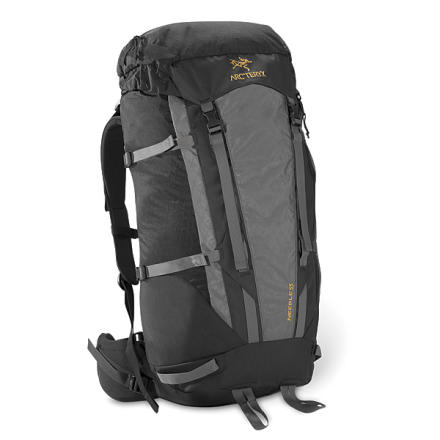 I think this pack could withstand just about anything you throw at it and then some. It also has plenty of storage for my 4 season 3 person tent, 0 degree down bag, 2 stuff sacks full of cold weather clothes (all inside) the poles carry well in the pocket on the outside and still has some room. The two lid pockets (one outside and one under) hold all those goodies such as your first aid kit, head lamp, and your tooth brush when you need quick access to those often needed items. Water proof zips and super hard core awesome material make this pack a must have. It was covered in ice for 6 nights and not once did anything get wet when it thawed!!! Get you one!!!!
This was my first large backpack I brought it to boundry waters and i worked good going from the canoe to my back.
I was very happy with the backpack- size and profile worked well for winter climbing, was able to get all I needed in pack. I've been happy with all my other arc packs so I'm not surprised.
Fits a rope, rack, shoes, food, and water for you and your significant other. Bomber construction and huge main compartment- swallows it all up. If you like a multitude of pockets and bottle holders etc. look elsewhere- but on the flipside if organizing all those compartment's contents gets old just dump it in and call it done.
I recently went to France in the alps to climb the Mont-Blanc, the bag went fine, the only thing is, the bag is NOT waterproof but WATER RESISTANT. After an hour under a heavy rain it was wet inside. other than that it's a great bag.
I just got back from a 5-day trek along the Bechler River in Yellowstone – about as nice a trip as you could ask for. I have an ArcTeryx Bora 95 I use for bigger trips, so the Needle 55 I used at Yellowstone was just right for a 5-day trek in summer. The fabric is virtually indestructible, and waterproof even without the pack cover, and the shoulder harnesses are firm and easily adjusted. I needed to add some closed-cell foam at the base of the back pad on the hip belt, but other than that the fit was perfect right out of the box.
Familiar with previous quality and design from Arc'teryx it was no surprise that my 4 day trip in early OCT to the High Sierra carrying the Needle 55 was a total success. The pack is light but not minimalist. It carries the load extremely well. The hip belt is thermo molded (Arc'teryx pioneered that) and it distributes the load like nobody else.
The shoulder straps despite being small did the job superbly. Size and shape is ideal for weekend trips up to 4/5 days, that's if you know how to travel light.
For people taking the kitchen sink with them, look for a larger pack. Despite six other packs that I own, this one is now my favorite. My only minor concern: having a rather long back myself, the pack was at its limit as far as sizing.
Arcteryx Needle 55 (mens med.)
I carried the Needle 55 on a 22 mile, 3 day loop combining the North Country and Manistee River trails. My pack weight was about 36 lb. including water and food. The pack supported the load very well and transferred weight to my hips as well as any pack I have used. The hip belt fit snug and the shoulder straps were never too tight. As for the pack bag, I liked the top loading style for its ease and speed of packing my gear, and the front accordion pocket kept rain gear, snacks and other quick access items readily at hand. Another nice feature is the hose port for the hydration bladder. It made removing and packing the bladder an easy task. My only nit pic is the absence of a bladder sleeve. There is a hook inside located near the top of the pack bag which could be used for hanging a bladder, but I found it easier to simply pack the bladder on the side (inside) near the middle of the pack. I think the hook would work best for hanging a bladder if the pack is used as a day pack. The fabric is as tough as you will find and virtually water proof, eliminating the need for a pack cover. Based on this experience I am intending to carry the Needle 55 in the North Cascades this August.