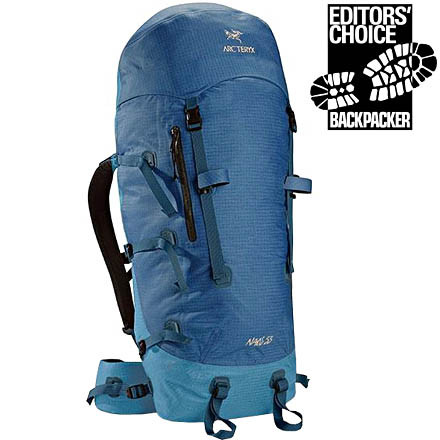 Detail Images

Community Images
Does the Naos 55 have a side zip access...
Does the Naos 55 have a side zip access to the main compartment? Thanks for the help
Nope, the only entry into the main compartment is through the top, which has a dry bag style roll-closure.
Used it first time for a 4 day trip on the AT from Springer Mtn to Neels Gap. First day rained continuously. None of the compartments leaked. The main compartment definitely seems very waterproof, ie submergible. The other zippered compartments kept the water out completely for me during this one day of steady rain, but I would tend to believe they would eventually leak given enough time or submersion. The belt and harness are very comfortable. Hydration system worked great with a camelback. Held 30-40 lbs no problem, and if I needed a larger pack, I would definitely consider the Naos 70 based on my experience thus far with this pack. Watching everybody else on the trail struggle with their non waterproof packs, rain covers, etc. in the rain made me a believer. Highly recommended.
Can someone be kind enough to know/post...
Can someone be kind enough to know/post the dimensions (LxWxH) of Naos 45 and 55 (tall if possible)Thanks so much.
Best Answer
Here's dimension for the Arc'teryx Naos (for a med. sorry, don't have tall dims, but you can add 2" to the L.

Naos (LxWxD) 45: 32"/81cm x 12.75"/32cm x 10"/26cm

55: 32.25"/82cm x 14"/35cm x 12"/30cm
Hi Brandon. It sounds realy tall? Does it go as high as your head or even above?

Its just, with a small pack, I like to feel that it is small on my back, like not getting stuck in branches etc.
eri- it's a fairly narrow and tall profile. That being said, I've loaded this thing down, and even with a rope under the lid, I can scoot under branches. Under normal loads it won't require you to duck to clear branches above the trail.
I have tried alot of packs over the years. Everything from Kelty at the begining, then moving on to Osprey and Gregory Packs, but this Arcteryx Naos is by far the best. First off the main compartment is totaly waterproof if you leave the port for the hydration tube closed, but if you leave the lid on and as long as you don't submerge the pack totaly under water it will keep everything absolutely dry. The zippered pockets are not totaly water tight, but as I said above it will handle everything but a total submerging in water. So leave that pack cover at home, and pray for rain. Another great thing is this pack won't absorb water into its fabric... thus it doesn't get heavier if it gets wet. This is the most comfertable pack I have ever worn. The key difference is the swivel waist belt. It makes for all the difference. The pack is free to move from side to side, but still be anchored to your waist. The material of this pack is super strong... and while I can't attest to it now, this pack seems like it will last a life time. The design is everything you need, and nothing you don't. Two lid pockets (one large, one small), two front zippered pockets (one large, one small), and the cavernous roll top main compartment.
This thing is AWESOME. Im about 5'6 and this bad boy fit wonderfully. The straps are like wrestling mat material which makes it very comfortable when your packin in all your boooz.... But really, you can pack in a huge load in the roll away main compartment, and the outside pockets have a nice amount of room for easliy accesing your "keep close" gear. I hiked in a pouring rainfall for 5 hours and your iphone will be just fine in this thing. Not a drop of rain on anything! This thing is like a gigantic, waterproof, dry sac.... Expensive, but you will never buy another pack again....
Did the Naos 55 come in Blue in previous...
Did the Naos 55 come in Blue in previous years? Now it seems to only come in grey, red, and gold, but some of the pictures show a blue Naos 55? Did they discontinue this color for the 55?
Yes it's only an older color. I just bought one Tuesday though from another online dealer and received it yesterday. It's a 2006 model and was made in Canada unlike some of the newer products. I'm sure backcountry wouldn't like me to link to it, so search for hiltons.
All the Naos packs are made in Canada
Got this pack for a trip across the US on my motorcycle which started April 1, 09.
I needed something waterproof to weather and larger than the standard motorcycle top cases that are really small. So I got this pack and just strapped it on top of my passenger seat and away I went...after 29 days on the road of which I backpacked 8 days-everthing inside the pack was always bone dry, thats riding and packing through snow, sleet, rain, 130mph winds on my bike with headwinds and 100mph wind with hvy rain. I actually used it to forde..more like swam across a swollen stream 3 times in Utah with the pack as my flotation device, I did use two tiny patches of duct tape at the zipper ends to ensure no water penetration to my map and trail book, not sure if that was necessary but better to be safe than sorry. When I travel motorcycle style I only take a bivy sack which means this pack was always outside in the rain, snow, sleet and sun for 25 of the 29 days and always dry. Only odd problem I had was 50mph wind knocked it over once during a stormy night onto its front and the pack just slide away like a tobaggon pushed by the wind, lol, started tying it down with paracord after that adventure. It was also great when staying at a hotel some nights as you can just throw the pack on and grab the bags out of my aluminum motorcycle side luggage all in one trip. The padding dries really fast and didn't get punky the entire trip. As far as harness fit, the shoulder straps lock onto a retagular patch of ? PTFE? or some kinda hard plastic located about between your shoulders and can be adjusted up and down and sideways which is great for narrow or people like me with wide shoulders. I'm not a professional backpacker but but after several thousand miles of hauling a rucksack around which I hated dearly, this packs really got me gassed up to do some serious backpacking, but, this time in comfort instead of using a pack from the lowest bidding Mil Spec contractor !
, ☃bcs_badge_alumni_label☃
Very Impressive Pack!
I just took this pack down to Coal Pit's Wash outside of Zion NP and was impressed with how tight the pack holds everything in a minimalist design that is very durable and light. The 420D fabric is super bombproof and didn't rip at all on the rocks, cacti, and trees it brushed up against on the trek. I found the bladder adapter to be quite simple and effective as well for easy access to a drink of water. Overall, a great design for those quick alpine ascents and two night desert trips. I would not recommend the Naos 55 for any trips over 2 nights if you are taking a sleeping pad, tent, sleeping bag and cooking gear as it is a bit small for anything over a short jaunt. I would recommend the Naos 70 for anything else over 2 nights if you have a ton of gear. My only problems with the pack was the waist belt rubbing on my hip a bit, which was annoying but could be something to do wtih adjustments to the pack perhaps. Also, the side gear straps could be made a bit larger for adjusting to larger diameter tents (when packed), but I managed to squeeze it in there. Overall, this would be a great pack in coastal rainy climates or a super durable pack or mountainous/desert climates as well.
, ☃bcs_badge_alumni_label☃
Arc'teryx Naos 55 in Coal Pits Wash, outside Zion NP
Pure fun in the desert with the Naos 55 on my back!
Took this on a canyoneering trip last summer and it did the trick. The straps weren't the most comfortable thing in the world, but the overall function of a 100% waterproof pack made up for it. Very simple, minimalist pack. Perfect for river trips, canyoneering, or fast and light hiking in wet climates.
Did anyone stop the squeak? I'm thinking...
Did anyone stop the squeak? I'm thinking about trying wax like my orthodontist gave me for my braces, but am wondering what other people have tried.
I would try corn starch for this type of fabric.
Best Answer
The current packs include a small tube of lube. I believe a light silicone lube works best on the hipbelt disc.
Arc'teryx Naos 55 on top of Mt. Washington 77 MPH wind
Great pack! Waterproof! I first took it on a overnight trip in the White Mt. National Park in NH. We hiked up the Huntington ravine trail no sweat! Pack stayed tight to body, even on sketchy climbs. (You can lube the suspension if it squeaks) The size is great, you can roll it down for smaller loads or over stuff it to a large load. I fill the bottom with my sleeping bag without a stuff sack. The one problem I had was although it is watertight all my Sh** got wet on my first trip. You see the bag has a thoughtful water bladder holder inside with a removable hole to route your camelback line. With the lid on the open hole stay's dry from most weather. My problem was my bladder leaked and all my stuff was wet! The bag did not leak, until I dumped out all my water it was holding. So it holds water just as well as it keeps it out! So if you need it to carry water for some reason it would work well. Thank God my sleeping bag is a Mt. Hardware Spectra with the waterproof conduit shell, otherwise it would have been a really cold night on the side of MT. Washington.
Bottom line great pack!
My question has bin answord below, but...
My question has bin answord below, but still I wunder. Is the load carring system good enough? I have som larger packs with super carring system and are looking for a smaller one, for 3 day trips in bad weather.But when I looked at the flat back ...I'm realy considering bying one, so can any one compare it to Arcteryx Bora, Gregory Denali og Osprey Argon? These are larger nad build for load, bu my trips are usualy 100+ miles over 3 days in tarrian meaning 15 hhurs a day with the pack on my back.Hope that som of you have a good advice.ThanksErik
Best Answer
I can compare the Naos to the Bora. The Naos isn't as plush, but the suspension is so close to your back that it will carry very well with medium weight loads, and the pivot belt system reduces chaffing to nothing. I'd take a Naos over a Bora for lighter weight loads and shorter trips, plus, the waterproof construction is great and fabric is super tough. If you're carrying a case of beer,and all the other "extra" stuff. the Bora would be nice.For your trips- Naos.
does this pack make me look waterproof?
hey. just took this pack sans lid for a day hike to see how it would do. held up nicely just as it did on the overnighter i took it on a few weeks before.

as a point of curiosity, today at the waterfall/swimming hole, i threw the pack in the water and used it as a flotation device. overall a success, but beware of the outer zippered pockets.. i failed to remember the drainage hole at the bottom of the large one and how the small one is only kept separate by some stretchy, non-water resistant material. i'd imagine the lid isnt dunkable either, but that's for me to find out later.

as a response to the guy who said it was an odd shape at the bottom: i just pack in my sleeping bag without the stuff sack. it fills in the space nicely and you can just cram stuff on top of it. its worry-free, even with my down bag since.. well.. its a drysack.

my straps squeak too.. not sure what to do about that. great pack though. cant wait to use it again.
hey there... im now kinda stuck between...
hey there... im now kinda stuck between the Regular one or Tall one.... im about 5 foot 6...... is there a huge tall difference btween reg and tall one??? i mean the length...... coz i really want to have a look at the photos of guys carrying this packs bihind them with 2 diff sizes... thanxand can i know what size the u for the photo shoot for this website? Reg or TallKal
I'm 6'5" and the tall fits my torso rather well. I think you would be at the short end of regular, and possibly even want a short size, unless your torso is extremely long for your height.------------------------------------Hey Jinxkal, I am 5'10 and I went with the regular pack. It fit me very well. You would actually be between a small and a regular like BigBrian said. I would measure your torso and find out your back length. Because the short is going to fit a torso length of 16-19in, the regular is going to fit 18-21in, and the tall is going to fit 20-23in. As far as the photo, the pack(s) pictured are going to be of the regular size. It's more important to choose the right size pack using the torso length measurement. To find your torso length, measure your back along the spine from the the top point of your hipbones to the knobby bone at the base of your neck. This will give you a measurement in inches that will determine the correct pack size. I would use the aforementioned procedure & find your correct size.
I'm 6' tall with a very long torso (my sleeve length is 36.5") and I was right on the line between regular and tall. I ultimately decided to go for the tall frame and I've been very happy with it, but it sounds like you'd be more in the range of a short or regular.
There is probably a different "best" pack for every person depending on your build, etc., but for me (6ft, thin build) this the best pack I have ever used. The suspension features a flat back, but great padding on the straps and belt. When cinched down, the pack stays slim and in place. The swivel on the hip belt is a nice touch, especially if you are moving around a lot. The material is tough and took a week of rock scraping in Utah with no problems. I love the rolldown top and the fact that this bag can become a dry sack. There's a good pocket for your bladder (something the Needle lacked). Only one complaint, and maybe someone has an idea to solve it: the plastic buckles on the top shoulder straps -- when fully tightened -- squeaked during my hike. Slightly annoying. I loosened them and the squeaking stopped, but would prefer to have them tight and not squeak.
The Arc'teryx Noas 55 Pack is a great pack to use on longer trips. It can handle anything that mother nature has to throw. I used this pack on a 3-day trip and I loved it. I was able to carry everything that I needed and more without the worry of ruining anything because of water. I love the dry bag design of the bag as well. Not only does it make it a very secure bag, but it also makes it a very waterproof bag. On top of that, Arc'teryx has waterproof that top off the waterproofing of the Noas. This pack is also very adjustable, from the hip straps to the shoulder straps to the back support.