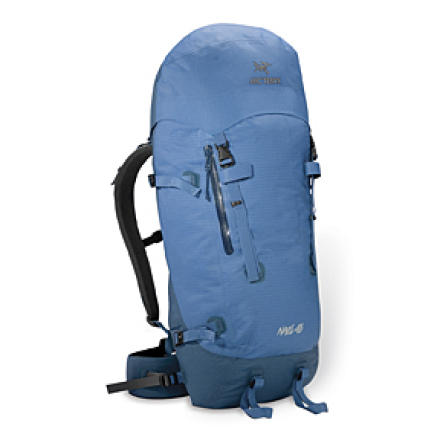 Anybody know of anyone selling one of these...
Anybody know of anyone selling one of these in size short?
Hey Albert,

Unfortunately not. I recommend contacting Arc'teryx directly and they should be able to point you in the right direction.
I have two questions. 1.) I do many river...
I have two questions. 1.) I do many river trips and I am tired of carrying my big bulky river duffle. I don't mind a bag two big for me-I'm 5"5'-and I do 12-14 day trips. Should I get the bigger bag or will a manage with the small one? 2.) Does this bag have a role closer thing like a river duffle.
The size you need will depend on how much gear you bring and also for how long your trips are. These bags typically have an extra 10L of capacity depending on how you use the roll top closure. Which will answer your other question. It has a roll top closure with snaps, as well as a floating lid that goes on top of that. So depending on your load and the weather you can carry more or less. The bag is completely waterproof so it negates the need for a rain cover. It is also said to be fully submersible (you would need the roll top closure used properly however (2-3 complete rolls). It is certainly a better choice than a duffle bag!
If this is fully submerged in water like...
If this is fully submerged in water like on a river trip will the bag keep my gear dry???????


Please Help!!
For a short period of time, but I wouldn't expect it to keep your stuff dry for very long. Even the best waterproof pack won't take a prolonged soak. The more dependable- and common- way to keep your great dry is a waterproof pack liner or dry bag.
So I understand that the outer pockets are...
So I understand that the outer pockets are not 100% water proof.
What about the main compartment? Can it withstand go through a swim in the rapids and keep the stuff inside 100% dry?
Thanks in advance!
P.s. I'm having a hard time getting a consistent answer to this question. Any paddlers on backcountry.com?
Best Answer
It's as waterproof as any backpack will get. This is your best bet. If you have electronics, use a dry bag.
I am a paddler, and the main compartment is just as waterproof as any other dry bag. If the bag is totaly submerged in water for a long period of time water will work it's way in, but it will definately keep your stuff dry if you swin a rapid. Just this past weekend I hiked a trail in North Georgia that had 20 waist deep river crossing on it. On one of the crossing I slipped and fell in the water up to my chest. While I didn't stay in the river long, all of my gear stayed dry.
Waterproof, stylish and comfortable
This is a great product......I have had it for a week long cross-country tour in the northern part of Sweden, sub-zero weather, in snowstorms as well as biking in heavy rain and my clothing are still dry........It is very comfortable to carry, never any problems from my shoulders etc, but try them out before getting one, one cannot adjust the back that much.......
I do love my Naos 45. I got it about 3 years ago. It fits my torso very well. I am 6'5" and the tall works great. It carries loads quite excellently. The swively bit, and the hip load distributer in general is great. It just works with my strides so well. It is pretty water resistant. After a recent 15 mile hike in the midst of all-day often-heavy rain: the pack was only wet inside to the extent that i placed wet items inside. Very nice.Here is the only downside, so far: the taping or whatever on the left-hand (large) exterior pocket has disintegrated. It did so not too long after I got it. The other zippers have held up well. I contacted Arcteryx recently about this, and they said to ship it back for them to check out. I haven't done so, yet (can't be without my pack! hehe), but this seems like great, personal, service.
Why the price difference between this and...
Why the price difference between this and the Acrux? They seem pretty similar to me...
Nevermind...the price difference is because the Acrux of similar size is on sale...however, is there an advantage to this pack over the Acrux?
The Naos has more padding on the back, as well as in the single-piece hip belt, which has a pivot, to reduce chafing. Also, Naos has a couple external pockets.
The biggest advantage is the swivel hipbelt. I own the Naos 55, and I can say that the swivel lets the pack move with you, no matter how contorted you become while scrambling over obstacles. It really feels like a part of you. The Acrux uses a conventional fixed hipbelt, so you won't get the same sense of being one with your gear. Nevertheless, I'm sure it's a fine pack.
Hi, I'm 6'1". Do you think I should order...
Hi, I'm 6'1". Do you think I should order a regular or tall? Saludos!
6"1" is in the tall range but your torso measurement should be the determining factor. Go to Arcteryx's website and follow the instruction of torso measurements. Your torso length dictates.
Have anyone tried to carry skis on this...
Have anyone tried to carry skis on this backpack? And is this backpack suitable for people on 1.90 meters or taller?
Norwegian.
I'm not sure about the skis, but I am 1.95 meters (Norwegian/American) and the Arc'Teryx "Long" or "Tall" sizes fit my torso extremely well.
The specifications indicates that there is no dedicated ski carry system. but I'm sure it wouldn't be too difficult to use the side compression straps or axe loops to carry the skis.
Stable, stylie, Waterproof
Took this pack into the High Uintas of Utah over the weekend, and it felt great. I've been carrying an Arc'teryx Bora pack in the mountains for years, and the bora packs feel exceptional, however, they are on the heavier side. Here's the answer from Arc'teryx. The pack feels very close to the bora in terms the way it carries. I'm 5'10", 145lbs and the size regular is perfect. Big enough for a night or two in the summer, but I think I'll stick to my bora for pure backpacking trips. However, This pack will replace my old North Face Patrol pack everywhere else. This is a superb ski touring, day outing, ice climbing size and shape. The unique waist belt system feels great, and really moves with you. This will no be my go2 pack for nearly everything in the mountains!
, ☃bcs_badge_alumni_label☃
This thing is like what mermaids need
So if were a mermaid and I've never been one so this is all speculative - I'd buy one. When I got to land and needed to float to watch handsome beach-princes toss frisbees to dogs and blast gulls with bread crumbs I'd inflate the pack and use it as a flotation device.

Then when I needed to dive back my village I would deflate all air, and put my electronics in the main compartment, diving to 20,000 leagues - with a dry digital camera the whole time.

But I am not a mermaid and at this point it looks like I'll never become one (which sucks) so I will just use this bag for canyoneering and keeping beer dry in the rain.