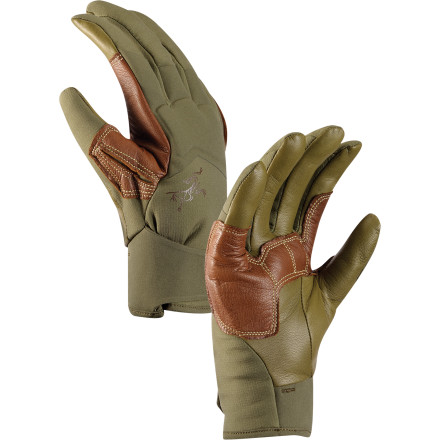 Mixed climbing gloves have to balance warmth with breathability, protection, and dexterity, and the Arc'teryx MX Glove finds that sweet spot. Built with the premium materials and the famous Arc'teryx attention to detail, the MX Glove helps get you up your next project in impressive comfort.

Polartec Power Shield O2 Highloft fabric features a high-loft fleece on the inside to trap body heat and a smooth outer layer that's breathable, pill-resistant, and that layers easily
Climbing-specific reinforcement of supple Lezanova leather offers protection from belay ropes and climbing tools without adding unnecessary bulk
Single fingertip seam creates a precise fit and excellent articulation
Laminated low-profile knuckle panel protects the back of the hand
Laminated cuff pull area distributes pull across panel for increased durability
Hook-and-loop wrist tab secures the glove snugly
Poor quality control
Familiarity:

I've put it through the wringer

Fit:

True to size
I got my first pair of MX gloves over a year ago. They are absolutely excellent (5/5 and definitely worth the money): super-durable, firm grip, warm enough for 20F, and the fit is amazing. I used them for primarily for drytooling and ice climbing, but also for training. The fact that they lasted over a year, when used heavily 2-4 days a week, made me want to buy some spare pairs.

Until now I ordered 6 pairs in total. One of them came torn at a seam; in two of them thumbs were significantly longer; the only green pair I ordered was slippery (compared to the black ones). Out of 5 new pairs I only kept one and sent the others back. To make a long story short - the new pair got worn out in a month and the fit was never as good as in the old pair (see photos). There must something wrong with the quality control. Some pairs have really good thumb design, others are pointy. Some are amazingly durable, some are breaking apart.

It's hard to recommend these gloves, because you never know what you're going to get. But with some luck you can get the best climbing gloves I've ever seen
Not up to Arcteryx quality this time
Gender:

Male

Familiarity:

I returned this product before using it

Fit:

True to size
Stitching in the palm seam opened up when I put them on for the first time.



Impressions otherwise; Tight fit as a mixed climbing glove should be. The leather palm should provide good tackiness on tools. Like most other gloves designed for mixed climbing, don't expect these to keep your hands warm.
For girly hands, not hulk hands.
Familiarity:

I've used it several times

Fit:

Runs small
Initial impressions of quality and design? Stellar. However across glove makers I usually wear a large, very rarely an xL. Got these in a large and they are obscenely tight, which is a good thing I suppose for warmer temps mixed climbing, spring/summer alpine pursuits etc. but avoid the cold, these lend themselves to a strangling, compressive effect, probably via venous congestion or something. My hands have always been cold wearing these unless I am highly active. First route out with these, did some easy AI 3 in the summer, in the Sierra. Did minimal rope, tool work and already have a hole on the softshell backing. Hands were ok with the ascent but once I cooled down it was a problem. I would've bought an XL. The just dont do it for me at this price. These might be great for the elitist winter golfer?
Hate to do this because i love Arcteryx but these gloves dissapointed me before i even used them. Got them a month before i was going to use them ( please notice i ve got made in china version ) not sure if these ever were made in canada but anyways. Tried them on arrival and felt discomfort right away the fabric on the inside joins wasnt cut enough so i had to fold them inside out and cut the labels and pieces of fabrics on the inside so they wont poke my hands, no biggie but then it was snowing outside was high 20s ive decided to come outside and just see how they feel , they grab very nice if u hold anything in your hand a knife rope or pole they hold it amazingly but if temperature drops bellow 40F you will be warmer with out them literally i was hiking on the move in mid 30s with 15-20mph wind it made me colder then i was with out them for some unknown reason and after i grabbed stones and few trees to pull myself up right glove ripped right infront of me so then i put some glue on the joint on top of both gloves because i ripped off by myself the other one with ease so i figured id put some super glue over both of them . The area on top of the glove is very sensitive when u grab to something or make a fist because of the insulation padding foam inside when you make a fist front fabric picks up and pulls wrist part which creates alot of pulling force but my left glove i ripped it myself very easily so i think its either defect or they didn't put enough glue on the factory.



dont get me wrong they feel very nice and gram extremely nice i will continue using them but only 40F+ . i would recommend make a stitching on top of the glove or put some crazy glue over them just incase
Niiiiiiiiice.
Gender:

Male

Familiarity:

I've used it several times
Awesome glove. Used and abused these things over the last month or so. The inside lining on the back of the hand is such a nice touch. Although not a cold weather glove, I've had them down to freezing temps and they don't actually perform that bad! I've gotten so many compliments on these things, it's insane.