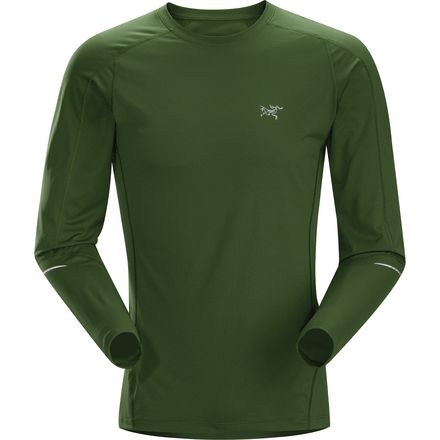 Community Images
Description
Keep going.
The Arc'teryx Motus Crew has been proven to push runners past their limits; when your torso isn't dripping with perspiration or overheating, you are much more likely to performance better and make your competition look weaker. Quick-drying Phasic SL fabric wicks moisture away from your body to evaporate quickly while hydrophobic fibers next to the skin prevent you from feeling clammy when you're cooling down. It stretches, breathes, and keeps form after many uses; what it doesn't do is rub against your skin with nasty seams. You'll barely feel the flatlock seams at all, really. A tough of sun protection gives you the confidence to stay out just a little longer without worrying about skin damage from harmful UV rays. This layering piece is great for touring or cold-weather climbing when altering between high-output aerobic activity and sitting still, or for warmer-weather runs where you want the sun protection but don't want to overheat.
Phasic SL construction
Moisture-wicking and lightweight
Four-way stretch
Trim fit
Flatlocked seams
Sun protection
非常不错的一次购物,到货很快
这个衣服真的薄如蝉翼,速干的效果很好。在室内室外分别试穿了一下,室外气温大约10摄氏度。一件motus 一件皮肤风衣,慢跑5公里后motus仅有一点潮没有普通棉质T恤é'£ç§æ¹¿ð£µ›åŽç²˜åœ¨åŽèƒŒä¸Šå†°å‡‰çš"æ"Ÿè§‰ã€'çš®è'¤é£Žè¡£å†…部有一å±'细密çš"æ°´ç ï¼Œåº"该是æŽ'出çš"汗液ã€'室内温度大约20摄氏度,大约40分钟利用椭圆机做hiit,衣服上没有明显特别湿çš"地方,只是背部出汗多çš"地方有ç'¹æ½®ã€'做过æ"¾æ¾è¿åŠ¨åŽåŸºæœ¬å¹²äº†ã€'这件衣服çš"速干效果真是没çš"说ã€'åœ¨è¡£æœå¯¸ç æ–¹é¢æˆ'170高78KG,按照胸围的大小选择的Lç ç©¿ä¸ŠåŽè¢–å­å¤ªé•¿äº†ï¼Œè¡£èº«é•¿ä¸€ç'¹ï¼Œè'¥ç˜¦å·®ä¸å¤šã€'ä¸‹æ¬¡å¯ä»¥å°è¯•é€‰å°ä¸€ç çš"ã€'
Nothing to say... Arcteryx
Familiarity:

I've used it several times

Fit:

Runs large
It fits great. kind of relax, Fabric is really soft and quality is amazing.
I use it for Cassual and looks great.
very good item
Familiarity:

I've used it once or twice and have initial impressions

Fit:

True to size
very comfortable and light so i even forget wear this item. I like it ,and may buy another one later.
Looks great on my man and fits him like a glove. He loves the comfort and breathability.
So good I bought 2 more.
Familiarity:

I've put it through the wringer

Fit:

True to size
I purchased this shirt because I was looking for a warm weather hiking and trail running shirt that offered protection from the sun. I've used it on several weekenders, trail runs, and twice for over 14 days straight as my one and only shirt. The verdict? Stink-free, suburn-free and comfortable the whole time - so comfortable I forget I'm wearing long sleeves. Besides some wear on the screen-printed logo, the shirt still looks brand new. I love it so much I recently purchased 2 more.
sweet
Familiarity:

I've used it several times

Fit:

True to size
I bought this as part of the layering system and to wear as a stand alone in warmer temps (I live in the Pacific NW so I dont have to content with much heat but on those hawaii and desert trips this shirt may do the trick).
Very thin, comfortable slick feel. Seems to breathe well.
I sized up to have a looser feel.
On the pricey side but if you like performance gear that helps justify the cost.
fantastic running shirt
Familiarity:

I've used it several times

Fit:

True to size
Fits perfectly - not too tight, not to snug. shirt is very light, I can hardly feel it. the fabric is smooth but feels nicer than cheaper synthetics. great color - does not show huge sweat marks.
Breathes, Sun Protection & doesn't stink
Familiarity:

I've put it through the wringer

Fit:

True to size
Even though this is design for runners. I has been super nice as a base layer for alpine climbing. It provides protection from the sun and breathes as the same time so I don't need sunscreen on my arms. It can get pretty hot on a glacier with the sun reflecting off the snow and this shirt does well to help me regulator my body temp. Then afterwards when I grab a bite at In-n-Out I don't smell like I have showered for 10 days. I really like how light it is too. It is just a great product all around.
Exceptional Breathability. Non-Stink
Familiarity:

I've put it through the wringer

Fit:

Runs large
Comfortable, dries quickly, and doesn't stink. The arms are just the right length. I even like the colors.



Wore a couple of these on the equator for a few days and never noticed the heat--a real boon for those of us who need to cover up in the sun.



Worth the crazy price.
five star long sleeve
Familiarity:

I've put it through the wringer

Fit:

True to size
fashionable, active endeavors are great in this, fits athletically. 6'4 195 large is perfect fit. Can wear in 80-90 degree heat too.

Get one and fall in love.