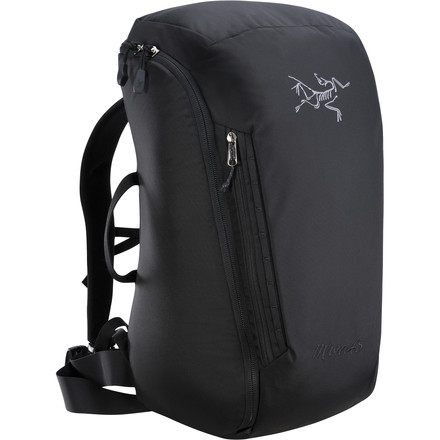 Detail Images
Description
A fully-padded pack built for the crag.
From the famed bullet-blue limestone of Ceuse to project sessions at the local sport crag, you can keep your kit stowed in the rock-ready Arc'teryx Miura 45 Backpack. To save you the struggle of blindly trying to grab gear out of the gaping maw of a top-access pack, the Miura has a surround-zip system that opens the entire front panel, letting it lie flat so you can easily see, organize, and access your rack, grub, and crag gear.

There's an internal gear loop to help you stay organized, and external daisy chains for extra carrying capacity. You can keep guidebooks and maps handy in the dual zippered pockets so you don't end up wandering the desert like a climbing Moses, or just dump your gear out and use the Miura as a rope bucket if you'd rather leave the rope bag at the campsite. High-density back panel foam provides the structure to haul heavy loads, breathable and comfortable shoulder straps distribute pressure evenly, and the whole package is wrapped in ultra-rugged nylon so you don't have to worry about tight squeezes, tree branches, and the wear inherent to general dirtbaggery.
Surround-zip system
Internal gear loop
Daisy chains
High-density back foam
Top and side carry handles
Bungee attachment system
Hydration-compatible
Unanswered Question
I'm looking for ski boots bag and this bag looks pretty good. Is it possible to storage 1pairs of ski boots( us 9.5 size) and ski helmet?
OR Just 1pairs of boots available? OR not acceptable for using boots bag?
So dissapointing!
Familiarity:

I've put it through the wringer
This entire review is predicated on having owned the 1st edition Muira backpack (stolen) and replacing it with the new.

The 1st edition was the best backpack i've ever owned, for many reasons. Some of those most endearing features are straight up GONE on the new one.

Hip Belts - Though a climbing pack, I took the old one on several 10day self supported backpacking trips and it carried beautifully. Weight easily and comfortably supported by the formed and (slightly) padded hip belts.
***New Muira - All gone and replaced with an unpadded, narrow nylon luggage strap. When heavily loaded, I frequently get sore and chafed hips just hiking to the crag. Shoulder straps also under-constructed and leave my shoulders tired.

Loading Design - The old roll top design was fast, smooth, and easily accommodated overstuffing.
***New Muira - Fancy dancy curved zipper frequently gets stuck and heavily resists closing at all if the pack is loaded anywhere near the limit. I often just leave the top flopped open because it's not worth fighting the dang zipper. This also speaks to why the pull-tab ripped off; it's such a battle every time you have to open OR close it.

Kangaroo / Outer Pockets - 1st edition 'Roo pocket was easily loaded with everything from lots of clothes to multiple water bottles, and easily accessible from the inside or out.
***New Muira - Totally flat pockets that are good for storing your neatly folded newspaper, at best. Light warm layers are painfully stuffed into them and anything like a water bottle or harness, forget it. The two pockets are layered on one another too, so putting anything in one pretty much eliminates the possibility of carrying your second newspaper in the second pocket to the crag. OH, and if you want to attach anything to the outside of the pack on the built in stretcy-strap thing, you'll DEFINITELY have no room in those pockets.

Outside Storage - 1st edition had several high capacity options, either on top of the lid or on the back. Frequently carried ropes/tents/jackets/whatever in both places.
***New Muira - have fun with that. The stretchy strap on the back is flimsy, difficult to use, and will carry an extra light layer at best. Often my stuff still falls out on the trail.

I realize the comparison to a model no longer available might seem stupid, but I feel much of the Muira backpack line's reputation was built on the 1st edition. Seems like they took everything good about the old one and ditched it just to make a new product for sake of the new product cycle.

Poor design, poor quality. I wouldn't recommend this backpack to the devil himself, and will always think twice before trusting the design engineers at Arc'teryx again.
sweet cragging pack
Familiarity:

I've put it through the wringer
I was initially worried about the durability of this pack as it is pretty much zipper all the way around with no straps to hold it together, but after a year of use as my go-to crag pack mine is still holding up well. The rubber zipper pulls can be kinda flimsy and will pull off the cord that attaches it to the body of the zipper (there are no metal pull tags on the main body zipper), but you can make your own out of some knotted utility cord.



This is the perfect size for day trips and the way it zips all the way open makes it way easier to fit all your gear in here compared to top-loading packs of similar capacity (not to mention way easier to access it later).



The yellow color seems pretty susceptible to staining and discoloration, so consider buying a darker color if that sort of thing bugs you.
From the crag to the alpine
Familiarity:

I've used it once or twice and have initial impressions
It seems like Arc'teryx designed the Miura to get your gear to and from sport crags, so I naturally felt inclined to take it up the Grand Teton and back in a day. In some ways, the Miura is a dream for alpinists. It's light, wears well, leaves room for your harness, and opens completely so you can grab gear quickly and efficiently.



I was surprised at how much gear this pack could actually fit. My short pack stored a twin rope, harness, shoes, helmet, cord, belay device, a puffy, three additional layers, and all the food and water I needed for a fourteen-mile, 6,000-foot, twenty-hour adventure.



Fit to the brim, the Miura can also store my 70M 9.8mm rope, a double rack, my helmet, shoes, harness, belay device, 10 alpine draws, anchors, and water. I'm sure I could still fit extra layers and water without too much hassle.



My only complaint on my alpine trip was that this pack lacks in padding. Granted, Arc'teryx didn't design this pack for long trips up to the alpine, so I shouldn't be upset at the stiff back panel and flimsy waistbelt webbing. I think I may sew a hipbelt on or something. But if you want to go light and fast while still storing a significant amount of gear, the Miura is totally the way to go.
Super Functional, a bit Small
Familiarity:

I've put it through the wringer
I went with the 45L because I remember they used to make this in a 50L. Maybe I carry too much stuff and need to plan better before I leave for the crag but, it barely holds my full rack, 70m 9.5 Rope, and 12 draws. I like to bring my sport and the trad gear just in case plans change and many different crags have those options available. If you put the rope and gear in there it definitely wont hold your helmet but, it has outside gear loops to secure that thing on there so its not swinging around like a boy scout. I wish it cinched down as well but, I can and always will carry a smaller actual climbing pack to hold water and such while on longer multi pitch climbs. For taking it to the crag and laying it down its really nice. You can open it like a top loader or a side meaning, you can take out just the rope, or put the trad rack on top and take that out as well. Its more rigid design allows it to stand on its bottom really easily so you can dig through it. I like 2 outside pockets that dont connect, I usually can stuff my harness, chalk bag, and shoes in that. The top pouch is perfect for your guide book that works well. Also when you fully open it, it can act as a tarp as well which is a nice touch. Final thought, great to bring to the crag, not a bag to actually climb with on a multi-pitch route, make your second person carry something that can cinch.