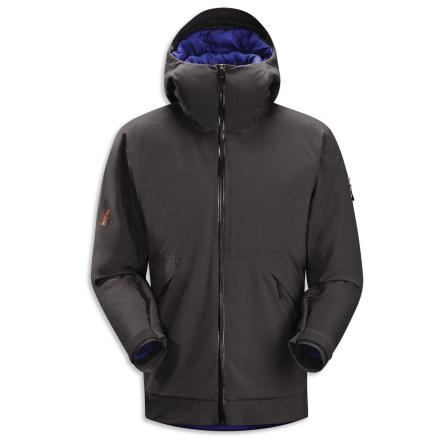 Detail Images

Community Images
Stay warm and bone-dry while you search for the best pow stashes on snow days. The Arc'teryx Men's Micon Jacket combines Gore-Tex Pro Shell 3L construction with CoreLoft insulation for comfortable protection when winter storms rage.
Gore-Tex Pro Shell three-layer fabric blocks winter wetness and stands up to years of mountain abuse
CoreLoft 100g insulation boosts warmth
Smooth taffeta lines the sleeves so it's easy to slip the Micon over layers, and Coreline lines the torso to keep your body heat in without binding
Articulated elbows and no-lift gusseted arms mean you can pole-plant and adjust the hood without torso-rise
Relaxed fit for roomy mobility
Underarm zips dump excess heat on dawn patrols or during mogul runs
Powder skirt and hidden RECCO reflector for inbounds comfort and support
Helmet-compatible hood with stealth adjusters and a laminated brim
Wide cuffs slide over gloves, while elastic and hook-and-loop tabs lock things down
Best Jacket I have ever owned.
Familiarity:

I've put it through the wringer

Fit:

True to size
This is the best jacket I have ever owned, I actually have two of them. I wear them from December to March. It keeps me dry and warm in both rain and snow. Ice and sleet, I have been in -20 windchill and was perfectly comfortable.



The only problem I have with the jacket is the lining, You can't really where the jacket without a long sleeve shirt on, because it gets stuck to you skin when you sweat a little.
Micon Jacket Performs Well in Bitter Cold
I just finished skiing at Lech/Zurs, Austria, during the week of Feb. 4 - Feb. 11, 2012. The early A.M. temperatures were (on average) -27C/-16.6F. The average mid-day temperatures was (on average) -17C/+1.4F. I said in my earlier post I would wear an Atom LT under the Micon if temperatures were brutal... I did! I was NEVER cold and I left the vents open all the time. We did have one day where the temperatures warmed to -5C/23F... I was TOO WARM with the Atom LT under the Micon. On a normal day all U have to wear is a base layer under the Micon jacket... that's it!!

I understand most skiers use the base, mid & outer layer scheme. The Micon is your mid & outer layer on a normal ski day. Very cold temperatures (I think) do require some sort of mid-layer. I think the Atom LT is best! You could also use RHO AR Top with success as well or any mid/heavy fleece. I must stress ONLY IN VERY COLD WEATHER!

Don't take my word for it... wear it :-)
MICON and TITAN jackets are very similar in design and cutting. Fit of them are relaxed with same measurement in chest and waist area. TITAN jacket has been discontinued and I love it very much. The MICON jacket is even better. Fabric is very soft and insulation is CoreLoft, which looks less bulky than PrimaLoft used in TITAN jacket. MICON features with underarm zips while TITAN does not. Since the jackets are very warm, venting is relatively important.

List price of TITAN and MICON jacket are $600 and $800 respectively. With MICON jacket you get softer fabric, underarm zips, new insulation CoreLoft, more pockets and hidden RECCO. I do not regret to buy the very expensive MICON jacket.

For your information, MICON jacket is made in CHINA and build quality is top class.
I wore the jacket for the first time in Vail. Temp was 10-15 degrees F with wind on the lifts(back bowls). All I had underneath was a base layer. Body temp was perfectly regulated. I never got too warm or too cold. Had the pit zipps open the full time. Definitely a cold weather jacket. Much warmer than the Sabre jacket I wear most of the time.
Poor Value with Shortcomings: Minimalist = Missing
I own a lot of jackets from a variety of companies. From Arcteryx I have a Beta AR and a Venta SV.

I just received this jacket, having also recently received the Helly Hansen Enigma Jacket a few days earlier. The HH jacket goes for about 100 less. Other than weight, the Helly Jacket is far superior in almost every way--just check out the dual ventilation, balaclava, interior pockets/features, removable hood, outside pockets, collar adjustments, wrist gaiters, etc.

Arcteryx genuinely deserves some criticism for this jacket, especially at this price. The jacket isn't bad in all respects but it is certainly way short of a good value, even for Arcteryx high-priced standards. I believe Outside also registered a similar criticism about price, in a review. It's true.

Let's start with the little things: for 800 and a jacket made in China you get a screened on logo (on the sleeve) rather than a sew-on logo. For anything such as skiing there are two outside hand pockets, but no outside chest pockets, and one small arm pocket. Are the two hand pockets even hand-warmer pockets? No, pure shell inside and out...that will keep your hands warm (!). Please don't tell me that for 800 that this is some sort of "minimalist" design philosophy. Skip on a few pockets/features, screen on the logo, make it in China, and you are saving money. There is always something missing when comparing features of Arc jackets to others in the same category. The Fission AR lacks pit zips (I suppose these skiing people--see their reviews--never overheat) and I could go on with others.

Design flaw/execution: inside of the jacket, along where there are pit zips, you can feel a conspicuously raised bulge of jacket/insulation along the entire inside length of the pit zipper, and especially at the bend where it hits your arm pit. There has got to be something wrong here. Not just noticeable but seriously uncomfortable. And with an insulated jacket you don't always have a thick midlayer on to absorb this feeling/bulge. I've had jackets from Cloudveil (older CLV), Helly, and Patagonia, which are insulated but with a smooth interior along the pit zips. I'm hoping that this was a manufacturing mistake on my particular Micon jacket.

Unless you enjoy smoking the Arcteryx weed, I would suggest that you really examine what you are getting here for the money.

The Blue Ray color is awesome, however.
I know this is totally personal.. but with...
I know this is totally personal.. but with the price of this awesome jacket I'm having a tough time picking a color to go with black pants!

Absinthe or Blue ray guys!?

Thanks!
I tried the Absinthe - loved the jacket - didn't love the color - go Blue Ray.
only Absinthe has a very cool Arcteryx on the sleeve. No other colors have it. No it is not a conventional color.
I just skied with the "Micon" Jacket at Saas-Fee, Switzerland in snowy conditions w/moderate winds.

This jacket compares w/Patagonia's "Insulated Powder Bowl Jacket". The "Micon" is over 500grms lighter, has way better vented pit zips - mine were open all the time - and (IMO) a simpler design... "Simplicity is the ultimate sophistication" - Steve Jobs

I wore an Icebreaker GT baselayer under the jacket and nothing else. I was warm all the time. I would not wear this jacket on a spring day, this is meant for cold, nasty weather. Leaving the lined pit zips open will keep your temperature regulated... no worries at all. I did keep a "Sigma AR" vest in my pack just in case. Layering with an "Atom LT or SV' would only make sense if the temperatures were brutal!

The "Micon" is worth every penny in my book ;-)
I've been debating between a few jackets...
I've been debating between a few jackets and just wanted some help. I originally wanted the Fission SL but found I would need more warmth. I then leaned towards the SV or Mako. I found the Fission SV to have a much tougher shell. Which has led me to look at the Micon which has the SV like shell with updated features and slighter lighter feel. Wondering what are others thoughts. Using it for Chicago winters, at sporting events standing in negative temperatures, walking outside in hard winds for work, and going on 3-4 ski trips this winter.
Best Answer
Honestly? I think a coat like this is overkill for what you want to do with it. Now I understand how cold it gets at sporting events, and how wet it can be in Ch-town in the winter, but honestly this coat is designed to take abuse in the backcountry of well.. just about wherever you want to take it, every day. Using this for a Chicago winter just seems like using a Ferrari to win a soap box derby.

That said... will this do your job? yes, and then some. If you want to dump the dough on a coat this nice rest easy knowing that just about anything you can throw at it, it will take in stride.
Hey Brandon, I'm used to the 3-layer system...
Hey Brandon, I'm used to the 3-layer system (with Gore-tex hardshell) so this will be a bit different for me. I'm thinking on warmer ski days I'll just use a base layer underneath this. And on really cold days I'll wear base layer + mid layer underneath. I really like the feel of the Atom LT hoody but think that might be a little overkill in terms of insulation? Can you recommend any Arc'teryx accoutrements for this jacket?
Hi Joe,
You've got this system right. For the really cold days, I've paired this up with a Delta LT pullover and that works well. I also like the Accelero as a light mid-layer, that can be used for all the mild weather months as well. I love the Atom LT hoody, but unless it's below 0f, or you're standing around, you would probably roast.
I'm 6'2, 180 lbs. I'm thinking a large...
I'm 6'2, 180 lbs. I'm thinking a large would be a good fit. Am I right?
Most likely. There is a sizing chart under the price that may help confirm that. Best of luck!
Yeah, large is your size.
Is it still made in Canada or in China?
Is it still made in Canada or in China?
Hard to figure that out, here is what Arcteryx says on the point:
Arc'teryx is a Canadian company, and all of our product design, R&D, and production development is done in-house at our head office in North Vancouver, British Columbia, Canada. We are unusual in the outdoor softgoods industry; we choose to design, perform our own patternmaking and develop all of our products in-house, and we have our own 30,000 square foot state-of-the-art manufacturing facility in Vancouver. This allows us to readily explore unorthodox design concepts and gives us complete control over the development of new products. As more North American brands move their design and production overseas, Arc'teryx remains a member of an ever-shrinking group of manufacturers that employs a full complement of vertically-capable in-house designers and product developers.

Arc'teryx is one of only a few major outdoor industry outerwear brands in North America to have its own domestic North American manufacturing facility, and we proudly employ highly skilled workers in our Vancouver, Canada factory. Our factory is only ten minutes from our design studios, which allows us to test proprietary production techniques and fully develop and commercialize our innovative products. Major brands often use outside design contractors, and usually conduct product development through independent manufacturing facilities. We prefer to have control at every stage of our products' design and development.

We also have product assembled in nine other countries around the world by high quality, experienced manufacturers. We have one quality standard and it applies to all of our products regardless of location of manufacture. We do not make substitutions or alterations to our products based on manufacturing location or facility. Arc'teryx refuses to compromise quality or performance for any reason, and all of our products are backed by our product lifetime warranty.
Currently, Arc'teryx products are also manufactured in nine other countries besides Canada: USA, China, El Salvador, Italy, Philippines, Taiwan, Thailand, Bangladesh and Vietnam. In all of these countries, including Canada and the United States, it is very possible to manufacture very high or very low quality product. Arc'teryx chooses the highest standards in all of our manufacturing locations, and helps train skilled and motivated workers to maintain the highest possible quality levels.

There are many factors that contributed to the decision to manufacture in various parts of the world: internal production capacity, cost margins that affect retail pricing, availability and origin of high quality raw materials, protective duties & tariffs that vary by region, global shipping of finished product and its environmental impact. With ever-increasing technology, our partner contractors have the technical ability and quality controls to meet our demanding standards of excellence. We have one world-wide quality standard and it applies to all of our products regardless of where they are made.
Does the Micon fit more loosely than the...
Does the Micon fit more loosely than the sidewinder SV (or same or tighter)?? Thnx
Best Answer
While it's a bit uneven to compare the fit of an insulated jacket, the Micon, to a shell jacket, the Sidewinder SV, these are both the most relaxed fit in the Arc'teryx lineup. To answer directly, I'd say the Micon fits just a bit more relaxed than the Sidewinder, when you have a couple layers under the Sidewinder, and a baselayer under the Micon. You'd wear the same size in either style.
I need help with sizing. I am 6' 4" 44 36...
I need help with sizing. I am 6' 4" 44 36 42 weight 218lbs. I need to decide between a large or an extra large. Anybody have an idea how the sizing actually runs. Suggestions please.
Arc'teryx run true to size in a trim manner. If you plan on layering at all go with the XL.
This jacket does not run trim like some of the other Arc'teryx pieces. Check the sizing chart by the options box, and keep in mind this is the loosest cut silhouette of the Arc'teryx line.
Should i have size S?



164cm,5'5" tall ,145lbs weight. DO u think it is loose for me?



As i have a softshell+fleece jacket size s ,it runs a litter lossely for me



Thanks