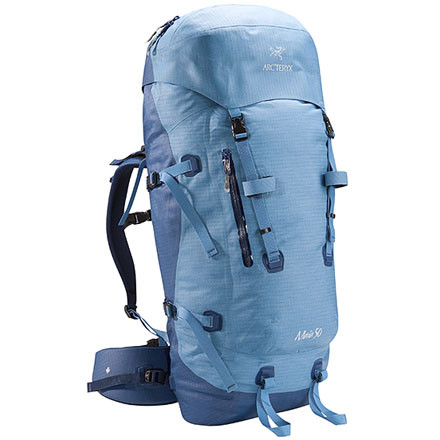 Detail Images
My wife always made fun of me and my friends because of our gear addictions. She would say you don't need all of that expensive gear to enjoy the outdoors. Well, this pack has changed her mind. I bought it for her as a gift, and it only took one day of wearing it on the trail to convert her over to the dark side. It is the most comfertable pack she has ever worn, it is totaly waterproof, and it is a cool blue color. I have the mens' version, and it is my favorite pack ever. If you shell out the money you won't be dissapointed, and the pack will last for ever thanks to Arcteryx super durable construction. My wife is 5'2" 130lb, and she is in between a small and medium... Both would work for her, but we chose the small.
Write your question here...Is the hip belt...
Write your question here...Is the hip belt and suspension the same as the Naos?Any other significant differences?
I like the pivoting hip belt in a women's pack. any other suggestions?

Thanks, Dianne
I am pretty sure that the hip-belt pivots, and has nothing special for suspension, just adjustable straps. Great pack, my friend loves hers.
The Maia has the identical pivoting hipbelt, and suspension (dual alum. stays laminated to foam/plastic framesheet) as the Naos. Just proportioned differently to fit a womens body. One of the best packs made
Best Answer
The hip belt does swivel, and my wife loves hers. There are a few other packs that have swivle belts like the Arcteryx Altra 62, and the Gregory Diva 60. While the Gregory is a good pack, I feel Arcteryx packs are surperior.
I was wondering if this pack has an optional,...
I was wondering if this pack has an optional, detachable day pack that I can take with me on smaller treks?
One piece of advice I would offer is to try setting up the order yourself with the cart and telling it where you want it shipped, which will tell you exactly how much it will cost without actually paying. The Live Chat Gearheads are also supremely helpful and could tell you as well. The other piece of advice is to express yourself in complete sentences. Use your words.
I should start off by saying I am a man, not a woman. But weighing less than 120 pounds with a 28 inch waist the men's version of this pack did not fit right -- especially in the hip belt.
Downsides: (1) The pack is not especially light -- and I felt it on the trail. If you want a light pack get an Osprey. (2) The pack is quite expensive -- you'd have to look hard to find more pricey gear at 50 liters. This pack is for the truly self indulgent (yep, that's me).
Upsides: (1) It's waterproof. (2) It has a simple, clean design without all those fussy little details that crowd cheaper gear trying hard to look expensive. (3) It's tough and very well made. (4) It looks great.
The colors are a bit of a stretch -- I wouldn't be seen carrying a lime green pack and I'm quite in touch with my "feminine side." But the sapphire one was tolerable yet distinctive.
I wish I was buying the thing now -- $50 off regular price is better than a kick in the teeth.
I love Arc'teryx packs, always have. When it was time to replace my old one, I went straight to the Arc'teryx options. When I bought my first one ages ago, there were no women's options, and there were black or black. Now, with women's specific packs and cute colors, I want to use it all the time. Men, take note, get your girl a cute pack and she'll want to go out more! Anyway, this pack is spectacular! The fabric was super waterproof and durable. It was actually light too. My old one was 1/3 of my weight and this guy was like a feather! The zippers are all sealed and nice. I got the lime color and it is too cute!