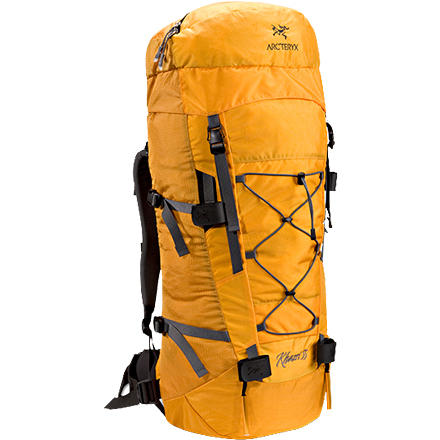 Community Images
The Arc'teryx Khazri 55 Backpack holds enough gear for a multi-day alpine ascent, and it strips down to nothing more than a sack with straps for fast-and-light single-push climbs. Adding only the necessary features, Arc'teryx used dual aluminum stays for increased support and a free-floating lid to let you really overload this bag. Of course, the Kharzi 55 Backpack's stays, back-panel, and lid can all be removed to shed ounces. You can even use the removable foam pad at an unexpected bivy. *Only available for US shipment.
Any one else have a problem with staps...
Any one else have a problem with staps constantly sliding off the top of the frame rails? If so, have you found any fixes? The pack still works, but I feel like it's not quite functioning like it supposed to when this happens.
Yes, I fastened them tight, then used zip ties around the frame rail to secure them in place. It works great.
What makes this pack recommended use ice...
What makes this pack recommended use ice climbing and not the Khamsin 50?

Besides the price difference, what are the differences between this and the black diamond predator 50? Both seem like great packs with $50 price difference.
Best Answer
Either the Arc'teryx Khazri or Khamsin packs work for all types of climbing. The Khamsin has more features (crampon pocket, more plush hipbelt). The Khazri is lighter per volume. One difference from the BD pack is this one has cross-stays, that keep the lightweight frame from bowing when it's fully loaded. Plus, the standard Arc'teryx construction- more stitches per inch, better fabric, and a "V" shape for the stays, to mirror the shape of your back.
I use a bicycle as my exclusive transport. That being so, this Khazri 55 backpack does a great job transporting heavy loads such as cat liter and cases of soda. I can carry home 45+ lbs. with no problem. The back pack fits great. Initially, I was hesitant to pay so much for a backpack but Arc'teryx is well worth the money.
I find that on most packs I don't use even half of all the little features crafted into them. If you are like me, get this pack and save yourself the time and effort of cutting off all the vestigial straps, pockets, etc. on others. The simplicity of the Khazri is a huge plus to me, and it makes mountaineering more enjoyable.

Also, this pack is super stable and allows a lot of movement when scrambling. This is cool, especially when you are on exposed ridgelines. Personally, I find it sketchy when my backpack flops to one side and almost pulls me off a cliff. That doesn't happen with this pack.

Finally, every size load seems to be just the right sized load for the khazri. It is very versatile. I have yet to overload it because it is a bottomless pit.

Update March 2010: Alright, I still like the stability and everything else I said. The fabric isn't super durable, but it's light so I don't mind that much. Mine is showing some wear, but for what it has gone through it's not bad. The versatility of the framing and whatnot is really nice. One gripe I might fix on my own is the lack of compression straps on the bottom; this makes it hard sometimes to get the stuff inside to sit where you want, but this is really only a problem if you don't fill the bag up all the way.
Best Answer
nope if you want waterproof check out the naos, arrakis, or bora, naos is most waterproof
Fabric is waterproof, seams are not sealed, so you'll get a bit of leakage if it's really coming down.
If you want a waterproof pack, buy any pack you want then add a dry bag inside. Dont be limited by and blow a bunch of money on the few "waterproof" packs.
Very light, stripped down, and well made pack! The suspension is very comfortable without being overly bulky or heavy. The tall being a 60L has tons of room. I would have liked a few more features like a pouch for a hydration bladder and a side zipper. I may check out the Khamsin 55 since it has a few more features.
Nice pack, comfortable and light. Not as durable as I would like but maybe my old Dana bomb pack spoiled me. Nice simple comportable pack though.
excellent pack, hauls heavy loads very well no bells and whistles to clutter things up and is of bomber construction