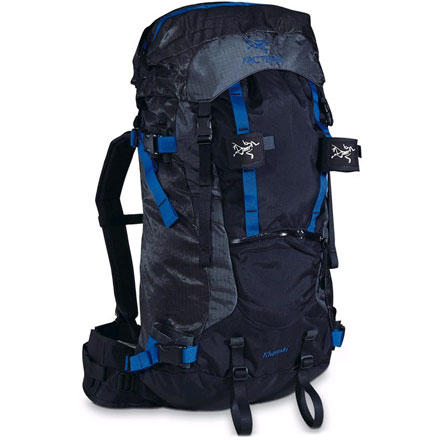 Good day pack, missing some features
Great quality, fit and finish as you would only expect from Arcteryx.
I know that this pack was designed to be light and minimal to keep the weight/bulk down but a few additional features would make this the perfect pack (side/back access, hydration sleeve and slightly more padding on the shoulder/hip belts).
I've got an ancient Dana Design Bomb pack...
I've got an ancient Dana Design Bomb pack (3200 cu. in.) that I want to replace. It doesn't have a hydration sleeve, isn't water proof and doesn't have a shovel pocket.I've narrowed my choices down to the Arc'Teryx Khamski and Borea.What do you think?
Depending on your requirements & without comparing each individual feature, I'd choose the Khamski for the following reasons:1. It's lighter in weight,2. It has a hydration sleeve, 3. It's less expensive,4. It's available through bc.com & the Borea isn't @ this time.
almost perfect pack but...
First of all, the materials and workmanship of this pack are among the finest. Arc'teryx must be commanded for that. I find this pack very well designed, originally targeted for skiing, but very versatile and multi-use, can be used for light backpacking and climbing. Other reviewers mentioned that some features are missing. Indeed, this pack is rather minimalist (hence very light) but I find that there are enough pockets (main, kangaroo, outer pouch, top lid, map pocket). Diagonal ski carrying is really a big miss. My biggest complaint is regarding the shoulder straps and hipbelt. The fit and load carrying capability is indeed amazing. However the straps and hipbelt are not as heavily padded as other comparable sized packs (for example Arc'teryx M40 or RT45). And the volume of the Khamski is huge, more than the 43L of the specs actually. The hipbelt is almost only fabric! Yet it performs better than competition. I would give this pack five stars if the shoulder straps and hipbelt were more padded.
I'm normally a big fan of Arc'teryx products. I was disapointed with this pack because of the lack of features.It's not really hydration compatible as it is described. There's no sleeve to hold a hydration bladder. For the price, this pack should have this feature as well as seperate sleeves for snow tools such as probe poles. Don't get me wrong... the quality is excellent. I think Arc'teryx should re-visit the design on this particular ski pack.
Pack is made of the finest materials
This pack is typical for an Arc'Teryx product – super high quality. The fit and load carrying ability of the Khamski is nothing short of amazing. The Stretch Woven Thermo Molded back panel wicks moisture better than any other backpack I have ever used. However, this pack lacks a few features I really enjoy such as rear access and a diagonal ski carry.