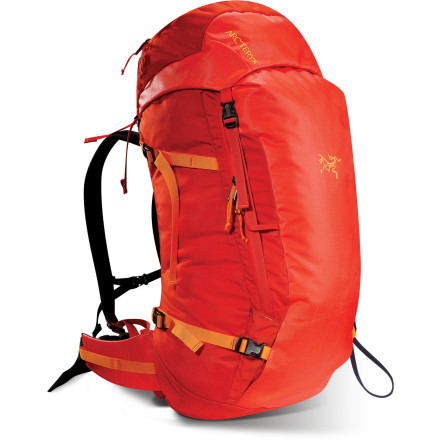 Detail Images

Community Images
Refreshed and revitalized for fall, the Arc'teryx Khamski 48 Backpack is catching the eyes and interest of snow patrollers, touring enthusiasts, and backpack geeks everywhere. It also already won an ISPO award. It is lightweight and stable, waterproof and durable, and offers more options than many new cars. Whether you patrol in Little Cottonwood Canyon (UT), explore Montana backcountry, or spend the weekends hiking, you'll be glad the Khamski 48 shoulders the load comfortably and gracefully.
The body consists of two different fabrics to provide a lightweight, waterproof, and durable shield for your gear. The front consists of 420D ACT nylon fabric treated on both sides with urethane, creating an impermeable barrier for air and water, while the remainder of the pack is constructed from durable 420D plain weave nylon. Removable aluminum M-bar stays offer versatile, lightweight stability; keep the stays in when you're schlepping a heavy load up the mountain and need support, or take them out when you're off on a day hike and your lunch doesn't weight 40 pounds.
Despite being a generous (and expandable) 48 liters, the Khamski pack could be a puppy given how close it stays to your body due to AC2 construction. Advanced Composite Construction takes high-density polyethylene foam and a quick-dry back panel, and fuses it to the durable front fabric. The end result is a lightweight, stable, and sleek pack. Spacermesh and Hypercell foam shoulder straps are the icing on the backpack cake, providing moisture management and a custom fit.
If the Khamski were a cupcake, there would be sprinkles galore. Carry your skis diagonally or in the traditional A-frame formation. Organize away with the numerous and varied pocket options: secret pocket inside bottom of pack, snow science pocket along the side, front kangaroo/shovel pocket, removable lid storage with zippered compartment, plus the entire main compartment.

Advanced Composite Construction
Spacermesh and Hypercell foam shoulder straps
Removable 6005-T6 extruded aluminum M-bar stays
Top loading, double-pull easy open cordlock
Removable lid, extendable collar
420D ACT fabric, waterproof and airtight
A-frame or diagonal ski/split board carry
Good, but not great
Familiarity:

I've used it several times
I'm pretty happy with this pack for splitboard touring. I've tested it out on multiple day tours and a 4 day hut trip.



It's a nicely designed, roomy, classic style touring pack with top access . There's 2 pull-to-tighten closures for the main compartment which give the pack good overflow capacity for multi-day adventures. There's also a weird adjustable strap clip closure over the top of the main compartment,.



There's a side access zip to the main compartment and 2 zippered internal pockets in the main compartment. 1 is at the bottom of the pack, which I find fairly useless. The other 1 is next to the side zip to the main compartment.



The 'wet' pocket (avy tools) has more than enough room for shovel, probe, snow saw, rutschblock cord, skins.



The lid is removable, has a key clip and can be adjusted up/down depending on how full the pack is. There's also another key clip in the main compartment on the back panel at the top.



There's A-frame carry as well as a chunky loop for diagonal carry. I did find my splitboard (A-framed, I've never tried diagonal) slapping my legs occasionally when booting, haven't decided if this is a design flaw or whether I need to experiment a little. I think if you pull the top shoulder straps a little tighter this will pull the top of the pack a little closer to your shoulders and push the bottom of the pack out a little thereby pushing the tips of your plank(s) a little further out.



You can vertical carry a snowboard (without ski straps) if you're lightly packed.



There's dual ice axe carry which is well done. The pick sits under a flap and the lower side straps have dual loops/clips. The upper straps have an extra loop, but only one clip.



What would I change?



- You can carry 2 ice axes, but where's the external crampon storage? I put mine under the lid and secured it with the (previously useless) black strap.

- Add drain hole in wet pocket.

- Move zipper pocket from bottom of pack to underside of lid.

- $$$ for what it is.
Not as Great as I'd Hoped
Gender:

Male

Familiarity:

I've put it through the wringer
Several Flaws:



1. Not Hydration Hose Capable



Many skiers like hydration hoses because it's easy to take a drink without taking your gloves off, rummaging through your bag, and messing up carefully-packed items (this is especially important for a pack such as the Khamski 48, which is meant for multi-day ski traverses, and in which items are often carefully arranged). Also, as you drink, the bladder deflates and space opens up in the bag.



2. Velcro Straps Slide off the Stays



This is a significant flaw. After hiking or skiing for only a few minutes, the velcro straps slide off the aluminum stays. This is quite frustrating as I have to constantly stop and try to re-align the velcro straps, but they keep sliding off. Did I get a lemon? Or are all Khamskis this way?



3. Avvy Gear Compartment Hard to Access



You can't access the avvy gear compartment without undoing the buckles that attach to the top-loading lid. This defeats the whole purpose. I should be able to quickly access the my avvy gear (with gloves or mitts) without opening anything else on the pack. Other packs do this (such as the North Face Patrol) but not the Khamski. This is a big design flaw.



4. Bad Ski Carry



Since you only end up carrying skis on your pack on really steep terrain, it is very important to get the ski carry right. Unfortunately the Khamski centres the attachment point for the skis, when really they should be diagonally carried. As a result the skis bang against the back of your legs. The North Face Patrol pack is much better in this regard (it attaches off to one side, making it a much better diagonal ski carry).



5. No Option For Strapping Extra Gear to Pack



Would be nice to be able to strap extra gear to the outside of the pack. On the Silo 40, for example, you can strap a rope to the outside of the pack. You can't do that with this pack.




How to store your crampons on this pack
I struggled to find the best way to store my crampons in (or on) this pack when touring. There's an adjustable clip strap that comes up over the main compartment pack closure (but under the lid) that I previously thought was useless until I took my ice axe and crampons. This is what I came up with.
Are the Aframe\compression straps opposing?...
Are the Aframe\compression straps opposing? As in can they be used to carry a snowboard vertically? Are they long enough to reach the opposing buckle?

Thanks
Reid, not quite long enough to carry a snowboard vertically, at least with a decent amount of gear in the pack. I use this pack split boarding so whenever I have to boot it, I split the board and a-frame. I had a nasty experience doing this the other day when someone mis-took me for a skier!!! Seriously though, If you're talking about a solid board, there's 3 choices:

1 - horizontal under the pack closure straps (which probably aren't designed for this load and could fatigue rather quickly); or

2 - horizontal between your back under the shoulder straps and the pack; or

3 - Macgyver a vertical solution with 2 ski straps (you'd probably want 24 inch straps).



I'll take some photos and post an update for you soon.
Best Answer
Thank you Richard, I splitboard fulltime, there are just some situations where carrying in a solid is a fast option out of a hairy situation.
Is this bag small enough to be taken on a...
Is this bag small enough to be taken on a plane as a carry on? I know they make a 38 liter too but I'd rather have the 48 liter if possible. Also just to be accurate, according to the size chart, I'd be a regular.
Best Answer
A 35-38 is about the limit on a plane, so I can't imagine you'd get by with a 48. You could just choose to not fill it and cinch it down to a smaller size -- or, fill it but have a big part of the contents in a duffel that you can remove for under your seat and/or gate check.
I used it as carry on travelling around the USA with no problems, maybe don't fill it up to bursting point though. I even fit it into the overhead locker on a Dash 8 (small commuter turboprop) with the application of some force!
Unanswered Question
Any women using this pack? How far apart...
Any women using this pack? How far apart are the shoulder straps?
Would this pack carry weight pretty well?...
Would this pack carry weight pretty well? For example, a 70meter rope, 20 quickdraws, lunch, water, and extra layers. Or would the Kea 45 be better suited for that task?
Should work great for that. The pockets and design are more focused on skiing than climbing, but it'll handle the weight well.
Best Answer
Angus is spot on, this pack is for ski mountaineering. For that reason look to a more climbing orientated pack. Anything over 35L will be enough for that amount of gear. Personally I like the Osprey Variant 37 and the Black Diamond Speed series. That said, the Black diamond Epic 45 will fit all that gear and has their Ergoactive suspension that pivots with your hips and shoulders while hiking, making it very comfortable to carry heavy loads.
Handles everything
Familiarity:

I've put it through the wringer
I really dig this bag, it handles all my needs.



The fabrics are great, very durable and waterproof.



The extra compartment for shovel and everything is essential for me.



Ice axe carrying system works well.



Side sipper access is great, I need that in a bag over 30 l, otherwise what you need is always on the bottom.



I find that the straps are too long and have either cut some shorter or used a velcro piece to keep them organized. Otherwise in a windy moment you can get slapped.



Color is also great.