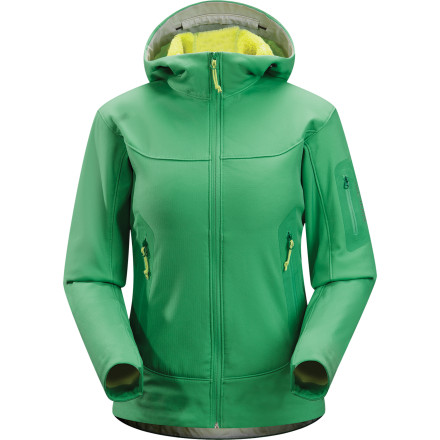 Detail Images
The Arc'teryx Women's Hyllus Hooded Softshell Jacket includes a high-loft polyester interior for maximum warmth and an air-permeable shell for increased breathability. Basically, this Arc'teryx jacket helps you stay warm in frigid temps without causing you to overheat during aerobic activities. The Hyllus Hooded Softshell Jacket's stretch-woven Polartec Power Shield shell fights off moisture and moves with your body as you hike, climb, or ski.
A beautiful, expensive, dud of a jacket.
Familiarity:

I've used it several times

Fit:

Runs small
Hoped this jacket could block some wind and lite rain while working in the field (I'm a Landscape Architect for the Forest Service)but alas, this very expensive jacket did not perform. It's very pretty, but according to Arc'teryx it is solely a layering jacket not meant to shield from wind or rain, which is not what I expected when I made the purchase nor what I gleaned from the information found on-line. So be warned--NOT water repellant or waterproof, and NOT wind proof. I will very gladly say that Backcountry.com was incredibly helpful with helping me return this item even though I had it longer than their 90 days return policy. Thanks Backcountry for being so helpful!
Expensive insulating softshell
Familiarity:

I've put it through the wringer
Its a very nice jacket- don't get me wrong. Great cut, soft warm fuzzy inside, feminine fit. Works great as an outsell or midlayer under a gore tex jacket. But it is crazy expensive and since getting an Atom SV and Atom LT my wife never wears this anymore (see our reviews of both jackets).

Powershield does a decent job of blocking the wind (on gusty days you can feel some of the wind through the jacket). Has a great soft fuzzy fabric laminated to the outer fabric which provides loft (about a 300wt fleece equivalent). However the Atom SV does the same job only better at less of a cost and it packs down to nothing making it ideal for travel. It has become more of a niche jacket in my wifes closet only coming out a few times a year.

Overall 2 star rating mostly due to the high cost of this jacket
I LOVE this jacket. I am very petite, just over 5' tall, and it is challenging to find items that fit my body type. This jacket hits just at the hip and isn't too long. The hood is awesome and extends just beyond the forehead. Nice, snug fit. A bit tight below the armpits and when the neck is fully zipped, but I am hoping the fabric will give a little with time and wear. Great for layering with light stuff underneath. A little snug for layering with a sweater or heavy sweatshirt. Perfect for all around wear and travel!
Love Arc'teryx!
Gender:

Female

Familiarity:

I've used it several times
Arc'teryx is by far the best outdoor apparel I've used. I love my new Hyllus jacket. It is perfect for fall. Great construction seems like will last and be well worth the money!
Comfortable, warm, breathable
Gender:

Female

Familiarity:

I've put it through the wringer
Love it, great fit, color, lightweight yet kept me very warm and dry. Perfect for everyday and great for climbing!
Overall a Good Jacket
Gender:

Female

Familiarity:

I've used it once or twice and have initial impressions
I've been waiting to buy this jacket for a while and was finally able to buy it on a great discount. I got the Neptune Sky and I love the colors, though warning the orange is more neon than the pictures have shown. I haven't been able to test it on all weather conditions but since this fall, it has kept me very warm. Sometimes more warm then I would like. Since it is starting to get colder, I am amazed at how well it does to keep me warm though. I can wear just a long sleeved, thin shirt and still feel toasty.
update on hyllus
Gender:

Female

Familiarity:

I've used it several times
Just an update: since the last review, I actually returned the medium Neptune Sky color (which I don't even think they are offering anymore) in exchange for a small Black Hyllus. The Black is different than the Carbon Copy - I think it is darker, and has a lighter blue lining and very light blue zips . In the online pictures it shows up as white but it is actually a light blue. I exchanged it because I wanted a color that would go with more things (a little more formal), and I wanted a little more formfitting of a jacket. I am 5'6" 130 lbs, A cup, and the small is perfect - I can actually still fit a small atom hoody under it + a baselayer (then you are really toasty!). I really love this jacket so far! It is a great weight - still pretty portable, but definitely very warm. So far I've worn it down to 30 degrees and it is actually a little too warm if you have a baselayer on and are being pretty active. That being said, you will be chilly if you wear it with only a tshirt and are just standing there in 20-30 degree weather. Very comfy though. A little stiffer than the atom, but that's to be expected because it has wind protection. The sleeves are the perfect length and subtly taper to not let drafts in. Love it!
MADE IN CHINA!!
Gender:

Male

Familiarity:

I've used it once or twice and have initial impressions
I bought this jacket for my wife because she needed a good solid jacket that she could go snowshoeing in but then still look classy, and this jacket definitely delivers. Right out of the box the jacket is much different than your standard soft shell. The outer material is very very flexible, almost feels and moves like a sweatshirt. The zippers and pockets seem pretty sturdy and the thick fleece on the inside was actually much thinner than we were expecting. It's almost like a short shag carpet, but it actually does a great job keeping her warm. The DWR coating seems to do its job, she's been in a few drizzles and the water beads and then rolls off.



There are a few big flags with it though, the main one being the huge "made in china" tag on the inside. This would actually be a huge deal breaker for me if I had ordered this jacket, but my wife seems willing to give it a go. It's not as though it seems like a shoddily sewn jacket, but Chinese produced goods never seem to hold up nearly as well as American made, and to shell out hundreds of dollars for a jacket it better hold up.If it wasn't for arc'teryx's fantastic warranty I would have sent it back regardless of what my wife thinks. We do plan on putting this jacket to the test if anything just to see how their Chinese produced goods hold up. Also the sizing is a tad off, at first we ordered the medium, and while it fit around the waist, the arms were almost ridiculously short. We bumped up to a large and the sleeves were ok but she had a lot of room in the waist (she's 5'9" 155).



All in all a decent jacket, we'll just see how it holds up to a little wear and tear
Super cute, but still untested
I bought this in the middle of summer because it was on sale (still $260 though - yikes!). I rarely if ever buy such expensive gear, especially a hoody, but I researched this one very carefully before making my decision. I got a medium in Neptune Sky and love the color, style, etc. It seems like it will go well with everything, but with the orange inside and raspberry zippers, has a kind of urban street cool. It fits me really well (5'6", 130 lbs) with room for a very light underlayer (maybe I will spring for the Atom hoody in the future?). The fit seems great, it is really cute on - we'll see how it holds up when it gets colder and I am actually using it! I'll update my review after a cold Boston winter and let you guys know. I hoping for this to be my layer for cold but not freezing days, which we get a lot of in Boston. I have a big Marmot down coat for the REAL dead of winter; it isn't as stylish and makes me look like a big blue marshmallow, but always does the job.
Let me start by saying that I love Arcteryx. I have the Atom SV hoody and am in love with it. I am 5'7"/125 - a street size 4 and athletic. I purchased this in a small and the sleeves were a bit short (I have long arms and legs) and the Neptune Sky that appears more of a grey tone on the website is rather brown. The pockets are too high for my taste and overall, I found this to be a seriously overpriced jacket for Arcteryx. Also, the entire interior is a fuzzy bright orange color including the interior of the hood. I returned it - too much money for something that I wasn't in love with.
Love this cozy coat. It's fleece lined so pretty thick but it breathes terrifically. I was a little wary at first because it doesn't have the features of many other soft shells - pit zips, thumb holes, wrist protectors, etc - but it's really great. I love it for around town as well as hiking, snow shoeing, etc. Size-wise, I'm 5'8" and usually a size 4 but the medium is good on this. I can fit a bunch of layers underneath but it's fine with just a base layer too.
Could this serve as an outer shell for...
Could this serve as an outer shell for skiiing in colorado? its hard to tell from the photos... i have plenty of fleeces, base layers, down jackets, now i need an awesome outerlayer. i cant find any XS or S in bright colors.... i want my friends to be able to see me on the mountain!! help me out, thanks!
Best Answer
This would be a great outer layer for most days especially early and late season but you might want to think hard shell for those super cold windy days
Its not really designed for skiing as a stand alone shell. It is quite air permeable so you will feel a chill going down the hill. It is best suited as a mid layer or outer layer for mild aerobic pursuits.
Spend a few more bucks and pick up the sentinel, stingray or tempest jacket. its made with gore tex softshell and designed with skiing in mind and are also fully waterproof.
i have an arcteryx beta sl, and i love it...
i have an arcteryx beta sl, and i love it for the lightweight and rainproof, but when it rains, it's gets very wet as if the goretex is soaked and very cold to my inner layer. i feel there's no windproof at all w/ the goretex paclite, i'm freezing even in 15mph wind w/ sweater beneath. did i get a lemon from china? I'm looking for a softshell w/ some insulation, and something that is >70% windproof, and waterproof w/ hood, but not extremely heavy. is hyllus a good choice or is there something else? i still believe in arcteryx
The more windproof/waterproof a faric is, the less breatheable it typically is. There always seems to be trade-off. The Venta series is the most waterproof/windproof softshell in the Arcteryx line up (but is less breatheable than most others). The Hyllus cuts a large chunk of the wind has great insulation and breathes extremely well. The firee series is similar but is more windproof. All are good choices, they all come with hoods and meet your criteria. It just depends on what you want the most out of a softshell.
As for your paclite- my alpha SL has a similar problem with the fabric getting wet (but still holds its windproof qualities).The face fabric is very thin and the DWR coating does not seem to hold upwell to heavy rain. When it pours I go for my pro-shell.
Love this jacket! Have gotten many compliments from both genders on my new black jacket. Btw, the blue in the pic is not nearly as blue as it appears. It's almost a tourqoise color. At first, I wasnt' sure but it quickly grew on me. Just wish it didn't cost so much.
awesome,awesome, awesome!!! this jacket is my absolute favorite! so soft,warm, and true fit, not bulky at all, i wear it as a layer and also as an outer jacket around town, the bright green is very cool, this is hands down an all around excellent choice!
thank you arcteryx!
I can honestly say it is one of the best soft shell jackets I own. I am 5'5" and weigh 140 with a larger chest. As a result most jackets have a tendency to look really boxy or shapeless once I get them on. I ordered the large so that I could also wear more layers under it if I wanted to. The cut is not boxy at all and has a nice shape to it. It goes down lower in the back which allows for better coverage. The inside is a super soft fleece that makes this jacket nice and warm. It is moderately water proof so as long as you are not in a torrential downpour you are good. I got the dark grey color with the raspberry colored zippers, can't remember exactly which color that was. It is very flattering and I have received many compliments on it since. It has become my go to jacket.
What is a good Arcteryx shell to wear over...
What is a good Arcteryx shell to wear over this in the chilly northeast? I don't need bells and whistles but like large and/or useful pockets... Found a Theta AR on sale but very disappointed with the pockets. The Napoleon pocket might have fit a credit card, and the 2 "large" pockets wouldn't have held much more than a mitten, each.
Best Answer
SkiChick,

You will want one of the models with a drop hood (ie no collar). The hyllus hood does not fit well over jackets with collars (ie: theta), it tends to bunch up and pull your collar back. You should be looking at the Alpha SV or Alpha LT. Mpst arcteryx jacket's have minimal pockets. The Alphas pockets have bellows to expand and can carry a good amount of stash. They only have 3 outer pockets (2 napoleon pockets and 1 bicep pocket), so if you like putting your hands in your pockets this will not work for you. Other models to consider are the Tempest (which uses a gore tex softshell) or the insulated Kappa SV.
This was my first Arc'teryx jacket ever. I practically stole it from SAC last Spring and have worn it at least a few times a week ever since.I agree with the reviewers on Arc'teryx sizing issues for us tall girls. I have discovered that I can only wear their jackets because the tops and vests are all too short. I am 5'11" and about 170 with an athletic build and I usually wear a medium top, but the sleeves and length on this jacket were too short in a medium so I sized up to a large. I'm glad I did because I can layer underneath it. It's still a bit short for my preference (when I raise my arms above my head a couple inches of my stomach is exposed) and I don't wear it as a light ski jacket, as I was hoping to do, but as a casual jacket it's so warm and soft and perfect and even up a size it still has a cute, flattering fit.I have worn it a couple times as a super warm layer under my ski shell but the hood is big and kind of gets in the way. It's definitely soft and flexible enough to make a good layering piece, but if you're going to layer I'd go for the hoodless version. I've also washed it around five times now and it still looks brand new and beads water fantastically. Go, Arc'teryx! I'm so sold.
Fine jacket - check around for price
This is one fine jacket - stylish, warm, functional, and with a flattering fit. My wife loves this gift I got for her. Only gripe is the price - this really should sell for around half of what it lists for. Personally I see better value in my TNF Sentinel Thermal Jacket - price more in line, similar fleece backing material and the bonus of a Gore Windstopper membrane for exceptional performance. Fortunately for us we got the Arcteryx jacket at a steep discount due to a discontinued color.
I am 5'5" and weigh 120 lbs. I read a lot...
I am 5'5" and weigh 120 lbs. I read a lot of mixed reviews about the sizing for this jacket, and ended up ordering the small. Will this size be okay? I don't want it to be too snug but I don't want it baggy either.
I'd say a small is perfect for you. My GF is the same size and LOVES her size small Hyllus-close enough to layer, but not too tight to wear by itself. You've probably got your jacket by now- how does it fit?