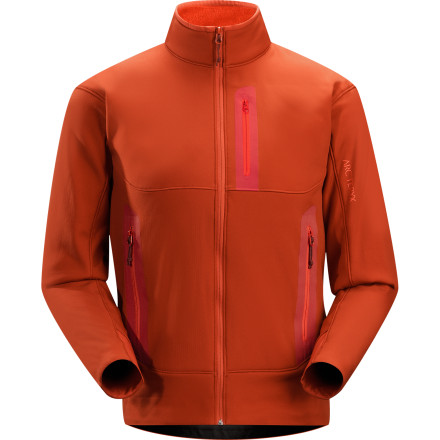 Community Images
The Arc'teryx Men's Hyllus Fleece Jacket combines a shaggy high-loft interior with a smooth face fabric to ensure both excellent warmth and great moisture management. While this fleece sheds snow like a champ, it remains breathable enough to keep you from overheating during a ski tour. You could definitely use this Arc'teryx top on its own for skiing under clear skies or just about any day on the trail.
Great Jacket, to bad it doesn't fit
Familiarity:

I returned this product before using it

Fit:

Runs small
The concept of the Hyllus jacket is great. Put in lots of insulation to keep you warm on really cold days on the ski hill. I think this jacket would be perfect, except the arms in it are so small I can hardly get into them with a thin tight under shirt and a tight 200 layer fleece. I am 6,2 and weigh 200 pounds. I normally wear a large in just about everything. The torso seems just right, unfortunately the the sleeves are just to tight.
Great Jacket/Layering Piece
Gender:

Male

Familiarity:

I've used it several times

Fit:

True to size
Bought this primarily as my lighter layering piece for inbound skiing. Discovered it's incredibly warm and better used for heavier layering. Lots of pockets in and out. Very flexible, comfortable and utilitarian. Draw cord hem is really nice and the pockets are backed with an open fabric that makes them capable for venting during Spring skiing. A little pricey. If you can find one on sale, go for it!
Sure it might be viewed as 'an expensive fleece' but it has distinct benefits over your common-all-garden fleece. Firstly, it looks smarter and it fits more like a jacket than a sack. Secondly, it offers some valuable wind/rain protection. It is less likely to become decrepit. It slides nicely under a shell. It was pressed into service under my Norrona shell at Alta during 2 storms which rolled in 02/20/2013-02/26/2013 (a fortunate time to be at Alta!). Worn with a 260 Icebreaker, the 45 mph storms didn't stand a chance. Additionally, it can be worn casually too. Get one!
Best jacket ever
Familiarity:

I've put it through the wringer
From sunny, rainy and snowy days, this the best thing I had ever purchase, great mobility, was to rock scramble and bouldering in it.
Cool looking jacket but overpriced
Pros: Nice design; plush fleece inner; good fit



Cons: doesn't really work as a layering or stand alone piece



The hyllus seems ok for fall/spring wear around town, but I ended up returning mine. I'm 5'11" 180 and the M fit well.
"Pretty Cool"
Gender:

Male

Familiarity:

I've used it several times
I guess the overall rating sums it up. It's a great piece that I use as a soft shell. It provides more warmth than I expected, but no complaints here since it still seems to breath well with moderate activity.



I'm 6'1" 170lbs and the medium fits well with enough room for a base layer and a light mid-weight if you really wanted to get toasty. I guess I agree with other reviewers' assessment that this jacket is an unusual mix between a soft shell and mid weight layer, but I don't see why that is such a negative. Also, the construction on mine is fantastic. All of the seams are clearly well stitched and the zippers are perfectly functional.
I really love it?
Gender:

Male

Familiarity:

I've used it once or twice and have initial impressions
true to size

nice color

a great jacket
Recommend, as a layering piece
Arcteryx is such solid gear, you absolutley get what you pay for. If this jacket is in your price range pull the trigger. This jacket is best worn under a shell in our cold Northern Michigan winters, it breathes while locking in great warmth. I always wear this jacket with a wool snug base layer like an Icebreaker 260 or smartwool. If the wind isn't riping you can wear this jacket in the teens with a quality snug baselayer and still stay comfortable.

If your looking for the best all around jacket the Arcteryx Beta AR is the real ticket. This jacket is a great compliment underneath but without a solid shell this jacket does have it's limitations.

I am a pretty big guy six foot four inches 220 pounds, I wear an XL. The fit is perfect I can still wear a snug base layer under, so I can wear the jacket in colder temps. Hope this helps
I had this jacket for about a month before returning it. This is easily the most overhyped piece outdoor gear I have ever purchased. I'm sure the fabric is expensive, but that doesn't really mean anything on its own.

Things that I just couldn't get over and led to me returning it were (in no particular order): zipper seemed chintzy and would "catch" right at the bottom when unzipping, "chin guard" is a joke and is not a chin guard (seriously chaffed my facial hair), comes wrinkled and gets wrinkled easily and after a month the wrinkles (creases) that were there when I took it out of the package were still there, its not very warm, stitching off in places zipper was crooked, and probably the biggest gripe I had with it WAY TOO BAGGY TO BE A MIDLAYER.

Seriously, this jacket is not a midlayer, its a light shell that is warmer than most shells that is highly breathable and is not restricting at all. Dont get me wrong, this jacket could be seriously awesome for some niche uses but even then is it worth it? I personally don't think so, but obviously a lot of people think its worth it even just as a casual garment. Which btw I do like the look.

If your looking for a midlayer with warm fuzzy interior yet not that shaggy monkey man exterior like I was, take a look at the Montane Jaguar. I picked one up instead of this and it is miles better (for many reasons) as a comfortable and warm midlayer.
Not enough jacket for the price
Not enough Jacket for the price. I got this in the mail the other day and instantly was worried at how light the package was. (I guess I don't have a reference point for a jackets weight in oz. till now) I was expecting the jacket to be the love child of a heavy soft shell and mid weight fleece. This jacket is if anything a light soft-shell with a light fleece. Slash a $100+ off this and it might be worth it. It doesn't even have wind stopper/proof material. (I wasn't too worried about this when I purchased it because I figured it was just a heavy winter jacket that would stop all but serious wind.) Also not sure if I have a defect on mine but just above the chest pocket is what looks like a healed scar. As in instead of sowing the internal mesh for the chest pocket in, they glued it and it affects the outer layers smoothness. So all in all I like the jacket for what it is but don't like it for what it costs
Not quite a jacket, not quite a fleece.
If that's what you want, then great - the bc.com description hit the nail on the head. On a recent hike up Mt Wittenberg in the Catskills in about 30 degrees, I threw this on when we got to the summit (about 25 and windy) with a light shell and felt pretty cozy. I tend to run warm, so didn't really need it on the way up (although appreciated it fully on the way down when the sun dropped and we were doing some night hiking).

The fabric is definitely breathable, almost to a fault because the fuzzy lining generates heat without keeping out enough of the wind to make it a true stand-alone jacket, but it works really well as a mid-layer (which, btw, it was built for).

Not sure it's worth retail price (I've seen it on sale in a lot of different places), but would definitely recommend as a solid mid-layer that can stand on its own in the 30s
I want to buy an arcteryx shell (I'm...
I want to buy an arcteryx shell (I'm thinking the theta sv) and I want to get a fleece to go under it so I can wear it like a 3 in one jacket. Since arcteryx does not make a 3 in one would this be a good choice to achieve the 3 in 1 effect?
An excellent choice. This combo will give you the ability to have just the right weather protection across a huge range of conditions, especially on the wet/cold/windy side of the spectrum. The Theta SV and Hyllus are really durable, both in concert and solo. They were designed to work together like a 3 in 1 but with less weight, and better fit.
Thanks Brandon, any suggestions for something to wear under the theta sv for when it's not so cold out say when it's between 35 and 50 degrees? I already own a patagonia R3 High loft fleece jacket maybe that would be best?
The R3 might be a bit warm. 2 suggestions - 1) if you're on the move, you won't need something under the SV besides a nice baselayer (wool or capilene). Other than than, any 200-weight fleece would do just fine in my opinion. I typically use the hyllus with a wool baselayer and a OR light shell. Only ever use the 3 together when we've stopped and its windy and cold (sub 30). Around the city I find I can just toss the hyllus over a flannel and be fine to right about 35. Still works fine below 35, but if it's windy you'll feel a decent chill
Is it true that this jacket has a fleece...
Is it true that this jacket has a fleece weight of 200 while the hooded version has a fleece weight of 300? Any insight would be much appreciated.

Thanks, Ian
It appears that the Hyllus Hoody offered by Arc'teryx actually has quite a weight difference from what is listed on backcountry.com. According to Arc'teryx it uses a 600g fleece, and the jacket utilizes a 544g fleece. You can view additional information about these two products via the following links:

Hyllus Hoody: http://tinyurl.com/bothubm

Hyllus Jacket: http://tinyurl.com/c4yh79u
The "fleece weight" can be misleading on this jacket. It uses a highloft fleece which is lighter, but warmer than traditional fleece. Both the jacket and hoody use the same weight fabric.
For real world comparison, when worn under a shell jacket, the Hyllus is equivalent in warmth (or maybe a touch warmer) than a traditional 300 wt fleece, but less bulky. When worn as the outerlayer, it's much warmer due to the weather resistant face fabric.
I have to say I disagree with Brandon's comment about the warmth of this jacket. This is a soft shell jacket and as such it is not nearly as warm as a 300 weight fleece. I have an old 300 weight Sherpa Adventure Gear fleece jacket which I compared this jacket to for warmth and it is not nearly as warm. Even stand alone the Sherpa fleece was warmer unless it was windy. My personal take is that the warmth of this jacket is very overstated by people trying to justify the cost and their purchase. One big problem is this jacket is so loose fitting it doesnt hold heat close to your body at all. Its really just poorly designed.
I am buying the new Arcteryx Mako ski...
I am buying the new Arcteryx Mako ski jacket...I am thinking of using a Under Armour or Hot Chylis underwear as a first layer and then the Arcteryx Hyllux fleece as a mid layer underneath the Mako ski jacket ...is it ok or its to much for skiing in Whistler in December?
Your going to be pretty toasty with the hyllus underneath an insulated jacket. The hyllus is equivalent to a 300wt fleece. Depending on how cold you get a 100 wt fleece should be plenty or lightweight.breatheable softshell. At least with the Mako if it gets too hot you will be able to vent some of the heat with the pit zips.
When will you have the new Mako Jacket and Mako pants? Which light fleece do you suggest for a mid layer underneath from arcteryx?
Unanswered Question
Does anybody have the measurments of the...
Does anybody have the measurments of the front and back in size L and XL??
I am a contractor in Iraq and needed a jacket for the windy cool winter months. It is of very high quality materials and it is unbelievable how warm it is for its thickness. I wore a t-shit under it and stood in 20kt wind at 35F for an hour was comfortable. I have washed it many times and it has not changed sizes one bit, the fuzzy fleece inside is as soft as the day I bought it. It also beads water off like it was made of grease.
The only thing I don't like is the sleeves, the forearm part of the sleeve is tight, very tight. I can't even wear a watch. If I even try I can't get the sleeve back to even look at the time. I know it is for warmth but it makes for a weird looking jacket and an odd fit.
This jacket keeps me very warm and sometimes TOO warm when I am outside on cold days. The fleece on the inside is very very soft and looks amazing (the Deep Dusk color with the orange fleece inside is pretty incredible). I love how Arc'teryx contrasts colors to make their clothing stand out even more. The Hyllus Jacket provides very good insulation and the outside fabric even sheds lights amount of moisture, although it is definitely not waterproof. If you have the budget then but it!