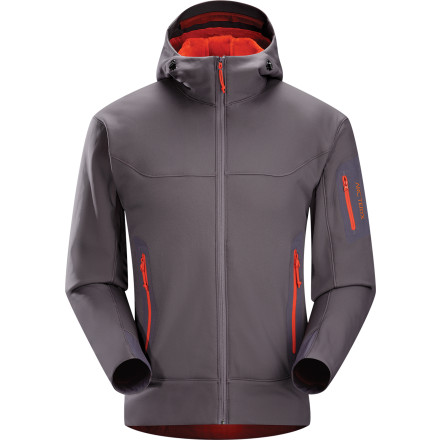 Community Images
Polartec Power Shield O2 fabric combines a tight exterior weave and high-loft interior to give the Arc'teryx Men's Hyllus Hooded Fleece Jacket the ability to combat nearly any cold conditions. This fleece hoody easily takes on a day of frigid temperatures and light snow, and you can use it as a heavyweight mid-layer for really nasty weather. This Arc'teryx jacket fights off light rain or snow, doesn't pill, and still provides enough breathability to keep you from overheating when the going gets strenuous.
The Best
Familiarity:

I've put it through the wringer

Fit:

True to size
I've taken this thing with me on every climbing trip and used as my go to jacket daily for just under a year and it still looks and feels brand new. It may not be waterproof like a hardshell but it'll give almost any softshell a run for it's money any day. Even when the outer shell is soaked your nice and dry on the inside.I found the cut to be perfect as well. I'm 6'0 and 155lbs and it never constrains my movement while climbing nor does it feel too baggy. A must have in any climbers arsenal.
Can someone from BC post a real picture...
Can someone from BC post a real picture of the Storm color of this? Wanting to check the actual color of this garment. Thanks.
Hyllus vs. Epsilon? For everyday wear,...
Hyllus vs. Epsilon?

For everyday wear, and rock climbing. Which has a more versatile outer face?

Thanks!
There are a few versions of the epsilon to compare (SV,AR, and now LT). The epsilon series are bonded fleece jackets (hardfleece) rather than softshells. however I own 2 epsilon SV jackets and they are perfect for insulation and as a stand alone outer layer in the mid temps. They do let a bit of wind in though since they do not have a membrane.

I also own a hyllus but find I do not use it as much as some of my other gear. It is just too warm most of the time. I take it out mostly in the fall and early spring otherwise it sits in my closet the other times. Neither has much stretch to the fabric which I prefer for dynamic activities (such as climbing). For those I prefer the Gamma MX. A perfect mix of stretch, insulation, weather resistance and breathability.


Cuffs are stretchy (Stretchier than the rest of the jacket, which also has some stretch) and fit well. I have larger than average forearms that fit snugly in the jacket. Requires some tugging to remove the jacket, especially given that the fuzzy liner adds a lot of friction. Could have used an extension and thumbholes here, but might be the wrong look for the 'LEAF' types. EMS's knockoff copies this almost exactly, but requires an additional seam.
The fabric wrinkles easily. Note the folding across the ribs that is a residual fold from the way the jacket is packed. That takes months to go away and reduces the initial impression of the jacket considerably. Jacket should not be folded horizontally ever.



Backcountry: the folding isnt your fault, you clearly get it form Arcteryx this way. But you should push back against them and tell them to fold the jacket vertically to avoid this. better for everyone.
Good Jacket, totally overpriced.
Familiarity:

I've put it through the wringer

Fit:

True to size
The Arcteryx hyllus is a flexible, warm jacket that can be used in many conditions, but it is overpriced relative to nearly identical jackets that feature the same fabric, cut, and features. Eastern Mountain Sport sells a similar jacket at one third the price, using the same Polartec Power Shield o2 fabric, at one third the price.



Strong positives: the fabric, which loves to wrinkle, truly breathes well, and it is comfortable at a wide range of temperatures far beyond those of the typical fleece. In windless conditions and without physical activity, you can wear the jacket in 0-10F, and in light wind you can wear it in 20-30F, without discomfort. When exerting yourself, you can wear this garment -10-0F easily in light winds. Perfect for digging yourself out of the polar vortex's aftermath. A hard day's shoveling at -10 will leave you warm and dry.



The jacket's cut is fashionable and flattering. The seam at the chest draws the eye towards the shoulders and the constrast handwarmer pockets emphasize a slim midsection. EMS's equivalent doesn't achieve the same effect.



Hyllus' main zipper uses a thin substrate, letting it to run smoothly except where it collides with the chinguard. D'oh. An unfortunate mistake. Other zippers are less friendly.



Hood and hem adjustments are effective, but use too much plastic hardware; EMS is superior because it sews the ends of the elastic drawstrings down, reducing weight and size.



Laminated pockets are too rigid! They press against the body in awkward ways, and they retain their shape in ways that make the wearer appear pudgy.



The jacket is shipped in a bag, folded in half horizontally across the torso. This manner of storage is a huge mistake because it leaves a bend in the laminated pockets and the main zipper that creates a pucker across the midriff, making the wearer appear pudgy.



Finally, a noisy nylon fabric lines the hem and the hood, making crackling noises whenever the hood is worn. Irritating.
Hyllus
Familiarity:

I've used it several times

Fit:

True to size
The Arc'teryx Hyllus Hoodie cost an arm and a leg however it is my go to choice for outwear in conditions around 30 degrees and above. The material that makes up the hoodie is top notch and typical of the Arc'teryx company. The only reason I was able to justify paying so much for this product is because I know it will last for years to come.
Is the hood helmet compatible?
Is the hood helmet compatible?
Hegaveitall,



I've looked around and researched and no one indicates (not even Arc'teryx) that this hood is helmet compatible.



Even looking by pictures I'd think you'd be hard pressed to get a small lower profile helmet under that hood.



Hope this helps.



Jared D.

Gearhead

800.409.4502 ext 4055
Thanks , can any owners comment?
Best Answer
Hegaveitall,

As a proud owner of the Arc'teryx Hyllus I can confirm Jared's comments above. The Hyllus is not intended to be helmet compatible and you will not be able to fit a helmet under it.



If you are not looking to wear a helmet with this jacket then it will fit you very well when compared with Arcteryx jackets that are helmet compatible (less cinching required around the head). However, if you are looking for a helmet compatible jacket with similar features I would recommend the Arc'teryx Gamma MX Hooded Jacket. It won't have the high-loft lining of the Hyllus but it does have a fleece lining and a very similar fit and similar softshell outer.
Thanks, no I didn't want one with a helmet comp hood. I will try to find a used one in small as the retail is too steep for my budget.
The color is off
Familiarity:

I've used it several times

Fit:

True to size
I ordered the utility green. What I received is different from the picture. It's kind yellowish green and the fleece is very bright blue. I don't really care about the colors much. It's good otherwise.
Thin and cold
Familiarity:

I've used it once or twice and have initial impressions

Fit:

True to size
Was very diasappointed in how little warmth it provided. Construction was top notch, but returned it for a light down.
Can you ship Arc`teryx Hyllus Hooded Fleece...
Can you ship Arc`teryx Hyllus Hooded Fleece Jacket to the Netherlands?
Hey Aga,



We cannot ship the Arc'teryx brand across the United States boarders. Unless you have an address within the states we would not be able to send them to you.
Does the fleece on the interior of this...
Does the fleece on the interior of this jacket shed?
Best Answer
Over many years of hard use and more washings than I can count, I've never seen any of my Arcteryx pieces shed, nor do they really even do what most fleece does, pill up.
You should have a look at the Arc'teryx Strato reviews.. there are pictures of pilled up fleece. Can you confirm that you own the hyllus (or earlier hercules models), and that they never pilled?
I own a Hyllus (original non-hooded model, made in Canada) and it hasn't pilled over the 4-5 years that I've had it. It's been ice climbing a couple times as a mid-layer, snowboarding 100+ days as both a mid and jacket, and shoveled plenty of snow in the driveway. I don't own a Strato but do have a few other pile/fleece layers from Arc'teryx. None have given me issues.
Thanks for the detailed answer!
This jacket is awesome. I love the fuzzy interior, and it feels great against the skin. It is wind resistant by my experience. A light breeze will be blocked by this, but a stiff wind will blow through it and chill you. It is great worn over a midweight base layer and a hard shell if really nasty. Love the hood, as it is easily cinched down, and the interior is fuzzy. It holds up well in light precipitation, but I wouldn't want to test it in a steady storm. The pockets are ok, they just feel kinda weird. Overall, excellent insulation to mild shell piece.
So cozy
Familiarity:

I've put it through the wringer
This thing is a great warm layer, so cozy and comfortable, perfect as a stand alone. Mine has been taken over by my wife its so cozy
Great around town / winter jacket
I love this jacket for around town use and in the winter when it is not below 20. I tend to be a hot body so having the jacket breath more is a huge plus for me as I sweat in a tee with this jacket if it hits 50. Also I sprayed some nikwax soft-shell spray on it and it helps keep the light rain off longer then before. I can now get about 20 - 25 mins in light rain till it starts to soak it up. Only problem I have with it is the zipper tends to come to the bottom, if it is below the 1/2 position when your hards are placed in your pockets.
I am 5'10" 205lbs What size do you...
I am 5'10" 205lbs What size do you recommend?
Best Answer
It's going to be most dependent on your chest size.I would guess an XL (43-45" chest) without having any more information, but I don't know how you like your jackets to fit.
What is the difference between this and...
What is the difference between this and the firee hoody?
The Firee was discontinued in 2012 but it was way warmer then the hyllus. I would not wear the jacket if it was above 20 deg, with the hyllus I can get away with 40 maybe 50 if all I have on is a tee under it. If you are looking for something like the Firee now look at the Venta MX Hoody.