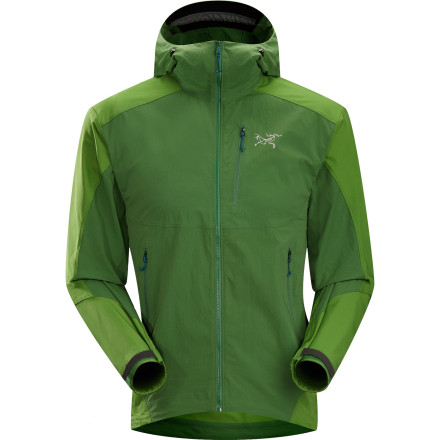 Community Images
Aerobic winter activities like backcountry skiing and ice-climbing require a unique combination of weather protection and breathability to keep you performing without freezing up or overheating. The Arc'teryx Gamma SL Hybrid Softshell Hoody Jacket strikes this balance with the strategic combination of Fortius 1.0 weather-resistant fabric at the shoulders and sleeves and TerraTex breathable fabric in the body.
Fortius 1.0 on the shoulders and sleeves for moisture protection, breathability, and durability
Helmet-compatible Storm Hood with volume adjustability
Gusseted underarms for added durability and unlimited range of motion
Athletic fit is ideal for layering under or over
You will be able to see me using this jacket all year round. Seriously, I can't see this jacket being too much or too little for any weather. Proper layering of course...
Nice shell
Familiarity:

I've put it through the wringer

Fit:

True to size
Just wore this every day for a week during a backcountry ski tour in the Dolomite region of Italy. Perfect light weight over one base layer for spring conditions - just enough protection to cut the wind on ridge tops. Typically clean design & detailed construction from Arc'teryx. Bought in on sale, the only way to go.
As good as it gets for the BC
Familiarity:

I've put it through the wringer

Fit:

True to size
This has been my go to jacket for winter sports this season. In terms of materials, the shoulder material is like a stretchy unlined version of the softshell used on the fantastic Gamma Mx while the body is a more-durable quick drying, but less-breathable nylon. I run hot while skinning uphill and this jacket is the best combination of breathability and protection that I've found. I've worn in in whipping winds getting pelted with grapple and in sun-baked bowls. The fit is superb with a large and high enough collar to give you good face protection without restricting movement and the drawcords make the helmet size manageable. Durability and packability are both excellent. It pairs extremely well with the Ibex Hooded Indie or the Paty Cap 4 Hoody. On days with wet snow I've been able to hike uphill in this (yes, it will wet out eventually), throw on an insulating layer, and have this be dry by the end of the descent. The only improvement I could see would be to ditch the nylon in favor of the more breathable unlined softshell, but now I'm just being picky.
Is the Gamma SL more or less breathable...
Is the Gamma SL more or less breathable than the acto MX?
Best Answer
Max, the Gamma SL Hybrid is less breathable but offers more weather protection and has great stretch. The Acto MX works well as an insulating mid layer or as an outer layer for high aerobic activities.
Specialized Jacket
Familiarity:

I've put it through the wringer

Fit:

True to size
I have this jacket as well as an Alpha SL. Bottom line is that if I know it's going to rain--or if I would be SOL if I got wet--I bring the Alpha. But for times/places where I'm looking for maximum breathability but with the potential protection from either brief rainfalls or drier precipitation (snow) or a chilling wind, the Gamma is awesome. Bottom line is that it is versatile -- but only within a narrow set of variable conditions.



So... for snowshoeing for example, this shell is great. It is super for commuting via bike (the tail is definitely long enough), and for any sort of aerobic activity during the winter. I often use it as my backup layer for nordic skiing or for pre-ride setup and after ride beer drinking--because it is so breathable I can stay warm while getting less sweaty.



Get stuck in this in a hard rain and you'll be soaked. And don't expect much insulation because it actually has none. It packs quite small.



I keep this piece in my truck year round. I use it most frequently as an emergency coverup in this regard. After that, I use it most for winter sports (nordic skiing and snowshoeing). Third most often, it's the jacket I pack in my luggage when traveling within the US: protects me from quite a lot, but if it's pouring I know I can still buy an umbrella.



A minor fashion note: this isn't as sharp as some of the other Arc' stuff since the hybrid pattern is (IMO) ugly and the breathable fabrics here are always crumply looking. Not a fashion piece... just a functional one.
Specialized shell
Familiarity:

I've used it once or twice and have initial impressions

Fit:

Runs large
I've only used this a couple of times. I'm pretty happy with it, but realize that the material is very thin and it's true that it's only wind resistant. I recently used this on a 10 mile hike, temperature ranged from 75 to 66, the wind speed around 11 mph. I had only a t-shirt underneath and I'd say I was just OK, a little cold but not very uncomfortable. A little warmer base layer would've been perfect.



I found that the arms run very long on this jacket and the fit seems a little loose even if it's listed as athletic and I could loose a few pounds myself.



Given the long arms, slightly loose fit, hip length (rather than waist length) and super thin fabric I find this to be a specialized jacket. In the right conditions I'm sure it's hard to beat but that limits its use. As such I wouldn't pay full price for it. I got mine on sale.
This is a very thin and light garment. I think that it is a fine piece for summer, but I am not sure it has much utility for the fall or spring. I chose the Venta MX instead.



There is no insulation and it doesn't seem possible that it would generate more than negligible warmth. It is a little crinkly or, put another way, the fabric puckers a little. It stretches. It is very much like an old school, unlined track jacket. I can tell it is well made, but cannot justify the price even with the considerable 40% bc.com discount.

Fit is a half size small if you don't have a trim waist. I wear XL in TNF, but XXL in Arc'teryx, meaning the XL is tight around the waist and the XXL is loose. I plan to use it skiing and picked XL because it will handle layers. I am 6'2" 265 with a football player's build.
interested in this jacket, trying to figure...
interested in this jacket, trying to figure out sizes, I'm usually a medium in many things but wonder if in Arcteryx i might be a bit smaller. I'm 5'10" 150lbs. thanks.
I'm also 5'10" and 150 lbs, and I'm an exact medium in Arc'teryx stuff. The only issue is that the arms are somewhat shorter than some brands, but I have freaky long arms so they're probably normal. I'd go with medium.
Perfect!
Gender:

Male

Familiarity:

I've used it several times
I was looking for a 3 season softshell for Maine hiking and this jacket exceeded all expectations! It is lightweight, stretchy and the fit is spot on. It is my second Arcteryx purchase this season, the first being an Epsilon SV Hoody, and I'm not sure which I like best. The Gamma SL Hybrid is perfect to wear on cool days, packs into its hood to carry for emergency protection, and when combined with a midlayer can be worn into the low 30's easily. I'm 6'3" weigh 195 lbs. and the large fits great. I got it in Brimstone, which is less yellow and more of a chartreuse...love it!
I'm trying to compare this jacket to the...
I'm trying to compare this jacket to the Gamma MX hoody. I have a Gamma MX hoody sitting in my closet with the tags still on it at the moment and am trying to decide if I should keep it or look into the Gamma SL Hybrid hoody.

I am planning on some alpine climbing and snow shoe winter activities, and would also like to know if you could wear this for skiing. Also, I own an Alpha LT hardshell which layers well over the Gamma MX however I am wondering how the Alpha LT would layer over the Gamma SL Hybrid Hoody - would the Gamma SL Hybrid hoody breathe ok under the hardshell?
Best Answer
The Gamma SL Hybrid is quite different from the Gamma MX. SL is a lightweight softshell that blocks some wind and light moisture, but doesn't insulate since it isn't built with the fleece that lines the inside of the Gamma MX. I'd say if you're looking for a softshell primarily for winter conditions, the Gamma MX is your tool. For warmer weather, and things like summer alpine climbing, the Gamma SL would excel. Either will layer well with the Alpha LT
I have the Gamma MX hoody, and have used it for 7 years I think. But, apart from ski touring in -10 C and colder, I find it too hot for me. I just ordered this jacket ($170 on sale) from a web store here in Norway. I'm excited to try it out.
is there an arcteryx shell that the hood...
is there an arcteryx shell that the hood can be stowed away?
yeah, check this one out http://www.backcountry.com/arcteryx-theta-sl-jacket-mens