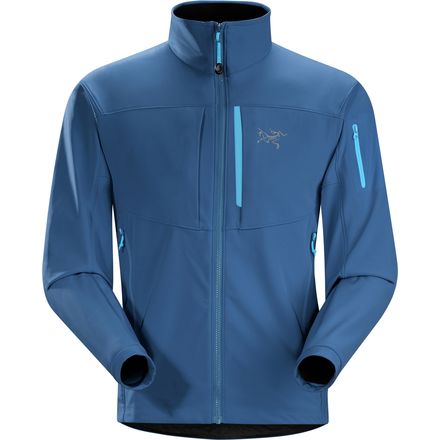 Community Images
Description
Built for dynamic alpine activities.
First and foremost, Arc'teryx shaped the Men's Gamma MX Softshell Jacket for mobility and outfitted it with highly breathable shell fabric for comfortable temperature regulation. Alpine climbers and backcountry skiers can wear this midweight jacket alone in mild, mixed weather conditions, or they can wear this jacket as an insulating layer beneath a storm shell.
Lightweight shell fabric breathes easily
DWR coating causes light precipitation to bead and roll off the surface of the fabric
Fleecy interior face of the shell fabric provides a touch of warmth
Articulated cut and gusseted underarms allow for full range of motion and freedom of movement
Hip-length jacket has slight drop tail for added protection
I own six Arc'Teryx jackets and four were made in China, other two in Bangladesh. Pretty sure the Gamma MX is made in China - my Gamma LT was made there.
What is the center back length of a medium?
Arcterex phoned this jacket in...
Familiarity:

I've used it once or twice and have initial impressions

Fit:

True to size
I recently traveled to the Canadian Rockies and forgot my technical shell. I didn't want to buy another; the forecast for the Columbia Icefields called for steady rain. So, I bought this jacket because my softshell was old. My only experience with soft shells was with Mountain Hardwear, with fully taped seams, windproof and almost fully waterproof. I expected this jacket to be a true technical softshell based on brand and price. Boy! Was I stupid! This is an overpriced fleece jacket at best. Perfect for early fall walking down the suburban streets of some ultra rich town to show off. I have had warmer, windproof and more water resistant jackets for half the price. Learn from my mistake. Do your research and compare features. Arcterex should be ashamed of the engineering and construction of this jacket at a $300 price tag.
Is it possible to get the sleeves tailored shorter? The XL fits perfect on my larger arms but the sleeves need to be about 1.5 inches shorter. Not sure if my local tailor would be able to get the job done.
I would say that it's possible, but the tailor would probably ask that you exonerate them regarding any situation that might result in an undesirable outcome for the jacket, and consequently, you. If I had to guess, I think you would be hard-pressed to find a tailor that would take on that project; I would think that there is a relatively high likelihood that the tailor would have a difficult time restitching the necessary pieces into place, on top of the fact that it would very likely reduce the performance capability of this jacket. I would assume Arc'teryx would use some specialty thread and/or glue to secure their fabrics together, so I personally wouldn't risk taking it to a tailor, but like I said, I'd say anything is possible.
Thank you for the reply. I've seen a few people in forums talk about people who specialize in tailoring gore tex stuff and was hoping maybe even a regular tailor could handle it. Seems like it would be a big hassle though and probably not worth the trouble.
What is the difference between this jacket and the Epsilon LT in terms of fit and function? (Other than the chest pockets)
Best Answer
The Gamma is not as breathable as the Epsilon. Its going to be a warmer jacket but, the Epsilon will breathe better. I would use the Epsilon jacket for more aerobic adventures or if you just run really hot. They both will fit the same.
How cold can this jacket tolerate? Can I...
How cold can this jacket tolerate? Can I trust this jacket with temps that dip into the 5 to 10 degree range (assuming I stay somewhat active)? I know I would have to wear some sort of baselayer, but, is this jacket capable of keeping someone warm in colder temperatures?
Hey Steve,



There's no accounting for personal comfort levels, but without a pretty heavy baselayer, I'd be nervous about this piece in 5-10 degree weather (assuming we're talking Farenheit, anyway.) This jacket is only very lightly insulated-- the new Fortius 2.0 fabric is laminated to a 160 gm weight fleece, but it's definitely still a softshell, so you'd likely need additional warmth from other layers for serious below-freezing temps.



Please give me a shout if you have any other questions! 800.409.4502. ext 4456.
Thanks Lara, I appreciate your input.
Best Answer
Steve... for just walking around town, I'm comfortable in this jacket into the mid-thirties with just a t-shirt underneath (assuming no wind). Lara seems tougher than me.
Haha, thanks David. Good perspective.
Steve, Ive had this for a winter and its not bad for 40's or higher, but it is defiantly not that warm. I have a Lorum jacket now with Polartec and for the same thickness, they Lorum is much much warmer. However, if you are looking for a late summer-early fall jacket, its not bad.
Kyle, thanks for your perspective. I appreciate it. I eventually decided against this jacket, mainly because of the reviews here in response to my question. I'm certainly not doubting this is an amazing jacket, but it isn't the right one for the purpose I need. I was really looking for something warmer that can tolerate really cold temperatures.
whats the difference between this yrs model...
whats the difference between this yrs model and last years?
There is no difference between this current years model and last (except some colour changes). If I recall the last time they changed the jacket was in the Fall 12 version when the revised the cut/style of jacket and changed from polartec powersheild to the current fortius 2.0 fabric.
so im guessing fortius 2.0 is better than the polartec powershield as far as materials go
some say no, they liked the polartec p-s better.
Fortius is a bit more breathable and is slightly warmer than the old Polartec PS. This is not based on any scientific testing but just regular usage of both versions of the jacket. I did find powersheild to cut the wind a bit better. lastly I find the fortius fabric seems to resist fading and the discolouration at he cuffs and hems.
Do these run slimmer than Epsilon series?...
Do these run slimmer than Epsilon series? I normally wear a small but I found a clearanced small in nightshade and it was tight. Thanks
The epsilon series is wider in the Chest (since the fabric has less stretch). Shoulder witdth is about the same. The new epsilon LT however is much slimmer than the old AR/SV series .
I wish to be buried in this garment.
Gender:

Male

Familiarity:

I've put it through the wringer

Fit:

True to size
That is all. My legal counsel has already been informed.
Handsome Blackbird
Familiarity:

I've used it several times

Fit:

True to size
Fell in love with the unique design of the jacket. The two chest pockets and logo really set it apart from the crowd. I got the Blackbird in a large. Its sporty and handsome. I'm 5/10 160 athletic build and the fit for me is near perfect. I use it for hiking , walking and for going around town. These things aren't cheap, but hey Arc'teryx is Arc'teryx.
very good jacket
Familiarity:

I returned this product before using it

Fit:

Runs small
Very good quality and well made. Only problem is it's a very slim fit. I am usually medium size in all other brand ( TNF, Mountain Hardwear, Patagonia ... ) but Arcteryx is so tight that can't wear anything under it. And sleeves are little too long so I can't wear large. If you are slim and long type than go for it.
My Favorite Jacket
Familiarity:

I've put it through the wringer

Fit:

True to size
This jacket is incredibly comfortable and holds up well against the wind and rain. This is my 'go-to' jacket in my closet. I'm 6"5 220lbs and went with a Large. Great fit. Plenty of sleeve length and fits well through the body.
One of the best jackets I've worn.
Familiarity:

I've put it through the wringer

Fit:

True to size
This jacket is phenomenal. I bought it little over a year ago when on sale. Since then I've used it for just about any activity from skiing to climbing. One thing I love is how durable it is. I was in a cave a little over a foot white and was sliding through it wearing this jacket. I thought it would surely show signs of the scraping in the cave but nope, it withstood all the abrasion with no problem. Another thing I love is just how versatile it is, it can be worn as a stand alone piece in moderately cool weather, it can be a layering piece, and it also has enough room for more layers underneath. When spring skiing i wear this and another layer underneath and am completely warm. It is advertised as water resistant which it is, but it really takes alot for it to give, and it is also fully windproof.



Pros: Versatile, Comfortable, Great weatherproofing, light/packable, stylish, decently warm.

Cons: Requires more layering for colder weather, price



Overall this jacket is great, it is a great piece for just about anyone wanting a daily use jacket that can still hand up to just about anything thrown at it. Must buy!


Not as good as previous incarnations
I bought this to replace my 2nd Gamma MX since I got a screaming deal. I am sold on the concept of this jacket and use it as a light shoulder season jacket on it's own and a layering or high exertion piece in the winter. I rarely use sweaters, fleeces anymore since buying the MX. Between a short sleeve or long sleeve base layer, the MX, and a shell in various combinations I'm set for 85%+ of the conditions in CO. I swap out the MX for an insulating layer only when it really gets really cold.



That said - I don't like the new Fortius material nearly as much as the old. The face isn't as slippery (read harder to use for layering) and it feels warmer, but not in a good way. Where it used to be a perfect for 35-60F depending on level of activity, it now feels too warm at the higher half even as a casual piece.



I also don't like that they relaxed the fit of the XL. Now too roomy in the arms and gut even for a big guy. It is much less athletic. I'm a big fan of Arc for not assuming that all XL guys are fat arses like NF does, but they headed in that direction in this version of the Gamma MX.



Long and short is that I sent this back and will ride out my current MX until it is really threadbare.
Among my very favorites
Familiarity:

I've used it several times

Fit:

True to size
This jacket is one of my favorite things. Functions well in the wild, looks sharp around town.



It has a huge temperature tolerance and I wear it from the low sixties into the mid-thirties.



All four pockets also serve as vents for the jacket and are lined with mesh. Wind resistance is pretty good, but the jacket breathes so incredibly well it's amazing.



Has been holding up well to near constant use in the three colder seasons.
I'm 5' 9" and 185 lbs. Do you think a...
I'm 5' 9" and 185 lbs. Do you think a medium or large would fit better? Thanks!
I am 5'9" 150 lb and I would get this in a Large. For sure do not get a medium.
The large will fit and leave you a little room to layer underneath. I'm 5'10" 200# and the large fits like it's tailored for me.
6'1" 175lbs., 42 shoulders, 32 waist.......
6'1" 175lbs., 42 shoulders, 32 waist.... thinking large, any insight?



-E


Depends on what you want it for. I'm 6'1" 175 lbs, 40 shoulders and a 32 in waist. I fit in most all Arc'teryk gear in a medium with a good athletic fit that doesn't look stupid by its self, but has enough room underneath for some layering if need be (base layer and thick fleece). You would fit in the Large fine, but it will probably have a bit more room and not be as much of an athletic fit. Comes down to how many layers you want to throw on under it basically.
Arc' Jackets are a bit tough to fit for guys in the 6ft/170 lbs/40-41 inch chest/32-33 inch waist size unless you have really long arms. I wear a 16/33 inch sleeve length in a dress shirt. The large fit great everywhere except the sleeves. They simply swallowed me. So opted for the medium. A little tighter fit in the chest but not unreasonable. The plain fact when you're sized like we are, you're going to have to compromise in almost any article of clothing you buy. This size sits squarely in the middle of M and L!