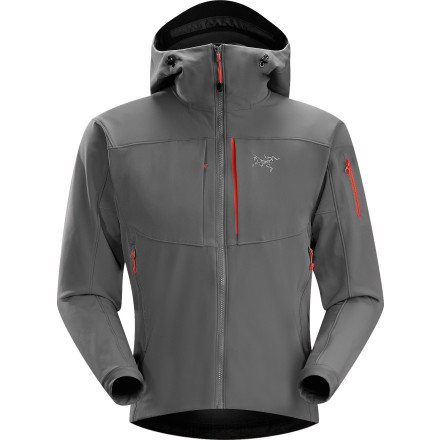 Detail Images

Community Images
Description
Finally, you can keep that hardshell jacket tucked away until the weather turns REALLY nasty.
Move freely in mixed weather conditions while you're wearing the Arc'teryx Men's Gamma MX Hoody. Articulated arms and a trim fit keep this midweight layer close to the body without restricting movement when you're alpine climbing or sliding up a skin track deep in the mountains. More versatile than your baselayer and more breathable than your storm shell, this jacket will be the one you live in the most, even if there's a little light precip falling from the dark clouds above.
Fortius 2.0 synthetic fabric insulates for warmth, dries quickly, and allows moisture to move away from layers underneath
DWR coating allows the fabric to repel light moisture
Trim fit keeps this jacket close to your body for warmth, and gusseted underarm construction allows for full range of motion
e3D patterning brings an additional level of articulation to the fit of this hoody—articulation designed specifically for each intended activity (climbing, skiing, etc)
Long torso length slides over the top of your pants to help keep the elements out
Storm hood easily stretches over a ski or alpine climbing helmet
I am looking for a soft-shell (alt. insulated mid-layer/shell like the Atom LT) to complement a hardshell jacket.

I live in a cold climate, -10 – -25 C° is not unusual, add some wind to that, it gets pretty chilly sometimes. I am going to use it for backcountry ski touring and nordic style touring, but would like to be able to use it for spring and autumn tours as well (askin to much?).

I am not sure if this model or the Gamma SL is to be preferred? As I understand this has the fleece liner and the LT does not.
If I were to use a thicker fleece (or down sweater) as a mid-layer in the SL, would it be as wind-resistant as the MX? Could you use the SL with a thicker mid-layer such as a thicket fleece or down sweater in really cold weather? A Gore-Tex Pro Shell would always accompany me on winter tours. As I understand the Gamma SL has a bit better breathing ability compared with this model, which I find important.

If you have any suggestions, I would appreciate it!
-25C is quite cold. If you'll always have a Gore-Tex shell with you I'd consider either the Gamma MX to the Atom LT but probably not both. I have an Atom LT and love it, the side panels help with breathability. Since Nordic skiing backcountry touring are pretty high output, probably a base layer followed by one of the above will work well. I believe Atom LT will offer more wind 'resistance' than the Gamma MX. But of course you'll also have your hard shell. Hope this is of some help.
Gamma MX vs LT
Familiarity:

I've used it once or twice and have initial impressions

Fit:

True to size
I was deciding on the Gamma MX vs the LT. Ended up deciding on the LT. 1) The MX is noticeably shorter in the front than the LT. 2) The MX has a fleece-type lining on the inside which I thought would get too hot for hiking and alpine climbing, which is what I am going to use it for. I do think the pocket situation on the MX is better than the LT.

Took my LT out this week in Colorado to hike some early morning 14ers and it worked great with just a lightweight base layer underneath- temps ranging from 35-50 degrees.
Perfect for casual use
Familiarity:

I've put it through the wringer

Fit:

True to size
First things first, I am NOT a backcountry skier, climber, or alpinist. I am a short (5' 7"), out of shape (~200lbs) guy who lives in the city and goes to the snow twice a year. This jacket is not being used for it's "intended" or "designed" purpose. I ordered both the L and XL. I returned the L because it would be great if I was going to climb or do hiking in the snow but that wasn't the fit I wanted for my around town casual use.

The reasons I LOVE this jacket are the look, fit (except for arm length), and warmth/breathability. It has the look and fit of something not super technical (since it got the XL) and not super baggy. I have a hard time with that since I am shorter and fatter than your average reviewer here. For me it is the perfect fit for an everyday jacket. The arms are too long but the cuffs make it a non issue. The warmth/breathability has been exactly what I was looking for. I knew the upside/downside of softshells prior to purchase. (know what you're getting if you've never bought one) I can comfortably wear this on cooler summer nights and all day during the fall and spring here in Yokosuka, Japan. It's heavier/not as breathable as the OR Ferrosi but lighter/more breathable than the North Face Apex Boinic. (My friends have both) We walk a lot here in Japan so the ability to not have to take it off and put it on throughout the day is perfect for me.

If you're willing to pay a lot for an excellent fall/spring city "hiking" casual jacket to get the Arcteryx quality and look this is definitely for you.
Larger Person: 6'4", ~230 pounds, 38" waist, 18" neck, 36-37" arms - will XL be too small in this product?



Am used to looser fit of snowboard-styled gear, am willing to deal with something a bit more "athletic-cut", but at my size, I don't want it to fit like compression wear. Larger riders/climbers/backcountry snowshoe/backcountry splitboarders weigh in, please.



Also, I didn't see pit vents/zips mentioned, does this have them?



Advice on XXL vs. XL?
Hi Theodore,



I'm 6'3" and 215lbs w/ a 34" waist (athletic build) and I wear the Large. I like my jackets fitted and the Large is almost too big for my taste (it's a little baggy around the stomach area), but when it comes to performance, this jacket is the best I've ever owned. I love the "no-lift gusseted underarms" which lets me climb without flashing my fellow climbers coming up behind me (crack kills). It performs great in rain / snow, and most importantly, it breaths well. The kangaroo pockets are vented and there's also vents on the chest pockets, but there's no pit vents.



The one thing I don't like about this jacket is how tight the cuffs are. Getting the jacket off can be a chore.



To specifically answer your question, if you want it fitted, I would go for the XL, if you want to add several layers and want it to be looser, go for the XXL.
Great Ice Climbing shell
Familiarity:

I've put it through the wringer

Fit:

True to size
I picked this up at a "Garage Sale" for about $10 bucks after hearing all of my Ice buddies rave about it's perfect balance of windproof fabric and breathabilty. The jacket had a motherlode of dog hair in it and some stains on it but after a good wash and reapplication of Graingers DWR coating this jacket came back to life with a vengeance! I've used it on everything from everyman stepped out Ice-leads in Ouray to day-tours in the Oregon skiing. She's purred like a kitten every time I needed her to perform!
For people who is wearing this jacket over Atom LT, what size would you suggest? I have atom LT in small size. Should I get S or M gamma MX?
Best Answer
I would recommend the medium. Depends how you like the fit. I went with a large (I am normally a medium) and I like the room to layer underneath.
Amazing Jacket! (so far)
Familiarity:

I've used it once or twice and have initial impressions

Fit:

Runs small
Just got this jacket in the blue color and size large. I don't have too much to add to the reviews below at this point, as I have yet to put it through some real heavy duty use (I plan to use it for backcountry skiing). However, I wanted to chime in initially on the sizing in the hopes that it might help some others making a decision (I did a lot of waffling between the medium and the large). I am 6' and 165 pounds and have a 38" chest. I went with the size large and I think it was definitely the right call as the jacket sizes small in my opinion. With the large, it is not too big / roomy with nothing but a base layer underneath and it has enough room to put a small / medium fill down layer underneath. Also, it is highly wind and water resistant, and the look and feel / texture of the jacket is absolutely amazing. In addition, the cut is superb (allows for great freedom of movement), the pockets are well designed (zippers are perfect and pocket sizing is robust), and the color really pops to make it an instant favorite. Again, hope this helps those looking for thoughts on size, and will report back if anything meaningful to add after some thorough use out here in the Colorado wilderness. Best, Dave -- Denver, CO
What is the center back length of a medium?
Great for (Most) Colorado Conditions!
Gender:

Male

Familiarity:

I've used it several times

Fit:

Runs small
Overall, I've been really pleased with the Gamma MX Hoody. I like all the pockets, although one (left) chest pocket would have been sufficient (in addition to the handwarmer pockets). Also, my sleeve pocket doesn't get much use. The handwarmer pockets are large, with a large zippered opening. The hood fits reasonably well with a knit cap underneath. The hood is sized for a helmet, but it can be snugged up adequately when wearing just a knit cap.



I had a Gamma MX jacket in size medium from a few years ago, and it was a bit too snug for my tastes (I couldn't layer with it). I purchased a size large in the Gamma MX Hoody, and I am happy with it. I am 5'10"+ and 165 pounds. The size large leaves room for a Patagonia Nano Puff or Down Sweater underneath, and the size large isn't a tent with thinner layers. The sleeves are really long, but better a bit too long than a bit too short. The cuffs are a bit tight (hard to get over your hands), but that's no big deal.



We frequently have a lot of wind where I live along the Colorado Front Range, so I usually wear a somewhat windproof base layer under the jacket (e.g., the Patagonia Nano Puff). It has been cold and windy since I got the jacket, so I have not yet had a chance to test it with a wind permeable mid-layer in calmer (non-windy) conditions.



Built quality seems to be first rate; we'll see how it does down the road. So far, I am enjoying the size large Gamma MX Hoody much more than my former Gamma MX jacket in medium. Cheers!
Good stuff
Familiarity:

I've put it through the wringer
I've had this jacket for five years. Still bomber! I have always liked this coat a lot, but recently replaced it with a Marmot softshell.



While it's good to have a lot of pockets, this thing is a little excessive.
Alpine Enthusiast
Familiarity:

I've used it several times

Fit:

True to size
I bought this along with the Alpha LT hardshell jacket and was very impressed. First off, the athletic cut is amazing! Fits like a glove! It's nice to be able to raise both arms while having a jacket that will maintain waist level. A necessity on long ice climbs. It also has all the features any alpinist can seriously appreciate while omitting all the fancy bells and whistles you don't need. Super light, super rugged, a must have for any serious alpine enthusiast!!!
Awesome jacket!!!
Familiarity:

I've put it through the wringer

Fit:

True to size
This is an amazing jacket. I've taken it ice climbing in Ouray CO, trad climbing in Moab and like all Arc'teryx items it can really stand the test of time. Its an article of clothing that makes the whole adventure or trip completely awesome. When ice climbing or climbing in general its not to hot yet sheds water or snow super efficiently. Amazing Jacket!!!
More Arcteryx sub-standard tat.
Familiarity:

I've used it several times
Bought this in October 2013. On day 3 of ownership i wore it on a day out hiking. Within 6 hours of it being beneath my rucksack hipbelt it bobbled/pilled on the inside, on the mesh pockets. Beneath my Gamma MX was my arcteryx baselayer. Not good at all.



I should have learned my lesson from last years saga of my Strato hoody. That bobbled after its first wash. After being lectured into how to care for arcteryxs' products, my replacement bobbled, before its first wash. So it wasn't a washing/care issue.



General everyday friction is enough to damage the clothing.



My Covert hoody that is 4 years old shows very little sign of bobbling. So all i can think is that their materials that they use now, are sub standard.



I won't be wasting any more of my hard earned money on overpriced, below average, tat.



People should be aware that very few items are actually made at the arcteryx Canadian factory. Everything else is made in China, like this over priced and over rated hoody.



Why oh why can i not give a zero star rating. Thats all this is worth.
Misunderstood
Familiarity:

I've used it several times

Fit:

True to size
I bought the Gamma MX thinking it was going to be a do-all soft-shell as it didn't have some laminated membrane reducing breathability as so many do these days. I'm a stocky guy and put out a lot of heat when in the mountains, so breathability is more of a priority with me than some of you more fit/trim guys.



First off, the Gamma MX is definitely Arc'teryx in terms of quality/finish. The materials are top notch, and the workmanship is everything you'd expect from them. The fit is perfect for what I believe to be the intended use of the jacket. Nice true athletic fit with very little excess bulk. The hood easily fits a helmet of your choice and has enough adjustment to fit your bald head just as effectively as a helmet. Pockets galore on this thing! (2 hand warmer, 2 chest, and a sleeve pocket)



This jacket as many others have commented/reviewed simply have difficulty finding a place for this jacket. I can see how that is, as even with my emphasis on breathability this jacket still leaves a bit on the table I believe. I've held off reviewing this jacket until I expanded my soft-shell inventory so I'd have a better idea of where this jacket fits into the picture and I'd offer the following:



This jacket is for those of you *ON THE MOVE* in colder conditions. The air permeability helps regulate your temps, and the fleece lining will keep the bitter chill off you during map checks/equipment adjustment/ect. This is not your "do it all" soft-shell. But the very things that keep it from being that, means it excels at what I believe it was designed to do.



I find it most useful with a lightweight/mid-weight wool base layer underneath, and a insulation layer & hardshell (if things are suspected to get burly) in the pack. I typically stuff a Patagonia Nano Puff and Alpha SV in the pack to augment this shell.
So, I've read all the reviews & have a...
So, I've read all the reviews & have a great feel for this jacket. I'm really wondering if the over-sized hood is really useful for everyday cold, rainy NW use or it's just handy when wearing a helmet. I love the idea of the hood, but if it doesn't fit well, then it's usefulness is a little tempered for casual use. Anyone out there wear this everyday & find hood fit ok for basic NW chilly, rainy days?? Thanks for any responses in advance, happy upcoming POW days!
Best Answer
First of all, as a NW guy myself I want to make sure you realize this is not a waterproof shell. You will get wet in a sustained down pour though it will protect you from light or intermitant rain. That being said, I love this jacket. I understand you concern about the hood. When you first throw it on sans-helmet you wonder if there has been some mistake. But several draw cords allow you to cinch it up to a nice snug and protecting fit. If you are just using this jacket for surviving the rough and tumble weather of the North-West I would recommend something with a normal hood, but if you will be wearing a climbing or biking helmet at least 20% of the time, then the oversized hood is perfectly manageable and worth the sacrifice.
Amazing, thanks MD Hilverda! Just curious, what jackets do you think are best for everyday NW weather (normal hood)?? I'm gonna grab this one for biking exploits, etc...but you can never have too many jackets in the NW, right???
Warm casual fleece
Familiarity:

I've used it once or twice and have initial impressions

Fit:

True to size
At first it was a little hard for me to place this jacket in terms of best use. It does not have the waterproofness of a hardshell, nor the windproofing of a windtopper softshell. In fact the Gamma MX is not just breathable, it is extremely air permeable. I have finally concluded that the Gamma is a good warm piece to wear when the temps are low but the weather is clear. The microfleece lining keeps you warm, but the air permeability keeps you from overheating during strenuous activity. Not my favorite jacket from Arc'Teryx for technical wear, this jacket is nonetheless very comfortable to wear when conditions are good.
Awesome
Familiarity:

I've used it several times

Fit:

True to size
Great Softshell. It is surprisingly warm. I don't like it as much as an acto mx hoodie for aerobic activities, but around the town and bad weather it does better. I am 6'1" 165 lbs and a large fits me very well. The chest pockets are a little awkward in configuration, but that is a small gripe. Overall great arcteryx quality you can expect.
Arcteryx softshell match-making time.. So,...
Arcteryx softshell match-making time..



So, I am looking at replacing several of my jackets and have heard good things about softshells. I havent had one for years after having a poor experience with a TNF softshell that didnt fit well many years ago..



Uses: Im looking for it to be used all year around here in the PNW. I was a bit worried about rain resistance but heard softshells are actually quite well. I have an OR foray shell if needed for heavy downpours. In the major attraction point is breath-ability, I sweat like crazy. I usually wear shorts year round, as I did in MN where its actually winter when I grew up and hardly ever use my marmot ama dablam down jacket. Id be using it for casual, around town/to work, snowshoeing maybe downhill skiing in winter, and hiking and backpacking the rest of year..



Size wise: Im hoping to maybe layer a small layer underneath, Im a out of shape 185, 5' 10'', with a stockyish build. I usually wear mediums in patagonia, but got a large atom LT half zip.



Sorry for the book, mister librarian. Any help would be great. Oh and ive been looking at this one, vs the venta mx, and gamma lt. All hooded. Hoping to spend around $250 (and find it on sale obviously). Thanks!
Best Answer
Hey,



Honestly, I have a Gamma MX and find it to be very cold unless I'm staying active, so from what you say plan on using it for, probably not going to cut it. The fit is athletic [snug], so plan for going up a size for anything but the thinnest layers under it. Not especially good at holding out "rain", but until the DWR coating wears off with use or washing (you can refurbish it) it does a good job of shedding moisture. Great jacket when used right!



In Arcteryx, I would go for the hooded Venta SV if you want to stay warm, especially when just using it casually. I would go with the large.



Hope this helps you out.
Thanks for the advice, much appreciated! So I run really really warm usually, (I blame growing up in MN) and now having just moved to the PNW, have realized its temperate here, thats why Ive shied away from looking at the venta. I went to REI to try on some arcteryx softshells but unfortunately they arent in stock yet! I did try on the beta (or the alpha) and the medium seemed to fit well with my nanopuff vest on underneath. Also from what ive read the gamma should breathe better than the venta.. Should I look at the gamma lt?
Go for the gamma lt. It has a good balance of breathability and windproofness. The venta sv, although it does have pitzips, is not very breathable. It has a windstopper membrane, so is slightly more breathable than a hard shell, but I overheat in mine enough to not wear it very much. Also, the thin fleece lining makes it less versatile-not enough for real cold (I'm in Canada) and too much for above freezing. The gamma is great for above freezing, and with the atom lt underneath is good in the snow. It fits a little snug though, so think about sizing up.