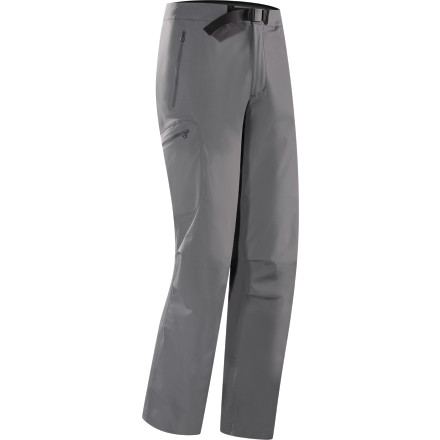 Detail Images

Community Images
Description
Stretchy breathability for alpine performance.
Arc'teryx designed the Men's Gamma LT Softshell Pant for maximum mobility and breathability while hiking, backpacking, and climbing. With four-way stretch and an articulated construction, the Gamma LT Pant gives you full mobility while resisting wind and light moisture in alpine conditions. A soft, chamois-lined waistband and gusseted crotch provide the utmost comfort with or without a harness.
Great pants for cool windy conditions
Familiarity:

I've used it once or twice and have initial impressions

Fit:

True to size
A lot of reviews for these pants, most has probably been said.



The fabric is very nice. It has a soft, silk-like feel to it, with quite a sheen. I got mine in Anvil Grey. Their wind resistance makes them great for windy and a little cool conditions. Not cold without a base layer, as there is no insulation here. The pants are great for the conditions they were designed for. Depending on where you live that may a bit constrained.



Fit is good, the integrated belt makes the pants stay in place. Note that there are no back pockets.



One very small design flaw for me is the direction of the zipper on the leg pocket. When closed the zipper is towards the inner of your leg. This makes my hand sweep across it every now and then and after a while I find my leg pocket being half unzipped. This is a very, very minor point, but the Norrona pants have the zipper go in the opposite direction.



Note that the care instructions says not to tumble dry and hang dry instead. When these are soaked it takes a while to dry them out.
Great pants for Fall, Winter, and Spring
Familiarity:

I've used it several times

Fit:

True to size
I ordered these pants to serve in mixed conditions, something to stand up on windy, snowy, long days.



I was expecting these to be similar to the Gamma LT Jacket, but they aren't really the same. The fabric is a lot thinner. The LT Jacket has sort of a plush inside. The pants are single layer, and more slippery and stretchy. The pants would be too warm for my in summer conditions (50 deg+), but by themselves they are fine for hiking in 30-50 degrees. Below that I wear a baselayer, or even Montbell UL Down Pants. Overall, these have turned out to be exactly what a softshell should be - extremely versatile.



The pants are extremely sleek and high performance. I am 6'2" and I got the medium-tall. The waist is perfect. There is an integrated webbing belt that works very well and never comes undone until you want it to. There are two zippered hand pockets that are lined with mesh for breathability. There is a side zippered pocket on the right thigh that is also lined with mesh. There are no back pockets. The crotch is gusseted, increasing the flexibility of these pants. I have had no problem pulling off any move in the climbing gym or outside with these pants. The bottom cuff has an easy to use draw cord if you encounter more snowy conditions.



I have not used them in rain, but I've used them in very deep powder. The slick fabic sheds snow easily -- snow will NOT stick to it at all, which means I never got wet after hours of hiking in deep snow and crashing into powder while backcountry sledding (backcountry sledding is serious business).



Pros:

- Very flexible and thus very comfortable

- Fits me great

- Slick fabic sheds snow very easily

- Breathable enough for Fall/Winter/Spring

- Extremely versatile.



Cons:

- I would not use these in very warm conditions if I was moving a lot, even though they are pretty thin. In black, they are very warm in the sun.
Magical Fabric
Familiarity:

I've put it through the wringer

Fit:

True to size
I don't know what wizardry was used at Arc'teryx to develop these pants, but they are amazing. The fabric is super lightweight, flexible, and soft. All the makings of a delicate piece of clothing. However, these pants are tough. I did a couple hikes through some less-travelled trails which meant that I was frequently getting various Texas scrub-foliage rubbing against my legs as I pushed through. Sometimes a branch would be sharp enough to scratch my leg and cause an abrasion under my pants, but the pants looked like nothing happened.



They breathe well without being breezy, and do well in somewhat windy conditions. In cooler weather I might consider a long baselayer, but I have yet to need it.
Not Rain Pant
Gender:

Male

Familiarity:

I've used it several times

Fit:

True to size
Good all around light weight pant. Solid wind protection. However, if your rained on this pant sponges up water. My partner and I were high in Rocky Mountain National Park yesterday on a big rock climb and got caught in a solid 30 minutes plus down pour. He has the exact same model pants and we were both soaked to the bone in our legs in three minutes. Once off the wall and the rain stopped they dried out rapidly which was a relief.
I love these pants, they are piece of art. They are good for warm weather. Only downside form me is that the water resistance coating is gone after one wash. But it's something that you can not repair with Nikwax.
Great all around pants
Familiarity:

I've put it through the wringer
These pants are lightweight stretchy and nicely articulated. The fortius fabric is smooth and breathes quite well, it is tough enough to resist quite a bit of abrasion and sheds light precip. Design is quite simple- 2 zippered hand pockets and 1 zippered thigh cargo. Unfortunately no rear pocket which I prefer. built in waist belt is a bonus.

I have a 32"waist with a 32" inseam and got a medium. They fit great through the waist and have a perfect length. The leg openings are small-ish and have a cinch cord to tighten at the cuff. I would have preferd at least another 1" of cuff opening (If i hake in low cut gore tex shoes they get caught in the rear opening which can be annoying.

Overall well thought out pant. Perfect lightweight go-anywhere pant (over a variety of temperatures and conditions)
I'm 6' 3" with a 31 inch waist and a 34" inseam. Arcteryx currently makes the only hard and softshell pants that seem to fit me well. These are well made, they have great next to skin feel, or you can beef them up for colder temps with a capeline or fleece baselayer. Stretchy enough to stem in while climbing.
These Pants Rock!
Gender:

Male

Familiarity:

I've put it through the wringer
I bought these pants for a trip to the Mexico volcanoes: wanted something light and breathable but that could also go the distance up high. Now they are my go-to pant, although I also use the Gamma AR for colder conditions and when real flexibility is not as critical. I wear the LT for morning walks, weekend hikes, climbing - and have even biked in them. They seem indestructible, as I have been sliding on my butt over rough surfaces in rock scrambles and have banged my knees a couple of times so hard that I broke the skin and bled - but not a thread was out of place. Almost weird, but wonderful. I'd buy another pair, but don't need them. I wear XL - a 36 pant (6'2", and 195 lb, with big legs) - about the only pants that really fit me.
These are great at EVERYTHING
Gender:

Male

Familiarity:

I've put it through the wringer
For a while I was using my Arcteryx Beta AR uninsulated hardshell pants for all things alpine. Saw these one day and figured I'd try them out. I never realized exactly how versitile they were.



So fit specs first. I'm 6'2", 170lbs. 32" waist. Medium in these pants fits great for everything (supposedly M is 33" waist). Though on the fit chart they state the inseam as 30.5", but IMO it fits more like it has a 32-33" inseam based on my work slacks.



Before this, for regular 3-seaon hiking I'd use my Mountain Hardwear hiking pants, which are pretty great. For alpine I'd layer my Smartwool long underwear with my Beta ARs. Gaiters on top and the Beta ARs unzipped on the sides as much as possible until things got too cold or windy.



Now: I use these for three-season hiking unless shorts are called for. They're just so durable and breathable. And if it rains, they're really solid there, too.



For alpine conditions, there is enough room to layer under the Smartwool long underwear and if the weather calls for it, the Smartwool and my REI Polartec fleece pants. Gaiters on top of these. I'll keep my Beta ARs in the pack and if things get too hairy, quickly layer those over everything.



It's been great because these breathe much better than the Beta ARs, obviously. They're been extremely comfortable and so far pretty durable, though I've only used them a season so I can't speak to long-term durability. However, if they're like anything else Arcteryx, they'll last forever.



The price is pretty high, but I think it's worth it, especially if you are planning on picking up a pair of softshell pants or a pair of nice hiking pants anytime soon as these would replace both of those and help offset some of the initial cost.
, ☃bcs_badge_alumni_label☃
Love em!
Gender:

Male

Familiarity:

I've used it several times
These things are a great softshell. They pack down to and weigh nothing, but still provide good wind block. Stretchy fabric makes for easy movement and waist band is super comfy. If you are looking for a sofshell pant and can afford these, then buy them!!!
Where have you been all my life
Gender:

Male

Familiarity:

I've put it through the wringer
I love these pants. I wore them on rainier with Cap 4 and never had an issue. Even with the 60+ winds at Muir. Wore them snow boarding because I didn't want to invest in another pant. Never an issue. Top it all off the they look great around town casual wear. Got a pair of the female version for my girlfriend. Immediately loved them. Articulating fabric gives you plenty of room to do your thing. Like the pocket placement.
Awesome
Gender:

Male

Familiarity:

I've put it through the wringer
Everybody was right
Im interested in these pants. Do they fit...
Im interested in these pants. Do they fit like the Gamma SV or MX? The SV are way to tight.
I fit in the Gamma MX in Medium really well. The SV not so much. I am a 34x32.
Fit me like the MX and SV. I use the same size in all three no problem.
Legit
Gender:

Male

Familiarity:

I've used it once or twice and have initial impressions
Took these on a quick 20 mile 2-nighter near Mt. Whitney. We caught the tail end of the first snow of the season and these held up really well. I was warm, dry, and comfy with temps ranging from the low 30's to mid 40's and snow ranging from nothing to 3' of powder. Great fit and mobility even with multiple base layers. Zippered welded pockets were clutch when trekking through snow covered passes. Can't wait to get back out in these!
Are these pants suitable for cross-country...
Are these pants suitable for cross-country skiing?
This would work, yes. But there may be some better options. Something with tighter/smaller leg openings at the bottom might make for an easier time skiing.
Thanks knanier. I have been long looking for cross-country skiing pants and have not found anything suitable. Do you have any names in mind?
So other than wearing around the house, the first real test was on the Exum ridge of the Grand last week. These pants performed very well. It was cool enough to wear a lightweight knicker long john underneath...and they layered better than I thought. The pants had just enough stretch, but still felt durable and did not snag or catch on any features. The cinching cord at the cuff came in handy when the wind started blowing high on the ridge. They breathed well enough not to overheat on the descent. I thought these would be a strictly summer only pant, but I am sure they will be good into the low 30's. I have a 32/33 waist and the mediums fit best...better than the medium of the gamma hybrid pant which was way too "slim fitting"....
Bought them for a specific trip out west. Wore these with LJ's under. Fantastic pant. Who care's about price. When it's 20 degree's and 40 mph winds, price means little. Comfort however is king
How resistant are the pants to abrasion?...
How resistant are the pants to abrasion? How do they compare to schoeller dryskin extreme abrasion wise?
Best Answer
The Gamma LT are crazy resistant when abrasion is involved, and tends to be more so than dryskin. The Fortius fabric used here is also lighter and has a bit more in the stretch department.
It is a tough pant for rock or ice. Not so good with crampons :).
VERY COMFORTABLE, BUT CUT SMALL=---LT WEIGHT, GOOD TRAVEL PANTS---I HAVE 40 WAIST---NEED XXL BECAUSE OF CUT---VERY EXPENSIVE SO WE'LL SEE HOW THEY HOLD UP---PROFESSIONAL PHOTOGRAPHER WHO TRAVELS A LOT---