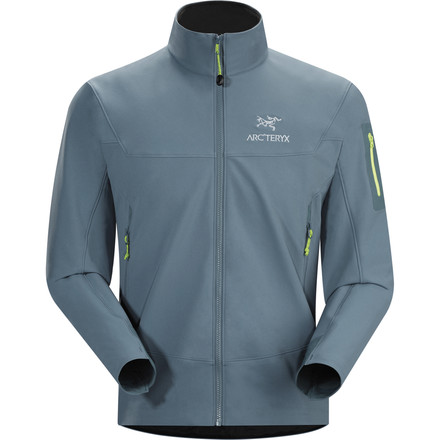 Community Images
Description
For moving fast through the backcountry.
The Arc'teryx Gamma LT Softshell Jacket has become a legend among the backcountry crowd for its light weight and unbeatable breathability. Smart features like high zippered hand pockets and a brushed polyester inner collar remain, but updates like a longer body and a slimmer fit make the Gamma LT more useful than ever.
Burly double weave four-way stretch fabric is extremely breathable and won't limit your range of motion
Full-length zipper with wind flap for windproof access
Stretch gusset cuffs for easy in and out and comfortable fit
High zippered hand pockets are easily accessible, even while wearing a backcpack with a hipbelt
Brushed polyester inner collar reduces chafing
Gamma SV replacement?
Familiarity:

I've used it several times

Fit:

True to size
I purchased the Gamma LT to replace 2 aging softshell jackets - an ancient Gamma SV and a Patagonia Super Guide. I've now used the LT a few times and have some initial impressions.

Fit. I'm a solid Large in Patagonia tops, but thanks to the Arc'teryx size break (Large ends at 43" chest) jacket fit is always questionable - Large tends to be a snug fit, but I swim in XL. My Gamma SV is a Large and is a snug fit, not really allowing even a second layer beneath it. A nice athletic cut though, and great sleeve length. Based on my Arc'teryx experience I ordered an XL Gamma LT, and it too is oversized. Unlike the Gamma SV, the new jacket has a squarer cut and room for layering (good), but is also rather baggy (not so good). The body is way long and so are the sleeves. I plan to use the jacket for traveling and around-town use, so body length isn't that bothersome. The sleeve length IS, and I'll have to figure out what to do about that. In an ironic twist, even these excessively long sleeves leave my wrists exposed when I reach overhead because the fit isn't snug to the wrist and there's no way to adjust the fit.

Features. The LT has two large chest pockets and a pocket at the left bicep, all exterior. The old SV has two large exterior chest pockets and an internal pocket. The SV chest pockets are especially high and rotated forward. These actually work with a harness or pack hip belt, where the LT's pockets are more likely to get caught underneath. That is also the problem with the pockets on the Patagonia jacket. However, I still like the Patagonia jacket's pocket arrangement - two exterior side pockets and an exterior vertical pocket at the left breast, plus an internal chest pocket. The Gamma LT doesn't seem to have enough pockets for my purpose, thought the chest pockets are HUGE. They're also made of a mesh, so partly open pockets can serve as vents.

Otherwise, the bottom hem drawcord on the LT is probably the easiest to adjust of the 3 jackets. The LT has a dropped tail, more so then either of the other jackets. The LT's collar, when zipped up is a good height and fit, and it's lined with a soft micro fleece for comfort. The main zipper for the Gamma LT is a sturdy toothed zipper. Runs well, doesn't snag. The characteristic Arc'teryx rubbery draft flap is a bit smaller than that on my Gamma SV, and so doesn't get in the way as much.

Fabric. I like stretch-woven softshell jackets for travel and around-town use because stretch-woven fabrics are so versatile: sturdy, breathable, wind- and water-resistant, food-resistant, and stretchy. I dislike softshell jackets for actual outdoors use because they tend to be both heavy and bulky; unless I'm sure I'll be wearing the jacket all the time I don't want it along. That's certainly true for the Gamma SV's Powershield fabric, and mostly true for the stretch-woven used in the Super Guide. The Gamma LT's fabric, called Burly Double Weave, is a bit different: smooth on the outside, subtly barred on the inside, and lighter than the fabric on either of the other jackets. Also softer. Unlike the other two jackets, which never got used for climbing, skiing, etc. I WOULD use the Gamma LT for those things - if the fit was better. Wind resistance is on par with the other jackets. Breathability seems good. Haven't had enough moisture to say anything about water resistance.

Overall, this is a nice jacket. My main problem with it is really about where I fit in the Arc'teryx sizing scheme. The product fit is true to that described in the bird's sizing charts; I just don't fit well into that sizing. Materials and features seem to work pretty well.


Superlative Softshell!
Familiarity:

I've used it several times

Fit:

True to size
This amazing jacket just joined forces with the hooded version that i had first, and an Epsilon LT that i had before that. Together the Gamma LT and Epsilon LT offer four-season coverage at a pricepoint that i think is very reasonable for an ultrapremium jacket. The Gamma LT is made of this cleverly woven nylon/polyester material that somehow puts the more durable nylon on the outside and the softer, better wicking brushed polyester on the inside. It also contains a healthy dose of Lycra, which along with the stretch-weave makes this one of the stretchiest, least restrictive garments i have ever worn. I actually got a Marmot ROM first, but found that it didn't have the mobility that the Gamma LT does, which is remarkable since the ROM's selling point is... (wait for it) superior Range Of Motion. I really like Marmot, but Arc'teryx is in another league with a non-coil, YKK Vislon (size 5!) main zip- a big, beefy zipper with an ingenious sort of rubber-like storm flap behind it which, due to the material it's made of, doesn't allow it to get caught in the zipper. The laminated left-bicep pocket is surprisingly useful, and i have been using it on the Epsilon LT for the past year, as it is perfect for keeping my ID badge, some cash, business cards, condoms, anything you need to whip out in a hurry and don't want to haul out the wallet or whatnot. And when i use the sleeve pocket i receive a ton of comments like, "I love that sleeve pocket, that's so cool," and so forth. Speaking of pockets, when i first got it i thought, "only two main pockets?", but then when i got it i realized how huge the handwarmer pockets really are. They're f'ing HUGE, going almost from the waist hem to the front shoulder seam - over a foot tall and more than 10" across! you could fit a cat in there, if they let you, and if you wanted to carry a cat in your pocket, it's cool - i don't judge. Or a lunchbox, a hammer, and an iTablet. Anyhoo, you get the idea - big big pockets. and the zipper stops about an inch from the bottom to keep small items from falling out if you forget to zip them, or leave them open since the pockets are mesh, to vent excess heat, which i have never had to do with either the Gamma nor the Epsilon since they breathe like a cargo net. With such great breathability i was a little skeptical of its ability to block wind, so on a chilly Rocky Mountain morning i was driving and put my arm out the window with my hand inside the sleeve, and going 40mph i couldn't feel any wind coming through at all. I would have gone faster but i was in a school zone. So if you need to be out in more than 40mph wind, i can't be held responsible if some sneaks though, though i doubt it will. In the hooded version of the Gamma LT i got caught in an icy late-winter rainstorm and it kept me dry for over a half-hour while i walked home in my dry, comfy cocoon. It is not insulated, which i think is fantastic, because you can select how much or little insulation you want, whereas the EpsilonLT has just enough fleece laminated to the inside that it is more of a "one-piece" jacket over just a baselayer until you start getting into alpine winter temps. The Gamma can be used in cold weather, just layer it up underneath. The best thing about these jackets is their versatility, since they are more comfortable than any hardshell i've seen and are adequate for all but the most extreme wet, cold weather. I still put on the down parka when it dips down below the single digit ºF... But it's amazing how often all the protection i needs is my Gamma... mmm... Yummy!!
1st Arc'teryx Jacket. Crisp for My Baba!
Familiarity:

I've used it once or twice and have initial impressions

Fit:

True to size
I bought this jacket, so that I could use it for business trips as well as casual outings, all the while having a reliable performance shell should I need to kick major heinie in the backcountry. Why? A: Sleek design, reliable material, professional appeal. Zipper is reliable, seams are uber-trustworthy, folds up nicely to stow in carry-on outer pocket, and emerges after a 12-hr flight with a wrinkle-less shine.

How'd we meet? Well, I fixated on the sharp look of this jacket from day one. Now that I own it, I relish in the incredible feel and protection this jacket pours over me. This spring I dashed a couple hundred meters across a rainy parking lot in OKC en route to a Lebanese restaurant, and when the zipper came down, I emerged dry, crisp, and ready for hummus and baba ganoush. Pass the pita!
First Arcteryx purchase
Gender:

Male

Familiarity:

I've put it through the wringer

Fit:

True to size
I usually purchase Spider, The North Face, etc for these shells but decided to upgrade to Arc'teryx this time and it did not disappoint. There is not much insulation but there's not supposed to be. It blocks wind and rain, no problem. It also sounds like a wet suit when you put it on quickly...love that. The sleeves on the XL are plenty long and I'm 6'6" 230lbs. The front however could be a couple inches longer but the length of back makes up for it. Looking forward to getting my insulated Arcteryx Fission SV soon so I can double down on cold days.
What is the center back length of a medium?
great for its purpose
Familiarity:

I've put it through the wringer

Fit:

True to size
These reviews are odd, this is not an insulated hardshell. it is not a down coat. it's meant for high aerobic activities and it can cut the wind, layer it! use one or two base layers and you can go up in winter without sweating. then put on a shell or puffy for the way down. it's very durable, rock and tree resistant. and when it's no longer water resistant, wash with nikwax.
great spring/fall jacket
Familiarity:

I've put it through the wringer

Fit:

True to size
Despite some other negative reviews, I actually love this jacket. It definitely, as others have said, not built for extreme warmth but is great for spring and fall. If the wind is a little bitey it will take the edge off. It's also a great "out on the town" jacket and I have received several compliments over its sleek look.



Fit is definitely more athletic but still has plenty of mobility. The high pockets are nice if you are planning on carrying a pack but for most occasions they are just high pockets. The sleeve pocket is nice if you have a card or key you want to stow away. Fit seems true to size, I am 5'11'' 180lbs and a medium fits me well. I think a large would be too baggy and take away from the form fitting feature of this jacket.



Definitely well constructed as is most Arc products. Definitely recommend for a lightweight jacket. If you are wanting something warmer, I suggest either the gamma AR or atom lt.
Does this Bison color look like a UPS...
Does this Bison color look like a UPS jacket? I like the color but it's hard to tell on my monitor what this will actually look like. Thanks.
Not sure if you are still looking but I have seen this jacket. It is a darker brown like a UPS jacket and the symbol and lettering is yellow. Since I know Arc products I didn't think of it as a UPS jacket when I saw it just thought it was a different look. I personally have the black one and it looks great. Hope this helps.
Look at Epsilon Lt
Familiarity:

I've used it once or twice and have initial impressions

Fit:

True to size
This is a great jacket, but of you want a thin jacket that feels good on the skin, and is cut slightly tighter than this look at the Epslion Lt. I bought both and sent the Gamma back.
nice jacket
Familiarity:

I returned this product before using it

Fit:

True to size
Loved the jacket but it did not fit me very good. Need an xtra large to fit me in the shoulders but the sleeves were to long
Great fit but no warmth
Familiarity:

I returned this product before using it

Fit:

True to size
I ordered this jacket after reading some reviews on a few sites saying that it was very good for temperatures around 40 F, but I returned it a few days after I received it because it provides almost no warmth. My other issue with this jacket was that the pockets are very shallow, so it is easy for things to fall out of them.



I'm 6'1" 170lbs, and the medium fit me well, so if you're want a very light jacket for an athletic frame, this could be a good choice. If you are looking for something that provides any sort of warmth, I would go for something else. I ended up settling on the Icebreaker Blast and have been happy with that choice.
I have both the Gamma AR and LT. The LT is much lighter, thiner, as comfortable and they both looks good. I agree with some reviewers that this jacket looks good and I use it in Fall, Spring but not for cold winter without good base layer. I have used it for over 3 weeks in fall and love it. I wear it everyday to work and fit well over a long sleeve office shirt. My only complain is that the arm does not not have any velcro to tighten and block cold wind. I don't think the elastic band will last very long; we will wait and see. 4 stars for comfort and good locking jacket especially in Black but not entirely practical for cold winter . The heron color is still in my wish list for Christmas.
Great Jacket
Gender:

Male

Familiarity:

I've put it through the wringer
I bought this specifically for travel and knocking around town about a year ago. I use it year around for air travel. I am always hot stepping to my next flight and this jacket is perfect to throw in the side pocket of my travel bag. Pull out and throw on waiting for shuttle or taxi. True it does not provide a lot of warmth but the quality and fit are excellent. I am 6' 190# and a large is perfect fit for me. I had a MH Synchros II jacket I left on a plane which was warmer, but this jacket packs lighter and fits better. Love it. gonna get the Gamma MX for colder climes.
Good fit had to get the large to fit my shoulders wish some of these soft shell jackets had pit zips for a more active use.
Can't figure out what its for
Gender:

Male

Familiarity:

I've put it through the wringer
Love Arcteryx but just can't recommend this jacket. For me its more about the fashion than the function. Main complaint - its cold as hell. Maybe it works well if you are sweating up a storm on a cold day but the second you stop you feel the chill. This thing adds almost zero warmth to a base layer as the wind goes right through it. It's also cold to the touch. Its not something I'd want to carry in the mountains. Much better to take a hardshell which will cut the wind and let your mid layers trap heat. I guess I am not really a softshell person. I still can't figure out what they are for. Yes they breath when you are working hard but the second you strop you freeze. All that said it looks wicked and is a great city jacket in warmer weather.
I'm 5'11" and about 145lbs. I'm wearing the medium in the picture. I have between a +3 and +4 ape index (#rockclimbersknow).



I would have kept the jacket, but I wanted something more the weight of my old NorthFace Apex softshell. This jacket is made of a relatively stiff material to be called a softshell and is closer to windbreaker/rain shell thickness rather than what I would consider a softshell. The inside is lined with a micro layer of soft fabric. It is however warmer than a rain shell. You can feel the material change temperature very quickly like that of a rain shell, but I drove all four windows down when it was 32 degrees and snowing, vents off, for about 20 minutes and was chilled but not at all cold; no shivers.



The body was a little wider than I wanted but it would have been fine. The sleeves came about half an inch to an inch over my wrist line; how I like my sleeves on jackets. The sleeve cuffs relaxed with no way to tighten or loosen. The back drops pretty far.



Overall, I probably fit a small better than a medium. The jacket was nice but just not quite heavy enough for what I want to use it for.



And backcountry was flawless... ordered it at 11pm est time and it got here in under 48 hours (what I'd call one day shipping), for free.








Arcteryx Gamma LT
Gender:

Male

Familiarity:

I've used it several times
This jacket is typical Arcteryx, super high quality, fits tall and thin bodies, really well thought out and looks great. Highly recommend.
good enough for a senior picture!
this is the best softshell ive ever used for backpacking and any day purpose, perfect for layering and love arcteryx reliability! If your looking for an all purpose shell for anyday use this is the one, the gamma lt softshell gets the job done for me everytime and just have good comments all around.
I ordered it in a small because of another review. Sleeves were perfect length but the torso was pretty tight, I'm 5'5" 160lbs. Since I'm returning it I decided to get another one instead that will be more warm (Atom SV). This jacket is very nice and I did like it, just wasn't right for me.