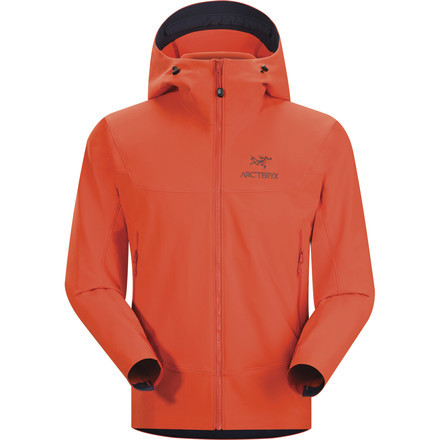 Description
Breathable, weather-resistant softshell hoodie.
Count on the Arc'teryx Men's Gamma LT Hooded Softshell Jacket for exceptional comfort while you navigate down a steep trail switchback or maneuver up and over a difficult overhang. Burly double-weave fabric breathes well, offers weather resistance, and provides a touch of warmth so you can focus entirely on the task at hand.
Hooded softshell jacket features durable, moisture- and wind-resistant fabric that keeps you comfortable and dry while you backpack or alpine climb
Brushed inner adds a touch of warmth in cool weather
Athletic cut and hip length provide a full range of motion while you climb or hike
Helmet-compatible storm hood shields your face and head from the blustery elements
Full-length Vislon front zipper with wind flap for comfort
Stretch gusset cuffs and hem drawcord seal in warmth and block out the cold and elements
Hand pockets and internal chest pocket stash your keys, utility tool, and other small essentials
Exactly As Expected
Familiarity:

I've put it through the wringer

Fit:

True to size
I was in the market for a lightweight soft-shell for active endeavors like colder weather hiking and backcountry touring. I went for the Gamma LT because of its simple design and functionality.

I'm 5'11
What's the difference between the gamma lt hooded soft shell and the epsilon lt hooded soft shell?
Best Answer
I'll be able to tell you more in a few days when (with any luck) my Gamma LT hoody arrives. i have the Epsilon lt hoody already and from what i can tell it's something like this - The Epsilon LT is classified (by Arc'teryx only) as a "hardfleece", while the rest of the world would call it a "softshell". Basically the fleece inner face of the Epsilon LT is so minimal that i don't think it could be worn by itself, plus then it's shaved into a grid pattern... It's more of a texture than a lining and far from what i know as "fleece". That said, it does give a very slight sort of standoff with its grid-patterned nubs - a very small grid, you understand, like maybe 2mm square, each 1mm apart, and 1mm thick. maybe. But what this does (quite brilliantly) is that this stand-off feels nice against bare skin - not that you'd wear it by itself, except maybe to a disco - and more important, in the little furrows, steam & sweat & water vapor gets pumped out and the heat trapped in the grid keeps you warm. ish. But it's not really an "insulated" hoody. That said, the outer surface (still on the epsilon lt) is a nice smooth tightly-woven nylon w/lycra, meaning it seems as tough and abrasion-resistant as a Carhartt work-softshell that i have had for years and worked in and still looks brand new -- certainly tougher than any polyester softshell in its weightclass and nice and supple & stretchy to boot. Now from what i can tell - and the update is coming any day now - Is that the Gamma LT accomplishes something similar functionally, but does so without a laminated fleece, instead using a 4-way stretch weave which puts the soft, wicking polyester on the inside, and the tougher, more weather-resistant polyamide (nylon) on the outside. So - by looking at the (slight) weight difference of the two, i'm expecting the Gamma LT to be a bit thicker & textured, the Epsilon LT more thin & smooth. Incidentally it will be interesting to compare the weather- resistance of the two - i had to walk an hour in freezing rain last week and i wore the epsilon lt with a patagonia nano-air underneath and didn't stay bone-dry like with a Neoshell or whatever, but i wasn't soaked either, and even in steady rain i could watch water droplets beading up all over the jacket. Pretty Freakin rad. Oh- and it has kept me bone dry when worn in wet sloppy spring snow. And the "breathability" is really amazing - none of the hot, sweaty patches that can really freeze your arse into hypothermia if the garment doesn't (for lack of a better word...) "breathe". which is not a great word since the jacket doesn't have lungs. But who knows, maybe the Gamma LT does? Will let you know...
Gamma LT v. Epsilon LT Bantamweight SS Champ: Having worn the Gamma LT now for the last month or so, i am officially in love with Arc'teryx. Here's a quick breakdown - The Gamma is not quite as smooth & quiet a face fabric as the Epsilon LT. The Gamma isn't crinkly or anything, it just has more texture, so it makes some sound perhaps a bit like cordura nylon does. Both are dead soft. The Gamma is stretchier, so stretchy that a friend asked me if it was made of neoprene. They are both wind-resistant past 40mph, as confirmed by pulling my hand inside the sleeve and holding it out a car window going 40mph - at that speed no wind comes through either one. Interestingly enough i can actually breathe through both jackets, but the Epsilon seems slightly more air-permeable. The lining on the Epsilon is just enough to allow me to get away with wearing it over just a lightweight baselayer on chilly &/or damp mornings, whereas the Gamma would get a little chilly without an intermediate layer of some sort or a heavier base. That said, both are great in the sub-zeros, they just cease to be one-tool options in low temps. But that's what midlayers are for. In fact, for very cold weather i prefer the Gamma or Epsilon to a hardshell, since if it's below zero degrees it's probably not raining, which is the only limitation, for lack of a better word, of the softshells - they are not watertight like a taped-seam Neoshell or Goretex or Event or other membrane-sandwich jackets. I have even found myself wearing the Epsilon LT with either a fleece or a midlayer like Patagonia nano-air, rather than my Arc' Atom SV or LTs... The Breathability of both the Gamma & Epsilon LTs really has to be felt to be believed. I have never overheated in either one, even going from outdoor temp of 35ºF to 75º indoors, without needing to take them off. This is an amazing experience. The range of temperatures and conditions that these jackets can cover locks-off all hardshells and other jackets except maybe shearling or some very high-quality & expensive & heavy wool blend jackets. I imagine in the future there won't be any hardshells or fleeces or synthetic insulation pieces or down, it will be Aerogel softshells with magnetic closures and electronically-adjustable color; Until then there's Arc'teryx Gamma LT & Epsilon LT...
Just what I was looking for
Familiarity:

I've put it through the wringer

Fit:

True to size
I wanted a jacket to do three things: wear dayhiking, snowshoeing and for casual wear. I previously had a US Army issue softshell until I learned I could sell it for $250+. That jacket had the best softshell material I've ever used and if it had been better sewn and not in Army, foliage green, I would have kept it.

I replaced it with a Marmot ROM that I had for the past year. It was well built, but boxy and I really didn't need a jacket that "heavy" with the Gore Windstopper liner.

In buying the Gamma LT, I was concerned that it would be too tight in the arm holes, which seems to be a concern for me in other jackets. I'm not a big guy, but am fit at 5"09" and 185lbs. The jacket fits great and I can easily layer a base, then a light fleece or sweatshirt. I can even fit a light puffy under it, but that does start to push the limits of the arm holes. I ordered a large, but should have also ordered an XL to try on, then returned the one that didn't fit as well.

The sleeves are long, but that's good and prevents them from riding up if you need to reach for something. As has been mentioned in other reviews, the cuffs are not adjustable but seem to be set for where I would if they had Velcro. As a personal preference, I would still like to be able to adjust my own cuffs as sometime you just need to tighten them down and other times you might want to increase the airflow.

The body of the jacket is lean which is nice if you're wearing a pack or moving through brush. I would prefer to have a little more room so that anything I wear on my belt, including a phone or knife, would not so easily print through the jacket when it's zipped up. The back of the jacket is nicely longer than the front, but again I would prefer just another inch of length in front, so that my fleece that's hanging out isn't getting wet.

The hood as also previously reviewed is very large, but can be cinched down to fit well without a helmet.

The material itself is both very tough yet comfortable and stretches well. I've had the chance to wear the jacket from below freezing in the 20's up into the mid'50's. The jacket sheds light rain very well, but does start to wet out after 30 or so minutes. I've remained dry underneath, but you just have to remember the limits of the material. I do very much like how breathable it is though. Just to be clear, there is no lining, backing material or insulation on the interior.

Overall, an excellent piece of gear that should serve me well in a variety of roles. I got the gray, which surprisingly came with some nice, blue trim along the zippers and collar. When they make a version all in the same blue, I'll buy one of those too.


I'd like a softshell jacket purely for resort skiing in January. Mainly Park City, UT area. I'm deciding between the Gamma LT Hoody or Gamma MX Hoody. What are your suggestions? I also want to know if I should order a size up to fit in my base and mid layers (I plan on using the Cerium LT down as a mid). Thanks!
The MX is a warmer piece, especially for resort skiing.
Could this be used as a shell jacket (with a mid layer) for resort skiing?
Best Answer
Hey Jonny Carlson,



Yes, this can definitely be used to ski. I love to wear softshells while touring or at the resort. Their extreme breathability helps me because I run incredibly hot.
Most versatile softshell on the market
Familiarity:

I've used it several times

Fit:

True to size
The Arc'teryx Gamma LT Hoody is one of the most versatile softshells on the market by perfecting what is required for a softshell. The Gamma LT Hoody was meant for the alpine and has all the features you need and nothing you don't. "A designer knows he has achieved perfection not when there is nothing left to add, but when there is nothing left to take away." - Antoine de Saint-Exupery. The Gamma LT Hoody will be my main layering piece on any volcano climbs in the PNW during the summer.I'm 5'10" and roughly 165lbs with 33" waist and the Gamma LT Hoody is sized to accommodate a midlayer comfortably like a Atom LT hoody or a mid-weight down sweater.



Pros:



Fantastic fit with options for layering underneath

Highly wind resistant but breathes incredibly

Great water-resistance and dries quickly

Hood accommodates over sized helmets

Velcro-less cuff makes layering easy



Cons:

A little pricey



More In-depth review at: http://sunrisegear.blogspot.com/2014/08/arcteryx-gamma-lt-hoody.html
Definitely not a LT jacket
Familiarity:

I've put it through the wringer

Fit:

True to size
This is one burly shell. Yes Burly double weave lives up to its name. Its also quite heavy (over 600gms for my medium). It is quite windproof for just a stretch woven fabric with no membrane. It breathes decent enough but has no real insulating value to the fabric. Good 4 way stretch, with a slightly trim cut (a tad slimmer than my gamma MX), 2 good sized hand pockets and 1 internal pocket. nice overall fit with clean lines. The inner fabric is not the softest against the skin (when wearing t shirts etc), and as mentioned has no fleece backer and thus minimal insulation.

Overall good performing soft-shell, cuts wind and covers you in light precip
SIZE UP
Familiarity:

I returned this product before using it

Fit:

Runs small
I ordered this jacket about a week ago and when I received it, I was sad to find that the jacket was too small. Even with the athletic cut and sizing up for the difference it was still too small. Normally wear an XL in everything no matter what it is. But going to need to buy an XXL this time.
Excellent Softshell
Familiarity:

I've put it through the wringer

Fit:

True to size
I purchased the Gamma LT Hoody in late winter after previously owning the Patagonia Guide Hoody. I really liked the Guide Hoody initially, but there were several design elements I didn't care for. For instance, I wear size medium and found the sleeves to be excessively long. While this normally wouldn't be an issue, the Guide Hoody didn't have any method of managing the sleeve length via velcro straps or some type of cinch system. That issue, coupled with the lack of breathability due to the interior fleece lining led me to look elsewhere for a solid softshell. I'm pleased to say my search began and ended with the Gamma. This shell is spectacular in each area the Guide Hoody lacked. First, Arc'teryx conveniently addressed the previously noted sleeve issue by crafting the base of the sleeve using an elastic fabric that keeps the sleeves in place without the hassle of velcro straps. They used the same excellent design element on both my Atom LT Jacket and Atom SV Hoody to great affect. The exterior fabric of the Gamma is made using the Arc'teryx Burly Weave, and it feels bomber. I have full confidence I can rub the jacket against any surface without causing any wear to the fabric. It feels super durable, but is also soft to the touch. Given the durability, when I first received the jacket I thought it wouldn't be that breathable, and I was completely wrong. The Gamma breathes better than any other layer I own and it is now my three season go-to piece for most outdoor pursuits.
Winter: all the time, everywhere
Familiarity:

I've put it through the wringer

Fit:

Runs large
For winter, I spend most of my time wearing this jacket. It's the most versatile jacket I've ever owned.



The fit: I am 6'2", 170lbs and surprisingly bought a small. I can fit an UL down jacket/expedition baselayer underneath. Sleeve length and overall length is great. Size up for more layering options.



Things I've used this jacket for:

Bike commuting in town, snow cave building, snowshoeing, glisadding, shooting, lots of hiking.



Conditions I've used this jacket in: extreme wind, sub zero temps (with a puffy underneath), immersed in powder, wet and dry snow, heavy rain.



Features:

- Huge helmet compatible hood. In high wind, it blows off your head if it's not sinched down. The front of the hood extends far over your head, almost like a hat (which is good during active snowfall). The hood has two draw cords on the side to make it tighter and a rear draw cord to make it tighter-er (?). The bill of the hood is semi-stiff.

- Two huge hand pockets. Mesh lined, easily fit a pair of gloves and a hat in one pocket. There is also an internal chest pocket which fits a phone (no headphone port).

-Two draw cords at the bottom which can be operated with one hand.

-Wind guard behind the main zipper. The hand pockets have a much tighter zipper to keep wind out, but no wind guard. The main zipper has large teeth, is very easy to move, and has a large pull tab.

-Slight drop-tail in the back of about 1-2 inches.

-Cuffs have elastic panel (no velcro)



If I am working vigorously, I won't wear this jacket in temperatures over 30 degrees unless it's windy. Standing still, I am find down to mid 30's with it and just a T-Shirt. Breathability is good compared to any hardshell, but it's a windproof softshell which is limiting.



The outer face sheds snow well. The first places to get wet seem to be behind the neck and upper shoulders for some reason. It stays drier than a windshirt or DWR treated puffy. It does okay in the rain but don't expect it to serve as a rainshell.
Great product
Familiarity:

I've used it several times

Fit:

True to size
I've been looking for a softshell for a while and finally found it. This jacket is relatively wind resistant, but still very breathable. I've taken it bc and Nordic skiing so far and the breathability has been great. The fabric is fantastic. Tons of stretch making it very comfortable and non restrictive. And the fabric feels super durable.
Great for what it is
Gender:

Male

Familiarity:

I've used it several times

Fit:

True to size
This jacket is great for what it is. A lighter weight, stretch woven, minimally featured softshell. It's great for active pursuits in cold weather. I've had it out backpacking and hiking and it's just what I wanted. The fabric appears very durable, but it results in a weight penalty for sure. I'd say it's highly wind resistant, but definitely not windproof. The upside is that it is very breathable if you're working hard. The elastic cuffs and hem draw cord keep the wind out. The hood is the typical head swallowing "helmet compatible" type but the adjustments work well to tailor the fit. My one complaint is that the hood drawstrings sit inside the jacket, so to adjust you have to unzip; more of a personal inconvenience than a real flaw. The two hand pockets are mesh lined and extend from below the armpits to the waist and can double as vents. The pockets are completely accessible with a pack on.

I'm 6' broad shoulders and the large fits perfect. It is a true athletic cut and I could get a baselayer and maybe another light layer under it. Puffy is a no go for me in the arms.

In the end, I don't think I'd pay full price. Wait for a coupon or sale on this one; still a good piece, just not full price great.


I am still undecided which softshell...
I am still undecided which softshell jacket should I buy - Gamma LT or Gamma MX? I already asked some questions regarding Gamma MX vs Gamma LT vs Venta MX but I still can't decide what will serve me best. I have kind of excluded Venta MX from shortlist, as it's more climbing-orientated jacket then skiing, thought it looks more versetaile jacket with more weather protection.



My main purpose for use will be backcountry skiing in Alps. I tend to sweat a lot when climbing up with skis and other equipment so good breathability is must. But I still need good wind protection as it can get windy in Alps from time to time. I don't need 100% water protection as I have Beta LT which I can use for that.



Secondary I want this softshell as a all-arround jacket for hiking and mountain biking in colder spring/fall days.



Also a quedtion regarding fit and sizing. I also have Beta LT hard shell jacket (size M) and I wonder will Gamma LT or Gamma MX in M size fit nicely under my Beta LT in case of when I need gr8er weather protection?



Thanks,

Primoz
To Answer part of your question

My gamma LT sticks out a touch under my BETA LT jacket where as my Gamma MX fits perfectly inside the BETA LT
Great breathable shell and TOUGH
I bought this for a do everything type of softshell including wearing casually in the winter. When I bought it I had to go up a size because it's a very athletic cut. I usually am a Medium in pretty much everything and for this I had to go with a large. The double weave material is extremely durable, which Backpacker magazine just gave it an award for. Unfortunately I decided to return it because it didn't offer any insulating qualities and as for a shell, I already have a Beta AR. I ended up going for the Gamma MX which I'm very happy with. They both do a decent job of cutting wind (not windproof) but I find that the insulation of the Gamma allows for more versatility.
How does this compare the the Gamma MX...
How does this compare the the Gamma MX Hoody?
Best Answer
The fabrics are quite different as well as the cuts and pocket configuration. The Gamma LT uses Burly double weave compared to the GammaMX FORTIUS 2 fabric.. Burly face fabric is tougher (not as soft) and is also more abrasion resistant and does not have any fleece backer (no insulating properties per se). Fortius is softer and has more loft, it is supposed to breathe better but in the real world I have not noticed much of a difference between the two in terms of breathability. They both shed light drizzle but will eventually let water through as there is no membrane. The MX has more pockets which I find makes it more versatile, and is also cut a tad shorter in the torso.

Both are great jackets, I prefer to use the MX during the spring, fall and winter (mid layer and outer layer) where as the LT during the spring, summer and fall (specifically as an outer layer)
Great simple, clean jacket
Gender:

Male

Familiarity:

I've used it several times
This jacket is exactly what I was after. It's simple, has clean lines, and fits great over my Atom SV. Zippers have smooth action, which is good when using gloves. No external chest pockets, and I haven't tried this jacket with a pack on, so it's hard to say if stuff will be accessible. Material feels pretty sturdy. I wear a large, and I think it fits true to size.
How much lighter/colder is this jacket...
How much lighter/colder is this jacket compared to the Venta SV?

I'm looking to replace an old and beloved Backcountry Welder jacket and I'm deciding between:



Arc'teryx Gamma LT

Arc'Teryx Venta SV

The North Face Alpine Project

Marmot ROM

Stoic Welder Lo



How would this jacket shape up against those?

Thanks!
Ely

What types of activities do you plan to use the softshell for? It may help give better insight into your choices as not one softshell can do everything.

As for the gamma LT, It is a very thin fabric with no real insulating qualities to it. It breathes very well and does a decent job with the wind. The Venta is a full windproof shell that breathes OK (but compensates for that with pit zips). It is fleece lined so it provides some warmth as well. I have owned a Marmot ROM as well and it also uses Windstopper but has breatheable side panels (at a much lower price point). It is less insulating than the Venta SV.

I used the Marmot ROM for warmer conditions, and the VENTA in fall/winter and spring time. The Gamma LT will work well in the warmer times as well.

Look into the Marmot Zion as well, Polartec Neo shell does an awesome job breathing and keeping the wind out
Thanks for your reply Paul -- very helpful to know that the Gamma LT isn't insulating. I also think that at ~20oz, I'd expect some more insulation...

I'm looking for a good "do-everything-when-its-not-downpouring" type of jacket. I used my old softshell for everything from walking around town on both chilly and well-below freezing days, to backpacking and backcountry tours, to climbing and mountaineering.

I'm really leaning towards the Venta SV because its a similar weight/insulation to my old jacket, plus it has pitzips. I'm trying to find a cheaper alternative though, and hopefully something helmet compatible. In any case the ROM nor the Venta SV are available in my size (S) at the moment so I'll be waiting/searching in the meantime!

Anyone from backcountry have any insight on when these jackets will be restocked?
You may want to consider the MX as it does have some insulation and I've worn it nearly everywhere for the last two years.
Best Answer
Hey Ely,



I bought the Gamma LT for the specific reason. I wanted a versatile jacket capable of doing anything from climbing to walking around town. I'd say if you're looking for pure versatility I'd go with the Venta. It's windproof, insulated, and breaths ok but like Paul says has pit zips to compensate. I have the Gamma MX which breaths awesome but I cannot use it as a stand alone winter jacket for walking around town because the wind will go right through. I've found for strenuous activities it breaths better than any jacket I've ever had.
I have 5 diff arcteryx jackets this is the 1st i have to semd back and order a size up