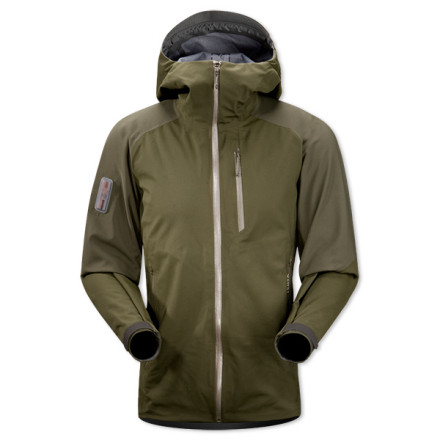 For cold clear days in deep powder, the Arc'teryx Men's Fury SV Jacket provides you with mobile stretch and full windproof protection thanks to Gore Windstopper fabric. This softshell jacket increases breathability for athletic backcountry tours, and features two-way Underarm zips for added ventilation. The adjustable hood works over your helmet, and a RECCO avalanche reflector adds safety in sketchy conditions. Underarm gussets and articulated elbows let you cut turns without restriction.
I swear by Arc'teryx. When I first got this I put it on and drove about 65 mph down the high with half my torso hanging out the window to test the wind proofness. I could not feel anything then or on the lifts and slope since I have been using it. Really easy to move in. Hood completely seals out the elements if you cinch it down. Easy to layer under. I have used it alone with a base layer in 30-40 degree weather. With a fleece or a thin puffy layered under handles most temps below that, unless it is seriously crazy cold. It is pricey, but you get more than what you pay for.
Unanswered Question
Does anybody know where I could find a...
Does anybody know where I could find a size M or L (Golden Medal)?

I can't find the jacket on the Arc'teryx website so I guess they discontinued it.

Many thanks.
I'm 6', 185lbs with a muscular build. Would...
I'm 6', 185lbs with a muscular build. Would I go L or XL if I want to layer with a tshirt and light fleece. This would be my everyday jacket, so i wouldnt want it to be too baggy, but also want to be able to layer a bit.
Best Answer
Aaron,

You could probably get away with a L if you only plan on lightly layering under this piece. You can always exchange it for a XL if you need to.
The Fury is cut a bit looser than some other Arc'teryx jackets so the Large will be a great fit for you.
Large, I'm a similar build and have a similar Arc'teryx jacket
Best jacket I've had in years! The technology is incredible, I tend to sweat a lot when skiing, mountaineering, climbing, backcountry, etc, and this jacket has the ability to breath and dry unlike any other jacket I've every tried or considered using in any of the above activities. And the color is perfect when your in the trees or backcountry, easily spotted. A must!
How is the fit of this jacket as compared...
How is the fit of this jacket as compared to the SideWinder? I have the SideWinder AR in XL, which fits me pretty good as far as length and arm length, but it's a bit baggy through the body. I'm 6' 1", 200lbs, with a 44-45" chest. Was wondering if the XL in this jacket would be as baggy as the SideWinder, or if it has a more athletic cut?
Best Answer
The Fury is a full cut jacket, but not as big in the torso as the Sidewinder, as it's designed to have a fairly light layer underneath, since it's got fleece laminated inside.
I'm trying to decide between the Fury SV...
I'm trying to decide between the Fury SV and the stingray jacket? I know the Fury is a softshell and the stingray is more of a hardshell. Any feedback or suggestions.
Thanks
Best Answer
It all depends on what you plan on using the jacket for. Fill us in a little bit more on where and how you'll be using it and I'm sure you'll get some great feedback and suggestions.
I second what Kretsky said although I'll throw in my own .02: the Fury is going to be a solid choice for cold, dry conditions and is also preferable if you are going to be doing much aerobic stuff since it will breathe better than the gore-Tex softshell material. That said and done the Stingray will be completely waterproof and it does have a low loft fleece bonded to the inside so it should be a little warmer than a standard hardshell. I own the Fury AR jacket and I have to admit that it is the ski jacket that I use the least - it just doesn't feel as warm to me as my hardshell jackets so I save it for late-season skiing. The Fury SV should be warmer but I've never used one so I cannot vouch for it. The Gore-Tex softshell stuff is nice and it's great for winter sports. The only downside to it in my opinion is that a gore softshell jacket is always going to be heavier than a pro shell jacket so it isn't as versatile.
Go with the Fury!

It's an awesome jacket. Soft and supple.
Fury SV or Scorpion -- which is better for...
Fury SV or Scorpion -- which is better for skiing? A fan of Cloudveil, Mammut, Lowe, etc but have never owned Arcteryx and frankly get confused by their multiple lines. Can anyone compare the Fury SV with the Scorpion in terms of warmth, fit, durability, etc?
Best Answer
Both are skiing jackets - it just depends what you are looking for. The Fury SV is made of a lightly insulated windstopper, so it won't be waterproof, but it will be relatively breathable. The Scorpion is made of the GoreTex softshell with a highloft fleece lining - it will be waterproof as well as warmer, but not as breathable. I have the Fury AR and I like it a lot, but for me it is best on warmer days. I would expect both of these jackets to be cut well for layering.

While not related to the material so much, I really like the style of hood on the Scorpion as opposed to the Fury. The Scorpion lets you zip the zipper all the way up and the hood will still lay down comfortably. I find on shells like the Fury that it is best to let the zipper partially unzipped when not putting the hood up for the shell to be most comfortable.
Yeah, 6 out of 5, that's what it deserves. Awesome!

I have not tried it in the rain (which it is not really intended anyway, but for the same of experiment I will at some point). It is awesome when the temp is below freezing. Nice 'n soft, complete wind-stopping power. The light fleece interior is a welcome break from the hard-shells I have, and did I mention soft? I didn't realise how important that was until I wore it regularly.

I haven't yet tried it at its intended purpose - snow-sports; the season is slow getting going here, but I have no doubt it will be killer.
how does this compare to the marmot...
how does this compare to the marmot genesis?
Best Answer
I'm not super familiar with the genesis, but I've used the Arc'teryx Fury SV a bunch- it was my main ski jacket last season. The Fury is made with Windstopper and has taped seams, so I never had any leaking, even in Utah spring snowstorms. It also breathes well, and has a good measure of stretch. Not sure what the membrane Marmot is using, but the WP/breathe specs on that say "not specified" which, to me, means "not very". Also, I asked an Arc'teryx designer why they don't do welded seams, and the response was because it leaves a lip that gets caught and can damage the seam. Arc is using a lo-profile seam that hides the threads, and makes a very flat, clean seam. Plus, I think the Arc'teryx fit tends to be accurate and not boxy. I still love my Fury after 50-ish ski days, resort, hiking, and backcountry.
I have a Genesis and love it, but the Arc'teryx does have its advantages. The genisis doesn't have a snow skirt, or reco reflector, and the cut is waist high not hip. So if your looking for a ski/snowboard jacket the Arc'teryx is the way to go, as the genisis is geared more to climbing. As for breathability and watersheading the genisis is made with marmots m1 softshell wich is there most wind and water resistant and it works great, however if you sweat like a pig or wear it above 50f. you might have a problem. Hope this helps.
i shouldn't have tried this on...
i went to the backcountry.com store yesterday to try this on....now i'm hooked! but there's no way the wife will be cool with me buying a $500 jacket.

i love the way this thing fits. the medium is perfect for my frame: 6'1" 165lbs., tall, slender, long arms. it's got a perfect athletic or "tailored" cut.not baggy, but could definitely fit a layer or two underneath.

features i love:
• fit/cut/length
• powder skirt
• material/stretch
• weight, the fact that it's a shell
• craftsmanship

the version i would design:
• add wrist gaiters
• make a non-helmet compatible hood version (smaller hood) and/or detachable/stowaway hood
• lose the RECCO — not sure how much that adds to the price, and i already own a transciever
• an army green color option (the photo on backcountry isn't true to the color in person)*

hey ARC'TERYX, can i design one for trade? :)

*in person, the color is a darker richer green. the photo online makes it look a little lighter and more muted, which would be better.
Does the powder skirt have snaps for pant...
Does the powder skirt have snaps for pant integration? Thanks.
Best Answer
I have the Sidewinder SV and it does not have snaps, so I would imagine this one doesn't either. Acrteryx hasn't caught on to the fact that snowboarders like their stuff too and are more susceptible to snow crack. I committed the ultimate sin and bought the Stingray bib pant to compensate. Now my crack stays warm and dry.
Nope. I have the Fury SV jacket (as well as several other A'T jackets), and it does not have anything to join / snap it onto pants, just a conventional powder-skirt. Works well enough, but I am a boarder who wears a bib for just the reason that not even a powder-skirt is quite enough to stop snow getting up my back or down my pants.
I've had a couple Theta ARs and I've been...
I've had a couple Theta ARs and I've been very happy with them for riding in Wyoming and Utah. How will this compare to the Theta AR in length, warmth and wind protection?
Best Answer
Since the Fury SV is considered a softshell (it's Windstopper instead of Pro-Shell) it will be slightly less water resistant if it's raining, but more breathable. The Fury has a light fleece laminated inside, which adds some warmth. I skied in this for the majority of the last season, and it works amazingly well for the Rockies. In fact, I only pull out the hardshells if it's really dumping and wet. To sum: slightly shorter, a bit warmer, and equal in wind protection.
What size should I get? I'm 5'7" 140.
What size should I get? I'm 5'7" 140.
Best Answer
The small would probbobly fit you well. I am 5'9'' 160 and the medium fits me well. Hope this helps.
Thanks! I can't to try it out this coming season, this will be my first Arc'teryx product.
I'm a tele skier looking for a ski jacket...
I'm a tele skier looking for a ski jacket and I'm wondering if the length would interfere with tele turns. Any freeheelers out there have any comment? Also, I'm a slim 6' and am leaning toward a medium, my only experience with Arcteryx jackets was a large Regent which was too long in the sleeves and bulky in the chest.
Best Answer
No problem for skiing tele, in fact, the fabric has a bit of stretch so it may make you ski better. I wear a Med, at 5'11/170, and it's a good fit with room for layers if it's bitter.
Full Season Abuse in Jackson Hole
I used this jacket for probably close to 100 days this past winter in Jackson Hole. It's a great jacket, was able to keep me warm on those -20 degree windy days to the normal 20 degree days. The cuff is super high and is a great retreat when you are sitting on the chairlift and the winds blowing 40. I was able to wear it on all the stormy pow days without getting too warm or too hot. I debated for about one second getting a Gore Tex shell but I never needed it out in Jackson, the Fury was able to do it all.
I recently used this jacket for a ski trip to Utah, where the temperature ran between the high 20s in the morning and the mid- to high-40s in the afternoon. It performed excellently under those conditions and is especially versatile because of the underarm vents that allow for more temperature control. This is my first Arc'teryx jacket and is consistent with all the pluses and minuses I've read about them -- very light, extremely windproof but also very bare in terms of functionality. There are enough pockets for me -- partly because I use a backpack to carry goggles and other extras -- but I would love a sleeve pocket for my lift pass. My only other vague quibble is that because of the way the non-detachable hood is attached to the jacket, it looks best when the jacket is more or less fully zipped (like in the pictures); otherwise, it tends to flop around a little. A small aesthetic issue for what is otherwise an excellent jacket. I'm off to Colorado soon and can't wait to use it again.
so this jacket comes just to hip length...
so this jacket comes just to hip length or longer- i'm looking for something to ice climb in and want the jacket to stay out of the way of my harness.
Best Answer
I'd keep looking. This jacket is a bit longer than hip length.You'd be better off with the Venta SV as a climbing jacket, or for even more stretch, but a bit less weather resistance, the Gamma MX hoody.
Best Answer
No its a fixed hood.
How does the Fury SV compare with a "soft"...
How does the Fury SV compare with a "soft" hardshell like the Arc'teryx Stingray? Weight? Fit? Breathability? Wind resistance? Water resistance?Usage in this case would be for snowboarding.thnx
Best Answer
This is very similar to the stingray in water resistance and breatheability, but the fit and material is the main difference. This is gore windstopper, the Stingray is softshell. The gore softshell is probably not as "swishy" or "noisy". The stingray also allows for more layers underneath as it is meant to be worn as an outershell more than this fury. The extra room on Arcteryx jackets you will find not in the waist, but in the arms and chest mainly. They will still taper down to fit your waist right.
this jacket rocks! i just got mine and i tell you, it is a great jacket. it has a lite fleece liner, on warm warm days it might me too much, but with pit zips you can cool down quick. gore windstopper is way better than gore soft shell, if you are looking for a softshel jacket. i just think the gore softshell feels just like my GoreTex XCR. this fit is on the baggy side, i got the small and it fits great (a little bigger than my Javelin SV) the hood is huge and fits over my helmet, and the powder skirt is a good addition. Way to go Arc'teryx!