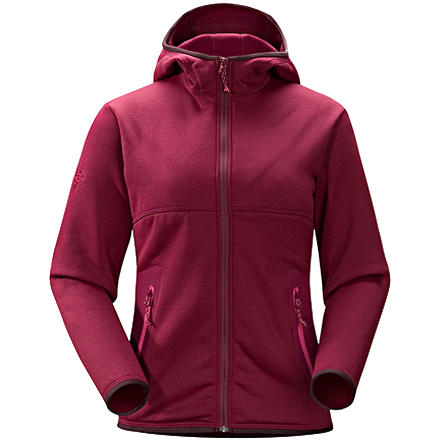 Polartec Wind Pro fleece gives the Arc'teryx Women's Fugitive Hoody windproof performance that keeps you comfy during cold weather in the mountains. Feel pampered by soft, plush fleece in both the body and hood while the Fugitive's trim cut flatters your shape. This high-performance Arc'teryx fleece jacket won the 2005 Apex Award for its integration of Hardface technology, which increases both wind and water resistance. Grab the Fugitive Hoody for anything from a day at the ski resort to a demanding alpine climb.
It's very soft, light and yet warm. I have not worn it in the rain yet, but the fabric feels very fast dry.
Great stuff of Arc'teryx!
Unanswered Question
Hi. Is the black the current version (like...
Hi. Is the black the current version (like the fuschia) or is it an older version (as the picture shows)?
Write your question here...Does this jacket...
Write your question here...Does this jacket have any stretch? I want to wear it for climbing in colder temperatures, but wanted to make sure that you can move in it.
, ☃bcs_badge_alumni_label☃
It does not have stretch like a softshell would. However it is mainly composed of fleece which does have a bit of stretch to it.
The Arc'teryx Fugitive does have a good measure of stretch. I wear my Tau pullover (same fabric but different style) as my main cold weather climbing piece because it's comfortable, has long sleeves, and holds up to abrasion. Also, doubles as my favorite mid-layer for snowplay.
Admittedly fantastic but spendy
I was a skeptic, but ended up being quite impressed by the lightness of this fleece and its warmth. Still, I have a hard time giving full stars to expensive gear. Ask me in five years, and if the fleece is still in good shape, I'll up the stars.
I love that Arc'teryx, doesn't just make a fleece, they make it windproof, and make it shed water. Great jacket, I think I'd have a hard time paying full price for it, that's why I gave it 4 stars.
I wonder if these gear are real Arc'teryx?...
I wonder if these gear are real Arc'teryx? I don't see any logo on the front of these clothes.
its on the right sleeve by the shoulder. i doubt backcountry would be carrying knockoffs. they are a reputable company.
Thankfully I paid a bit less. I do enjoy this piece, but not especially as a jacket. I treat it more like a hoodie, and if I'm going somewhere cold and windy this is NOT the first article of clothing I grab. It did ok in cold, damp Maine weather... with other layers. It's not as wind resistant or warm as other fleeces that I own. I do like wearing this in the winter for jogging, though. It's nice to have pockets and a hood and it is warm, but not too warm - wicks well. Plus the full zip is great for venting.
It's warm, windproof, and packable. The color is actually wine and not fuchsia. It hits above the hip which is slimming. The hood is great and my daughter wants to steal it. Buy it before they are gone.
I was disappointed about short length when I got Fugitive jacket but am in love with it after traveling western Tibet, one of the windiest places in the world. It is very thin but warm and takes only a tiny space in my small backpack.
I bought this jacket for my wife. She loves it. The jacket is lightweight, warm and comfortable. It has good wind resistance compared to your standard fleece. It also is stretchy so it moves with you. The hood is a nice feature to get, you'll never regret it.
I bought this for my wife and was surprised how thin it was for the price. But after she wore it a few times she said it was as warm as a winter coat and thinks it was well worth it.
I bought this jacket for lightweight warm wind-breaker purposes and can't believe how much I wear it. I find the fit perfect, lots of flexibility and movement, but my favourite part is how well it handles sweat! It wicks amazingly, dries practically instantly (so you don't feel cold and damp when you stop moving), and it somehow doesn't get stinky.
less substantial than expected
Nicely constructed hoody, but SHORTER (not even to hip) and not much jacket for the price.