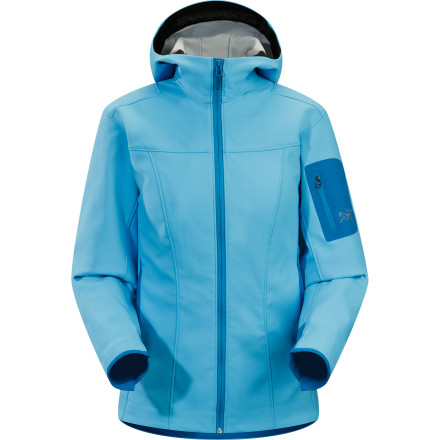 Detail Images
The extremely versatile Arc'teryx Women's Epsilon SV Hooded Softshell Jacket serves as a breathable outer layer on cool hiking days or warm ski days. Arc'teryx's smooth-faced fleece resists precipitation and wind, and its inner fuzzy face insulates against the chilly mountain air. This jacket's long-ish length covers your lower back when you're in a ski stance, and a cozy softshell hood adds warmth if flurries fly. Arc'teryx gave the women's version of this jacket a figure-friendly cut so it won't look like you stole your boyfriend's coat.
Arc'teryx calls this piece a hardfleece, which is perhaps a better description. It's got a smooth nylon exterior that is wind and water resistant. The waffled fleece on the inside provides a bit of warmth. The yellow color is super cute, and I know this will be a great midlayer on days when hiking and skinning. Wear a shell for the down and hike/skin in the Epsilon SV.
I am 5'11" and 155lbs with broad shoulders...
I am 5'11" and 155lbs with broad shoulders and a long torso. I want to be able to wear a sweatshirt underneath, but I still want the jacket to be flattering, i.e. not baggy or wide. What size would you recommend??
If you want the jacket to be flattering I would say to go with the medium. Understand that it may be a little short, but should still look fashionable and will not be baggy. If you went with a large you would have issues with it being baggy, and your arms may be hiding in the arms of the jacket.
Best Answer
A medium will be way too short in the front and too tight in the shoulders. A large would suit you much better. You may want to check out the gamma MX hoody as well. If i recall it is a touch longer in the front and has a bit of stretch.
Hope this helps
I have been on the lookout for a nice hooded softshell that actually fit well and was fairly wind/water resistant. Finally, the search is over! Got this awesome jacket last week for 60% off in the wisteria color (thank you backcountry.com for the killer deal!) and have worn it everyday since it arrived. I am 5'2" and 100lbs and the xs fits me perfectly with a room for a tshirt and zip-up Icebreaker hoodie under it! It keeps you plenty warm when you are doing anything physical at temps below freezing with some layering or is perfect alone to break the wind or chill on a warmer spring/fall day. Have previously owned a Sierra Designs and North Face Apex Bionic softshells that were complete disappointments. I love this one though!
Love the photo but is it Hot pink? I have...
Love the photo but is it Hot pink? I have been looking for hot pink and find out later that it is plum, light pink or purple. Let me know please?
I'd say that this jacket is more of a pink/purple than a hot pink. They came out with a few HOT pink items a few seasons ago, but since then it seems that they've muted it a bit. It's certainly a bold color, but not what you're looking for.
I've been wearing this for over 6 months and it's holding up well. Love the longer length and the tuck at the waist. It's been perfect for bay area 50 degree weather. I'm tempted to buy the warmer version.
Unanswered Question
what about fit? I'm 5'2", 155. thinking...
what about fit? I'm 5'2", 155.
thinking medium, any advise?
I just got this jacket for a great price on Steep and Cheap and I absolutely love it! It's a perfect for the fall and spring and also for colder winter days when you shed lots of sweat. I was worried it may be too small (I ordered a small). It is very fitted, but I think it'll be okay since I only wear one layer under soft shells when I'm skinning or hiking.

The wisteria color is gorgeous! It's much a much richer / darker color than the website shows. Less pastel and more periwinkle.

It's also been great in light showers. I got caught on my bike when a rain cloud moved through and it beaded off immediately.

Great buy. It's a jacket you can wear being active and to the bars. I would say it's in the medium range for thickness soft shells, but moves freely.

Go-to jacket with jeans in the fall.

Looks good!
This is a great looking jacket by Arcteryx. I normally wear small in Arcteryx, but I found the armholes in this jacket to be a bit small and binding. I tried a medium, but then the jacket was too big. It a really great looking jacket, but I can't put more than a t-shirt under it due to the armholes.
Arc'teryx jackets tend to be too long and narrow for me (5'4" and curvy-ish). This was the exception. The hood is also extremely well designed, and fits nicely under a bicycle helmet. I wasn't sure how it would hold up to extreme weather, but I thought at the very worst, I could layer it.

The quality of the jacket is not up to Arc'teryx old standards (when they were made in Canada), the seams are a little rough and the materials don't seem quite as solid, but that might be because they're so high tech.

I tested it bike riding on a cool day. The jacket is good for aerobic activity, it definitely kept me from overheating, but I was disappointed in how little wind it blocked. Granted, there's a lot of wind when you bicycle. On the other hand, if I weren't producing a lot of heat, I think it might not have kept me warm. Overall, I'd suggest it as the jacket you could use if expecting varied weather conditions, but I wouldn't plan on using it alone in chilly or windy weather.
i got one of these miracle jackets as a gift last winter and i can honestly say i find a reason to wear it almost any day. when they say it's versatile they mean it. i have ski toured in it, snowboarded in it, summer hiked and even golfed in it. layer under it, layer over it, wear it alone in warmer weather. in eight months i bet not a week has gone by when i didn't put it on at least once. Great feminine cut to boot. This jacket will get you noticed...in all the right ways. Even though it's not meant to be fully wind and waterproof, it does a great job of both. get one and wonder what how you coped without it!