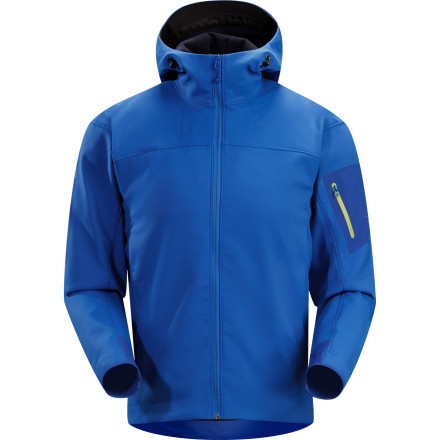 Community Images
The Arc'teryx Epsilon SV Hooded Jacket delivers moderate warmth and mind-blowing breathability during aerobic backcountry activities. Light insulation takes the chill out of sunset hikes, and the bonded polyester shell resists water while letting the moisture inside your jacket escape with ease.
Athletic fit reduces bulk while accommodating both outer and base layers
No-lift gusseted underarms ease climbing
High-placed hand pockets are accessible when wearing a harness
Stretch wrist gussets work well with gloves
Wrist gussets, storm flap and adjustable hem drawcord seal out wind
Reflective logos increase safety
Is this a helmet (huge) compatible hood?...
Is this a helmet (huge) compatible hood?
Best Answer
Yes, it is very helmet friendly. In fact, one of the knocks on this jacket has been that it doesn't have a volume control cinching system. It has drawcords to pull the face opening tight, but no rear adjustment to tighten up the interior fit. So, if you are trying to use the hood with no helmet it can be a little like having a grocery sack on your head.
Thanks, this has been the problem for me, trying to find a good quality water resistant softshell hooded jacket without a helmet comp hood.
Hi, I know this has been asked previoulsy...
Hi, I know this has been asked previoulsy in some form but didn't fully answer my question



I do backcountry touring (or I have to say, more side/slackcountry, tyically 30min - 1h hikes several times a day). So I change from hiking to skiing a lot. My layer system looks like this: thin merino wool base layer (icebreaker), a mid-layer and a gore-tex pro shell jacket (no insualtion, just the shell). I also wear a back protector and a backpack, that typically can lead to increased temperature when hiking.



I am looking for a base layer which I can wear under the gore-tex shell, and then for the hike simply take the shell off. Ideally the mid-layer is warm enough to ski, but doesn't get too hot when I hike, breathes really well (the atom under arm vents are genious) well and has some water repellent qualities (when you touch the snow) and wind repellent qualities. I also like it to have a hood and the fabric should stretch.



So far I used either a fleece (not arcteryx) or something similar to the atom hoody. the atom-like thing is simply too warm to hike for me. The fleece on the other hand is not really water or wind repellent, lacks the strechatbility and can get too warm too as it is not as breathable.



The Epsilon SV Hooded seems to have all these qualities (does it stretch?), so I wonder whether this is the piece I am looking for. Do you recomment using the epsylon that way? Or is there a better piece, maybe a fleece that has better qualities than what I use so far? (I looked at the strato hoody as well, and the Hyllus, but the Epsilon seems more wha tI look for)



My concern is also that the water / wind repellent properties would cause water droppletes to build between the gore-tex sheel and the epsilon? Or does it maybe affect breathability when combing the epsylon with gore tex pro shell?



Thanks for your help

Max
Vs. Fleece vs. Hyllus vs. No hood
I got this because I was simply tired of wearing fleeces outdoors. It looks so much better (more fit and not blobby), blocks wind better (but not completely), and repels water way better (actually beads on the surface). It isn't as warm as a typical fleece though, I'd say a little bit cooler than a 200 weight. It isn't as soft as a fleece, but found it nice and soft on the inside, and the outside is pleasant to touch as well.



I also tried out the Hyllus fleece jacket and found that warmer, but not much, and didn't like the fit as much. It seemed bulkier and more rigid, and it's much more expensive.



I liked this so much I bought the no hood version as well. I like the no hood chest pocket better, the additional inner pocket, and thicker zipper. There's nothing like snuggling up in a hood though, very cozy.



It seems most of the complaints for this jacket are the versatility. I'd say it's versatile if you use it for what it is, a light jacket. It seems best fit for conditions that are variably chilly / windy / drizzly, but not outright cold. Anytime I head out and it's chilly, I grab this, not my fleece. Good for walking, hiking, casual bike ride, on a sailboat, under a shell, etc.



I really enjoy the jackets, but deduct a star for value (it's pretty expensive), and fit (Arcteryx arm lengths are typically long)
I have many Arcteryx jackets. This is one of my least favorites because of it?s lack of versatility. I almost returned it but it looks nice on for around town use. It is not very warm, wind or water resistant so the use is very limited. Want a great Arcteryx versatile jacket? Get the Atom lt.
Can this Jacket stand up to rain or will...
Can this Jacket stand up to rain or will it just soak right through? Also is it windproof at all? I own the gamma mx and dont like it because its not waterproof at all and does not cut wind at all.
Tester, the bonded-poly fleece will offer some level of water resistance but as this is a highly breathable fleece piece - it is not waterproof. Sorry to hear you're unhappy with our award winning soft shell, the Gamma MX. The Venta SV or Venta MX are great alternatives as they're constructed with Gore Windstopper and offer a higher level of weather protection.
I have the SV with no hood in Deep Dusk
Gender:

Male

Familiarity:

I've put it through the wringer
Really Cool around town jacket. Of course, around town is San Francisco and Big Sur. 182 lbs, athletic, large size, no hood - collar is sharp. In particular, the stiffness adds to holding the look, Deep Dusk is their best color.
thing, comfy rain jacket- I like it
Gender:

Male

Familiarity:

I've put it through the wringer
warm, water resistant, great hood. I'm 5'11 and 150 lbs, a medium fits well. leaves enough room for a warmer layer underneath, as well as a thick hat. Stuffs down small for travel. I've had it for about 4 years, the only problem has been the laminate over the cord on the bottom has slowly pulled apart from the inside of the jacket, leaving the pull-cord exposed. not a big deal since I have it pretty taught all the time, but still kinda annoying.
Unanswered Question
is the black more of a grey/graphite color?...
is the black more of a grey/graphite color? In the photos the jacket looks dark gray with the sleeve pocket being black. Can you confirm?
Expensive, not very effective
I have this jacket for 2 years now and wearing it mainly around town. This jacket is sufficient for my purpose but if you are looking for something technical, go elsewhere. The fabric is made from polyester with a thin layer of fleece backing. I find them neither very wind nor water resistance. The fabric is also stiff compare to my other jacket using the Windstopper fabric.
On its own, this is a good looking jacket but when you consider the price, there are other jackets with better features. If Arcteryx is your thing, save the money here and go for one of their more expensive jackets.
This jacket breathes incredibly well and is clearly deigned for ski touring. The front pockets are raised so they can be accessed while using the hip strap from a backpack. It fits well, is lightweight and comfortable. Don't buy this jacket if you're looking for something warm, it's a good jacket for wearing around town when it's about 40ºF outside. When it's colder than that, it's not a practical jacket unless you're exercising. After hiking to the top of the run, I throw a technical shell over it to ski down.
Does anyone know how long the front zipper...
Does anyone know how long the front zipper is in a size medium? Thanks
Best Answer
I just measured it at 65.5 cm./ 25.75 in. The back is longer than the front as well.
Unanswered Question
Does anybody have the measurments of the...
Does anybody have the measurments of the front and back in size L and XL??
Do we know what the sleeve lengths are on...
Do we know what the sleeve lengths are on the XL? I just received a XXL but it's far too wide at the waist and chest. The overall length on the XXL is perfect.
The XL has a 36" sleeve and fits much better.
After a year plus of use, this piece works fantastically with my layering system for backcountry skiing. I wear this for the skin in/up, usually with just a t-shirt underneath. I move fast and this blocks enough wind and snow, allowing me to stay warm and dry. During breaks, or for the ski down, I throw on a synthetic puffy and let 'er rip. Once I'm ready to climb again, stuff the puffy and I'm on my way - simple is smooth, smooth is fast. It breathes really well, although I occasionally have to unzip the front.

The piece is well made and well thought out - very minimalist. I'm 6' 180 lbs and the medium fits like a glove. The hood is warm and highly adjustable, but not helmet compatible. (I've never found myself needing a helmet compatible hood, however.) This piece easily gets 5 stars.
whats gonna b warmer this or the gamma
whats gonna b warmer this or the gamma
None of them are going to be super warm - this one is better for layering, as the gammas are softshells and this is a fleece, so it really depends on if you're looking for a warm layer or an outer layer. As far as this one goes, the description mentions "moderate warmth."
The gamma is apparently warmer (as per one of the arc' reps) I own the epsilon SV and the Gamma MX and cant tell the difference in warmth. The gamma will definitely breath better than the epsilon. If you are looking for a warm softshell jacket- Go for the Hyllus or Firee. Hope this helps.
The Gamma is more breathable? Haven't tried either so can't comment but if that's true it's a big error on Arc's part. This is a classified as a hardfleece which are meant to be more breathable but less protective than softshells. The Gamma LT might breathe better than this but this is definitely *meant* to be more breathable than the Gamma MX, which is *meant* to be a fully featured, protective mountain softshell.
I have them both. The epsilon is warmer by a little bit. I actually dont see the point for the gamma mx as its not warm,cant cut wind and is not water proof. Its ideal for 60 degree weather with no rain or wind. Kind of pointless. The epsilon I find to block more wind and is a little warmer.
I find it really hard to believe that the Epsilon is more wind resistant than the gamma. I don't have a Gamma but I am considering purchasing one for ski touring. I have the epsilon SV (no longer made) and the wind bites through it pretty good though it does offer good breathability. I cycle with it and just a base layer down to about -5 C then I'll add a short sleeve medium weight (wool jersery) for temps down to -10, I use a windbreaker over it if it is windy. I don't use it for ski touring because the wind resistance is minimal.


What can I say? Its another quality manufactured product from Arc'teryx... This jacket has replaced my daily hoody... I like the fabrics; they breathe extremely well and offer a minimum of 50% wind blocking... Its not meant to be a softshell; so blocking 100% of the wind and being 90% waterproof do not apply here... the DWR is still holding up after much abuse and the face fabric is so far snag free even after a crash on the bike through a Russian Olive tree grove! The sleeve pocket is great for change, and the cuffs are growing on me. I am 6'1" 220lbs and the XL is loose but not baggy. The hood is NOT helmet compatible, in the sense of their other jackets... you might be able to fit some climbing helmets under, but a ski/bike helmet? Doubtful, the back would be riding up to much...
I love this as my mid-layer when its not super cold, or on days with a lot of dynamic activity. The jacket is very light, soft to the touch, and fits well. Its not the warmest jacket, and its not suppose to be. Its well made, and slightly stretchy, highly breathable and looks great. It seems to bead water sufficiently to keep you dry in the fog and drizzle but run for your stingray when it pours. The two main pockets are mesh and large enough to stow a small child. This jacket would get five stars if two things were different. First, the cuffs in my opinion, need adjustable Velcro, so that you can keep the wind out and keep the jacket tight on your wrist. Secondly, the pocket on the sleeve is not large enough for my iphone. When i bought the jacket, I wanted to put my phone in my sleeve, now I'm searching for a smaller mp3 player. I've owned numerous jackets from The North Face. The initial differences between manufacturers was minuscule. After a little use, you can tell this jacket is of the highest quality materials, and workmanship. I understand why people shell out the money for Arc'teryx, and the Epsilon SV is no exception. I'm 6'1" and about 255, a XXL fit me loose and baggy.
Arc'teryx makes some amazing gear, and their quality is beyond excellent, so I was expecting something exceptional with this jacket, and it just doesn't deliver. It has the designation SV (severe), yet is not particularly warm, is not very wind-resistant, and the bonded hardfleece they use doesn't breathe as well as softshell and isn't as weather-resistant. This is essentially a very thin fleece that's slightly wind and water-resistant that has a 100% markup because it's made by Arc'Teryx. Arc makes great stuff, but they need to try again with this one. Look at the Millet Super Touring Softshell as an alternative to this, because that is what this jacket should be.