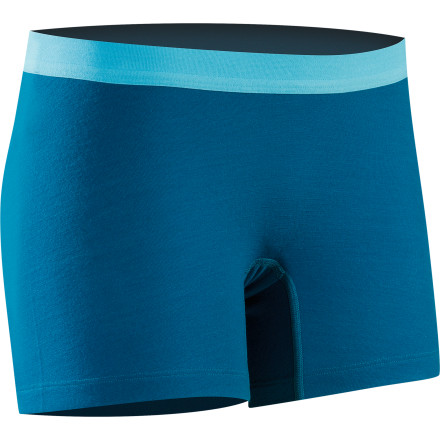 You may think, 'Wool underwear? Um, not a fan of underwear that feels like sandpaper.' Fortunately, the Arc'teryx Women's Eon SLW Boxer feels nothing like sandpaper; in fact, it feels silky, smooth, and quite awesome on your touring-toned bum. Merino is a super-smart choice for active underwear: it dries quickly, stretches, allows perspiration to evaporate right through, and insulates even when snow-sogged. (Evil boyfriend who pushed you into the powder as you adjusted your binding? He will pay. Dearly.) Anatomical shaping and flatlocked seams boost the comfy factor.
What do you think about this product?
Have questions about this product?
i was skeptical at first when i saw the waistband - it's sewn on top and not integrated into the shorts like the ortovox version. BUT - these shorts are so comfortable! The legs are slighlty longer than the ortovox ones, and don't even threaten to roll up my thighs!! Am so happy to have found these - will buy a few more pairs for sure. They even feel great under jeans.