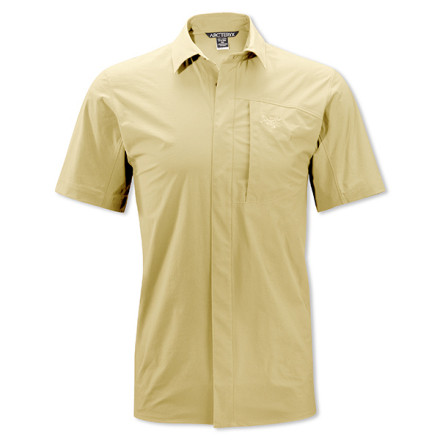 I picked up this shirt for a trip out to Baltimore in August. The material is great. It keeps the sun off and kept me dry in the humid Chesapeake air. The flight out and back were very comfortable in this shirt!
Style - Performance - Kool!
This is my favorite shirt hands down. I'm 6'5" 200lbs and the Large fits me perfect. The length is great on these, no showing off the bellybottom with arms raised overhead. The fabic is great. Quickdry and strechy. Recently wore this shirt on a flight across the Pacific where I missed a connection without my bags. Fourty some odd hours of continuous wear I didn't stink or have that icky feeling when I arrived.
Great shirt in the trail, office, and casual gatherings.
This shirt is one of my favorites now. I'm planning to get another one soon. The stretchy fabric adds to the feeling of comfort while preserving its fitted looks. I wear this shirt to the office and to casual gatherings after work (it is a nice looking shirt!). Also, I have taken it hiking and it feels cool, and light, specially around here while the Utah summer's heat is in full swing. Great shirt in the trail, office, and casual gatherings.
Arcteryx-Envoy-Shirt-Short-Sleeve
I do a lot of hike in fly fishing so I want a fabric that wont hold water or odors. This shirt does both of those things and with flying honors.

It's a bit stretchy ad it moves great with you so my shoulders don't risk tearing the seams when I'm putting on my day pack

I like the snap buttons because I have popped to many of those in the past.

In the end its a rugged shirt with great construction and versatile enough looks to wear, whether I'm hiking to a alpine lake in the Cascades or the urban concrete trails of downtown Seattle.
I was looking for a shirt that would be able to function in town (or the office) and in turn could be utilized for light trail duty. The Envoy is up to that task, and it also makes a good travel shirt.

A note on the Invigor fabric... The label says it is 100% polyester, but it feels stretchy like it has lycra in it and it has a nylon-like feel to it. This is not really a con, but I wanted to let others know what the fabric is like since I could not find too many details on it when I was looking at the shirt.