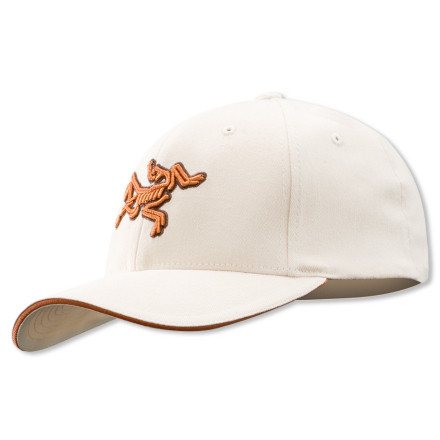 Its the only hat I wear. I have a huge head and originally thought the large I bought was to small, but after wearing it a few times it feels great.
If I had a tape that went around my Noggin...
If I had a tape that went around my Noggin and stopped at 23 inches which size would be best?
Thanks in advance!
Arc'teryx Embroidered cap sizing:
S/M (56-59cm) L/XL (59-61cm) which puts you exactly in the middle. I'd go bigger so as not to cramp your brain!
The hat is great. Seems to run a little smaller than the same size listing as my Kangols, however it is a perfect fit still. The emblem looks good on it. Every hat I purchase now has the the flex fit.
Love the hat. I own 3 Arc'teryx hats all made by FlexFit and I've never owned better fitting hats in my life. Plus there really good looking as well.
I have played baseball since I was 6, still play at 34. I'm a tough critic when it comes to hats. This will be my 4th, I own 2 caper, 1 blue, and now will have the Sahel. Perfect for hikes, after a tough day skiing or biking, pretty much anywhere. The hat will last around a year of pretty tough abuse, that's about as long as I would expect my hats to last in Colorado.

The only con is I also like the athletic fit of Arc t-shirts and hate to go all out.
I was looking for a baseball-style hat to wear while hiking, camping, etc. I found exactly what I was looking for with this hat. I like the dark-green Caper color, too.

The FlexFit system works great, and gives a fitted hat look. It has an elastic waistband looking thing that goes all the way around the hat that fits snug, but not too tight as to be uncomfortable.
Awesome hat! I got this hat in the Caper color and absolutely love it! I usually don't look to good in hats but this one is an exception. The logo is probably the coolest logo in all outdoor gear and on the back of the hat it says Arc'teryx!!! The color looks a little different to me than what is shown on this page though. The real color is actually a dark green whereas on this site it looks more smokey gray or black. But the green is awesome as well!! Love the hat, definitely reccommend it to anyone!
Flexfit, 98% Cotton, 2% Spandex. Clean lines. Very heavy, doubly layered, quality brim. White color is actually a creamy beige. Beautifully embossed burnt orange logo, very raised, not quite as gold colored as picture. Nice Stitching. I usually wear between large and XL in most hats and ski helmets, depending on manufacturer, and this hat fits me perfectly. Tall front. Warm. You will dig it.
Sweet logo and a good fit for my noggin. Plus it makes me look hot!
Backcountry.com says it's a flexfit, but...
Backcountry.com says it's a flexfit, but Arc'teryx's website says it has a velcro closure. Which does it have?
I wear 7-1/4. Which size should I order?
I wear 7-1/4. Which size should I order?
, ☃bcs_badge_alumni_label☃
What color is sahel and/or caper for this...
What color is sahel and/or caper for this hat? The picture isn't coming up on the website. I'd like the hat in the blue that's shown on the general hat page but don't know which one that is. Thanks!
The Caper color is a dark dark green. Almost brown.
Love the hat. Fits like a glove and is a simple design. Very cool.
The hat fits great and Arcteryx is a great brand to start with. My only problem has been how fast the color has started to fade. But oh well, I spend ALOT of time in the sun, and it does its job.
I'm a die hard Arc'teryx fan so this review could be a biased one but this hat is awesome. The fit is great. Arcteryx=Quality....Quite possibly the coolest logo of any outdoor company.