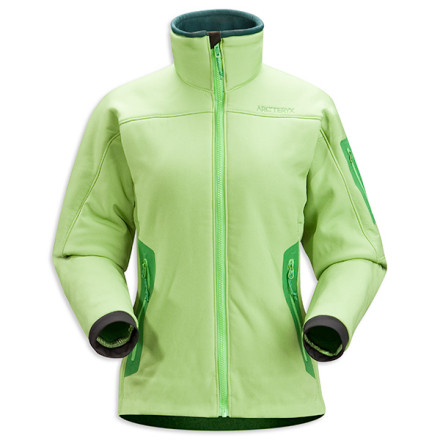 Community Images
which is warmer, northface denali fleece...
which is warmer, northface denali fleece jacket or arcteryx easyrider insulated softshell jacket
Best Answer
Hi,

It depends on what kind of warm preference and use you are talking about, and also that the Denali (made with Polartec Classic fleece, 300 weight) and this Easyrider (Polartec Power Shield) are created from two different materials which serve two different functions.

The Denali's Polartec Classic 300 fleece is a heavy-duty warm fleece made for general use. But it is not windproof. The Easyrider's Polartec Power Shield is more a softshell (defined from Polartec's website itself), and is a material that attempts to fuse some weather protection with a warmth layer. It is rated to block 98% wind, but as a comparison in terms of warmth insulating material on its own i would think it isn't as warm as the Denali. Lets just say that its a softshell material not as warm as a 300 weight fleece.

For general uses like commuting, walking to school, etc. the Denali would be a warmer bet. For this kind of use the Easyrider's Power Shield is not going to be better, even though it has wind-blocking properties (you already feel the chill before the wind blows, compared to the Denali).

For technical uses like skiing, alpine climbing the Easyrider is a better bet as it blocks the wind while keeping you warm enough (because your own aerobic activity generates heat too) but not overheat (no pit zips - mind you). Oh forgot to mention - the Easyrider's Power Shield material is fused with spandex, allowing for better stretch properties.

Hope this helps you decide better.
I had(let me stress HAD) the North Face Denali, and have tried my friend's Easy Rider- which I'm going to purchase for this upcoming winter -and there's no comparison! The Easy Rider is warmer by far! Now, I'm from New England where it can get windy, rainy, and pretty cold, the Denali does nothing when it's just a little windy. I couldn't wear it past 50 degrees in RI. So unless you want the wind to come through the jacket for ventilation purposes-and even then, this one is breatheable,too- I'd go with Arcteryx.
The Easy Rider isn't half as bulky either and it's definately much warmer(unless you live in a windless state). Plus this one is more water resistant than the Denali, too! After wearing Arcteryx, I'll never buy anything from TNF ever again! I hope this helps!
I would agree with much of the previous answer. However, my wife owns both, and she specifically replaced her Denali with this item, per my recommendation. As for static warmth, the Easyrider is very warm, if not as equally warm as, if not warmer, than the Denali. Granted the 300 fleece on the Denali is warm, but if you closely examine the Easyrider, you can see that the jacket itself is just as thick, if not thicker. Moreover, in static situations, with little or no movement or exertion, the ER will, with its Powershield frabric trap more heat than the Denali, as the ER is much much more wind resistant. With the Denali, one gust of wind and there goes your heat. The ER also has an interior zippered pocket, which the Denali lacks.
The previous poster's answer would make valid points if the Easyrider was made with just the Powershield material. However, this jacket is made with Powershield w/ high loft backer. That is what makes this jacket great. It is superior to the Denali in warmth, wind, and rain protection.
Arc'teryx Easyrider Insulated Softshell Jacket
This jacket is everything I ever wanted in a softshell. The Polartec Power Shield shell does an amazing job of blocking the wind while the soft, fuzzy, fleece interior adds enough warmth and thickness to give this jacket a substantial feel. I have worn this jacket on its own and layered. I think it is thick and warm enough to just need a shell, layering it under something like down or another insulated jacket would probably be overkill (although it depends on where you're going and what you'll be using it for). The drop tail in the back is a really nice feature, keeping you covered when you reach and bend. As for sizing, I got a medium (5'6", 135lbs) but think I would get a small if I was planning on layering this under a tech shell, it doesn't seem to be as tight as some other Arc'teryx pieces.