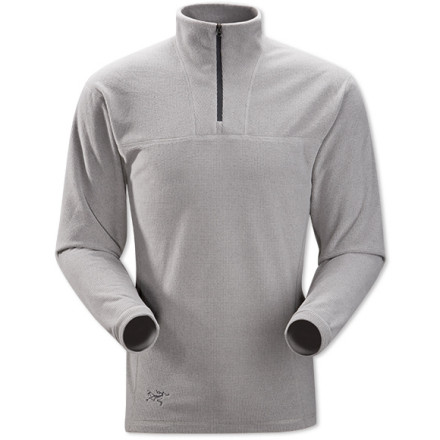 Detail Images
Nice material pants are designed great. Keeps you warm without overheating.
Thin, soft, and great for layering
This top is thin, but not at all in a bad way. It doesn't have much bulk, but provides surprising warmth when layered. It breathes very well, and can be worn as a baselayer (or can easily be worn over a thin baselayer). It fits true-to-size, being neither too night nor baggy. It is on the long side, which I tend to like in my layering pieces. In general, I tend to run warm, and for this reason overheat when wearing any sort of fleece while inside. However, the Delta LT is thin enough (and breathes well enough) that I can wear it inside. However, if I throw a softshell over it and go outside, it provides as much warmth as my midweight (and much thicker) fleece pullovers. Oh yeah... and it is one of the softest pieces of clothing I own.
Write your question here...I have a...
Write your question here...I have a Sidewinder SV in a large,& it fits good, I also have a Handler in large & it fits a little snug. If I wanted to purchase this Delta LT, Would an XL be to big? I am 6' 195lbs.
Hey Jeff, I'd recommend a Large in the Delta LT, unless you like a really loose, casual fit.
My workplace can tend to get chilly, even in the summer. I keep this light weight fleece around and wear it as much as possible. It is very soft, comfortable and warm. It is the perfect light weight fleece. As others noted, its more of a mid than light weight fleece because of the superb material quality.

I will probably get another one. I have yet to find anything superior.
Another great example of Arc'teryx quality
I have to be honest. I bought one of these on a whim. Backcountry had it on sale, and I've been an Arc'teryx fan for some time. I saw this, and although I didn't really need one, I bought it because of the great price. It is now one of my favorite 'go-to' pieces of gear. It gets stuffed into my backpack and toted all over the place ...
Lightweight Fleece that thinks it is a Midweight
I usually where this as a midlayer. Honestly, when i first got it, I felt a bit ripped-off because it was light and thin. To my surprise, it is much, much warmer than it looks. I guess that is a thumbs-up to Polartec for the great fabric, and a high-five to Arc'teryx for making a midlayer that is technical for outside adventures, yet stylish enough for casual Fridays at work.
I wear this thing year round
So comfortable and always a good layer add on. Usually just wear it alone on mild fall/spring days. I'm 6'4 230 and I wear the xxl as a pullover sweatshirt outerlayer and it's perfect
I got one of these two months ago, and haven't taken it off since. I wear it just about every day, whether alone or under something a bit heavier. It is quite possibly the softest top I own, which is saying something. It fits pretty well, just like a t shirt. That makes it much easier to fit under another layer, as opposed to comparable shirts. Another thing that is really impressive about this shirt is the warmth. As a lot of other people have noted, it keeps me very warm. However, it also doesn't overheat. I live in MS, and the temperature swings during the day are unbelievable. I can put this on in the morning when it's low 40s, and keep it on in the afternoon when it's 60, no sweat. Very helpful. Only caution would be that this is a lightweight layer. By no means should it be used as an outer layer for any cold to speak of. It works well in a chill, but nothing more. Also, it runs pretty snug, so don't buy down. I'm 5'9", 150, and wear a small that fits pretty close. This should definitely be in everyone's closet. Worth the price, no question.
He is hard to find winter gear since he overheats easily and ends up shedding everything but his t-shirt. After he got his first one, over the next two years he bought two more. They are lightweight enough to wear when he is cutting wood and still warm when sitting by the campfire. The material is forgiving and breathes very well. If you are looking for heavy weight keep looking.
Although I prefer the Delta AR for mountain activities, the LT is a much cleaner piece that looks good enought to go out on the town in. As someone below said "uber soft" That pretty much says it. Clean design and excellent detail.
I have four of these and have bought them for my girlfiend too. Like everyone else we love them but I do wish it had a least a key pocket. I wear one almost everyday as a mid layer or top layer. They hold up great and while I wish they were cheaper I do feel they are good investment.
SAME AS THE OTHER REVIEW! NOW THAT IT IS WARMING UP I CAN'T WEAR IT AS MUCH. SOMETIMES I WEAR IT TO BED, IT IS THAT SOFT AND COMFORTING.
Uber soft, warm, and lightweight. What more could you ask for in a midlayer? I'm definitely a fan.
THIS TOP FROM ARCTERYX IS A TRUE WINNER WHEN IT COMES TO COMFORT. EXCELLENT OVER MY BASE LAYER ON NEXT TO SKIN. IF YOU ARE THINKING OF BUYING ONE THIS IS A MUST "GO FOR IT."
the lightweight fleece to own
Arc'teryx does it again, making this my favorite lightweight fleece. It's soft and comfortable and the gusseted arms give you great mobility. It has great warmth for being so thin, so its great to take skiing, or backpacking when you need an extra layer for those cold nights.
This is the lightest, softest piece I own. Super versatile, it's great under an insulated jacket for resort days or over an ultralight layer under a soft shell for hiking. It kills it all the way to last call.
My favorite article of clothing
I bought this pullover about a month ago and the only time I take it off is when I sleep. I'm going to have to buy a couple more in other colors so I don't look like I only own one shirt. Like other reviewers have pointed out, it's insanely warm for how thin it is. The inverse waffle pattern of the pile does wonders.
This is so light that you won't even know you're wearing it until you realize that you are not as cold as all of the people you are skiing with. perfect. buy it now.
Awesome fleece. Initially some of the fleece stuff started rolling off, but it doesnt have that problem anymore. Its extremely light for the warmth it provides.