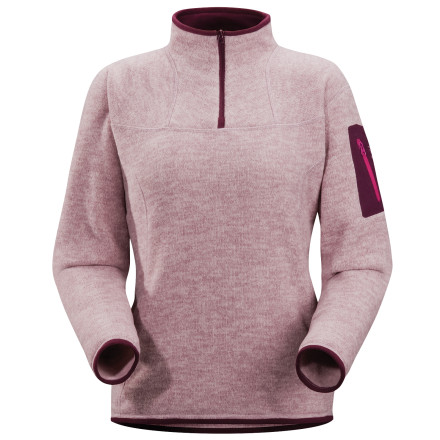 You'd like a clean, trim look in your pullover. A layer that feels soft, breathes, dries quickly, and has a distinctly wooly-looking face without actually being wool. Wow—welcome to the Arc'teryx Women's Covert Zip Neck Pullover. The Polartec Thermal Pro fabric uses a sweater knit for smooth style. Sleek design lines and a women's-specific fit cater to those who don't appreciate the boxy look. Gussets at the underarms are an added bonus—no more hem-lifting and mid-section exposure when you raise your arms.
covert
Familiarity:

I've put it through the wringer
Bought this for the wife-her second,because she loved the first one so much.She always complains about being cold-so we set her up with a few merino wool baselayers, an Arctery'x Alpha SV jacket, and a few fleece midlayers-including this one.instantly happy and not busting my shoes about the cold.She has worn this one for days she loves it so much!

This is mostly used for snowshoeing and skiing,but looks great just popping into town or on a night out.

I feel that most everything Arc'teryx makes is made for serious athletes or people who take their sports seriously.You need to be in good shape to wear this gear and it'll fit like it was made just for you.My wife is in incredible condition and everything looks good on her,but all her Arc'teryx gear look great.
I am 5'0", 115lbs...Size S works fine on me. Light and warm. Highly recommend.
I'm so sad. I have been eying this pullover for months, but wasn't willing to pay the price. Finally SAC puts one up for cheap cheap, and I ordered 2. One medium, one large because I heard it ran short. I thought "how short could it really be?". Turns out, very short! What were the designers thinking?? It's very warm, great color, great style... Just designed for the short and stout. I'm a medium accross the board, and the medium barely came to my navel, with room to spare sideways. The large could have passed for long enough, but had an extra foot of fabric on either side. I'm so disappointed. How is anybody willing to pay full price for this item??
Best new top of the season
I LOVE the wisteria. And the top fits me fine. True to size, I was on the edge of an XL b/c of my shoulders and I sometimes even sleep in it, it's so cozy. I tried the cardigan, cuz I wished for pockets, but this is the greatest. Warning for anyone with a bad shoulder: zip is a bit short. No biggee tho.
The material in this is awesome. The fit is not. I tried both the xs and the small in this one. The xs was too short in the length and the small was too baggy. With such a thick material, it just made me look bigger than I am... at 5'3" and 110lbs
I got it in basmati and I absolutely love it. It is cozy but still really sharp. I'm 5'6'' and got the medium and it was perfect in the sleeve and a little shorter than I expected in the sleeves but still a good fit.
Unanswered Question
What is the length of this sweater (starting...
What is the length of this sweater (starting from the collar down)?
Thanks a lot!
Hey-Does anybody know the weight of...
Hey-Does anybody know the weight of this?Thanks
, ☃bcs_badge_alumni_label☃
Received the raisin as a gift and love it. Very warm and the gal fit is perfect.
really nice and the cornflower blue color is very pretty. But it is too short for me. I am 5'7", have a long torso, and bought a Med and Large to try. the Med was too short and the Large was just way too big, so I returned it
This sweater has been pretty awesome. It's very soft and warm, but it does pill quite a bit.
is the arc'teryx covert zip neck pullover...
is the arc'teryx covert zip neck pullover made out of wool
Nope, it's Arc'teryx's special Polartec Thermal Pro material.
... and took it to the South Island of NZ towards the end of winter! Was wonderful to pull on after a rainy colde day of hiking and great to wear around town. Fits snug and cozy.