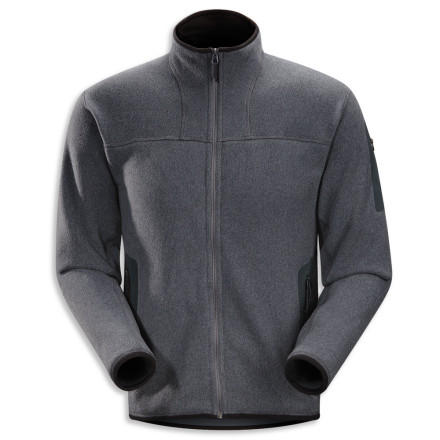 Detail Images
Description
And yeah, you deserve that pan-shaped gash on your head. Scumbag.
Take your girlfriend to a nice dinner at Chez Quis in the Arc'teryx Covert Full-Zip Sweater. After dinner, just take off your tie and the two of you can head into the backcountry for a little moonlight ski touring. Later on, when your wife catches you sneaking in the house, you'll be thankful for the Covert's breathability as she chases you around the house with a frying pan.
No-lift gusseted underarms prevent the sweater from riding up when you reach across the table for a delicious buttery roll
Full front zip makes it easy to get in and out of
Two hand pockets keep your hands warm, laminated sleeve pocket keeps your ID safe
Share your thoughts
What do you think of the
Arc'teryx
Covert Cardigan Full-Zip Sweater - Men's
? Share a...
You know that nice sweater that you where over your favorite dress shirt? Imagine adding some technical fleece and functional zippers and BOOM, you have the Covert Cardigan. full zip functionality with the comfort of a sweater. The Polartec Thermal Pro is really REALLY warm, so be careful when layering this piece under a shell or jacket, you might over heat.
Cardigan is exactly right....
Familiarity:

I've put it through the wringer

Fit:

True to size
Cardigan is exactly right.... Think of this as a comfy sweater you toss on when you're catching a chill. It aint a jacket, and it aint a fleece. It's a "keep it around your house and put it on when you're wearing a t-shirt but can't be bothered to run upstairs for something warmer."

This is my least used Arc' piece. I picked it up on SAC a couple years ago so I felt it was worth it... but for almost $200, they are way outside a reasonable price range for a piece with such limited use.

Don't like fitting and very very warm
Familiarity:

I've used it several times

Fit:

Runs small
I am glad they make the Covert Cardigan will full zip since it is a slim fit sweater. Firstly, material was great since I had the early version which is make in Canada. It is too warm for Winter condition in California so I seldom use it. Secondly, I don't think it is breathable so again, great that it is full zip to ventilate the sweater. Not a fan of the material Polartec Thermal Pro because it pile and bulky. After keeping it for 2 years and used less than 10 times, I donated it away.
Fit or Miss - Worth taking a chance
Gender:

Male

Familiarity:

I've put it through the wringer
i purchased three of these three months ago; one each in black, bison, and tungsten.

i returned the tungsten immediately since the right cuff was cut a full inch in diameter larger than the left one. not the kind of quality control i've become accustomed to from Arc'teryx.

i kept the bison and black. with just about equal wear the bison still looks brand new while the black one has pilled so badly it now looks ten years old. in fact, I've got another Arc'teryx fleece sweater (can't remember the model) that is over ten years old that looks much better...

i've contacted both Arc'teryx and PolatTec; both companies indicated an awareness of a problem with about 1% of a recent run of "thermal pro" fleece. I must say i really hope to find one or two more of these made with the "good" fleece. problem is, the only way to know is to buy it and see....

anyway, i love the cut and fit of this sweater and the fleece has such a wonderful 'hand'. from a technical standpoint, i've worn these in the nasitest of weather in the mountains of china this winter and found the thermal pro to be incredibly warm for it's weight.

despite my 'issues' i will buy again. as soon as my color/preference/size is available here on backcountry!

if not for the pilling i'd give it five! i'll update later with more info on the pilling if i'm able to find one or two more...
Runs Small
Gender:

Male

Familiarity:

I gave it as a gift but have feedback to share
Arc'teryx Covert Cardigan Full-Zip Sweater - Men's Color Blue is Nice and sweater is soft.
Ordered Large but fits too snug to the body. Defintely need a flat stomach.
Sleeve length good in Large. Side arm zip pocket very shallow.
This is a return, however Back Country Rocks!!
Will replace with a different item from Back Country.
I am sad to read the recent review of another long time owner of the covert who has reported it's not as good as it used to be.
Both of mine were made in Canada so maybe something has happened to the quality in China but I hope that it was just an anomaly.

I fell in love with this sweater the first time I tried it on at Bivouac in Ann Arbor. I got one shortly after and the nagging feeling of "I spent how much for a fleece?" quickly went away after I realized I wore it damn near every day. My wife ended up getting me another one since she knew I loved it so much and it started to show its age and use. While it resists pilling it does pill after several months of regular use. Careful use of the electric fuzz buster takes care of this and makes it look good as new. My zipper broke after 4 years and Arcteryx replaced it free (just shipping) so kudos to them.
I love the small shoulder pocket which I call the "dollar pocket" because I always keep a single folded up in there.

FIT:
I'm 5'11" 180 and the medium fits like a second skin.
Not too tight and not loose by any means. Perfect arm length and great articulation. I live in mine (have 2 black and an olive like green).

PERFORMANCE:
Wicks well, breathes great, has zero wind resistance (to be fair, it isn't claimed to be).
You can wear it next to skin as it's very soft and the seams are away from pivot points but I prefer a baselayer (T-shirt most of the time b/c I live in this thing - ha).

COMPARED TO:
Arcteryx Strato, just got one and love it. The Straot is definitely heavier than the Covert (1 layer vs. double).
I prefer the Covert for all day lounging. The cuffs are different, Covert is standard style elasticized cuffs.
The other main difference is the "weave" pattern, the Covert looks more like ribbed merino whereas the Strato has a honeycomb like pattern.
What material is this made form? Wool?...
What material is this made form? Wool? Fleece? Cotton? It doesn't say.
Best Answer
Hey RCP, this fleece is made with Polartec Thermal Pro, which is 100% polyester velour.
This is a HUGE disappointment from Arc'teryx!
This is a HUGE disappointment from Arc'teryx!

I have owned many of their pieces (jackets, clothing, backpacks, etc…) over the past 10 years, and have always been impressed by the exceptional quality and attention to detail.

I have owned 3 other Arc'teryx Covert sweaters, and this one is noticeably lower quality fleece and a sloppier overall impression. I have owned this exact piece, in this exact size (that I still wear frequently after 5 years), so I can make a direct comparison. Also, the details (zipper color, trim, etc.) don't come close to matching the image on their website.

Almost $200 is an outrageous price for this sweater.

Arc'teryx has always stood for exceptional quality gear, at an equivalent price… You got what you paid for!

Most of their products were made in Canada, and of the highest quality. I understand why Arc'teryx has shifted most of their manufacturing to China to stay competitive with other bands (Patagonia, NorthFace, etc…), but producing and selling lower quality products at a premium price seems to be the current practice at Arc'teryx.

I have always been a huge fan of everything Arc'teryx, and would happily give my highest recommendation to anything bearing their name. I am sorry to say that this is no longer true.
Unanswered Question
How does it compares to the North Face...
How does it compares to the North Face Lobo jacket,they look the same.Thanks for any output.
I bought this for around the town wear during the spring and fall. For that purpose it is perfect. This is not a technical fleece by any means. That doesn't mean that it won't do in the backcountry in a pinch, but I have found better fleece in other brands.
Hi
Can anyone tell me what size to get for...
Hi
Can anyone tell me what size to get for my boyfriend?
He is 6'4" and 172 lbs and on the slim side L or XL?
Thanks
I'm going to say a Large would work best for him in the Covert Cardigan. You could also look at the Strato Jacket from Arc'teryx which is similar in performance but slightly more trim in the torso and a touch longer in the sleeves.
Go with the Large.
I'm 5'11" 180 and the medium fits like a second skin.
Not too tight and not loose by any means. Perfect arm length and great articulation. I live in mine (have 2 black and an olive like green).

Plus 1 on the Strato recommendation, just got one and love it. It's a little heavy for all day lounging but is a great midlayer.
Incredibly awesome. Wear outside in 30 degree weather and wear inside afterwards to dinner and not be too hot or uncomfortable.
what's the most important thing about backpacking?..
looking good. haha. well, that and all the other specs gear should have that this one is a little lacking in. looks great on, and wish they had the green in this one that they have in the girls. laminated sleeve pocket is great and you can stash your phone in it or whatever. not very warm, and the wind can get into it...i highly highly suggest the apache. i have 2 and they are SUPER warm and amazing! but these do look a little cooler. other issue is they aren't super long on the torso if you're really tall and get a slimmer fit. i'm 6'2 and 170 and got the small...little short in the torso, but does reach the top of the belt. looks great tho.
I'm 5'11", 190 lbs and the L fits great. It has more of an athletic fit than say TNF Denali, which I think is rather sloppy. It isn't as warm as the Denali, because it uses a lighter weight weight fleece.

It does pile after minimal wear, however, the piling is finer than traditional fleece. I actually bought a "fabric shaver" and found that it looks as good as new once you run over it a couple of times.
Shows early signs of wear and have only wore in town. Its not warm and the wind goes right through it. I have XL and fits on the baggy side; 5'10 210lbs
not bad, but could be better
Looks great when new. Very warm and comfortable. The only drawback is that it piles, and after only two years of light-moderate use it shows signs of wear.
Can't quite make up my mind about this. Read that Amer sports, the biggest sporting company in the world, bought arcteryx from Adidas. I have a feeling theres pure marketing involved here. It is definitely a great looking piece of clothing. The wind does blow right through it, but its not advertised as wind-stop, so no surprise there...sure looks good though. Guess I'd say its not really gear, but a very nice fleece jacket.
It is a lovely cardigan but it showed strong signs of wearing shortly after purchsase. This is not what I expect of an almost USD 200 Jacket.
I bought this for my dad and he is very happy with it: warm, comfortable, and it looks fabulous too. This color is very nice.
Looks nice, feels nice, but not very warm
I have to admit I'm not an expert on 'technical' clothing. I bought this just to have a fine fleece jacket for our fall/winter San Francisco weather (40-55 degrees). I expected this thing to keep me warmer than my el-cheapo standard fleece jackets from Old Navy. But if anything, I got colder wearing this. I realize it's not a wind-proof coat, but it really lets the wind through. Maybe this would work as a layer underneath another coat.