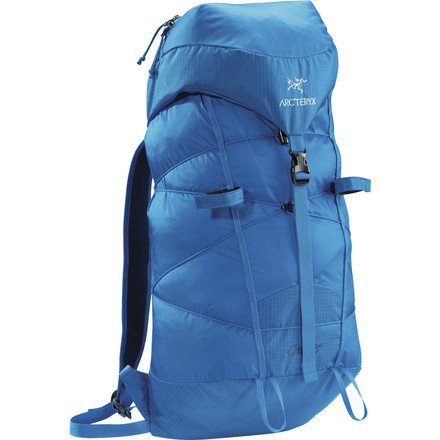 Detail Images
Arc'teryx designed the Cierzo Backpack to be a lean summit-bagging machine. The ultra-lightweight, super-strong materials give you a maximum strength-to-weight ratio so you can pack the necessities without adding even an extra gram. And, this highly compressible pack stuffs into its top lid so you can pop it out for a speedy single-push ascent or a full-tilt alpine climb.
Invista HT Mini Ripstop and Invista HT Ripstorm fabrics are over-coated with silicone for strength and water-shedding and under-coated with PU for waterproofing and seam stability
EV50 foam cushions your body, resists compression damage for longevity, and will not freeze (at least not in any temperatures found on this planet)
Removable frame sheet and sternum strap make the Cierzo versatile so you can use it for just about anything
Dual ice axe loops and removable ice axe keepers give you a place to keep your tools
Four compression straps stabilize your load
The 2cm webbing waist-belt adds support without getting in the way of your harness
just a ripstop sack
Familiarity:

I've used it once or twice and have initial impressions
there really isn't much to this bag. seriously, arcteryx, $100? It's barely more functional than the drawcord sacks you get as swag at conventions. ok, that's a bit of an exaggeration, but c'mon.. without the fossil logo, this thing would cost $30-40.



Basic pack. minimal padding on the shoulders and back panel. Back panel looks like some sort of memory-foam type material?



BIG PRO: the pack seems like it's waterproof. Siliconized inside, ripstop nylon construction. Waterproof zipper. Probably not seam sealed, but hard to tell because the seams are rolled up. (This provides water resistance on its own.)




Picked it up used, patched the holes, and got to work. Its lasted through 3 more years of all-season abuse. Really light, obviously does not stand up well to sharp metal:::: storage of A-framed skis, or crampons. the light fabric has been shredded and repatched several times. all the buckles, joints, straps, and zippers have held up well though. Have used it for excursions lasting up to 5 days, alot of stuff will fit in this thing despite it's designation as a 'large-daypack'. Perfectly suited to day pack use as well. Not comfortable when loaded heavy, but this is not what it's for. Very comfortable when climbing.



The bivy pad is easy to remove, I cut an old sleeping pad with a thicker and stiffer foam into the same shape and replaced it. This improved comfort and support, as well as shiver-bivy capability.
best choice out there but could be better
It's always hard to find a light summit/day pack in this size without a frame. Good for a follower or a leader/long day in the hills. Fabric is more durable than similar packs with the flimsy siltarp material.

Pros: light, holds a lot, durable for the weight, no frame (removable bivy pad), compresses enough to stuff in a larger pack, rope strap on top, Micro daisy for clippin' rockshoes, helmets, etc. Removable ice tool holders.

Cons:
No hydration port (easily fixed with a knife). But really!? Such a drastic oversight makes me wonder what other oversights I'll discover later on.

Shoulder straps designed for barrel chested tumblers. I'm 5'8" and need to pull the shoulder straps completely tight. So basically, they made the fabric/padded portion of the shoulder strap insanely long.

Next model? Add a floating lid, hydration port, stretchy side pockets (cilogear has this dialed), and a longer/thinner strorm collar so you can get more torso into the bad during a shiver bivy. Also a re-enforced loop on the other side of the rope strap so you can double back the strap over the rope, making it more secure.
Could I get a picture of the backpad?...
Could I get a picture of the backpad? Basically of the other side of the bag.
Best Answer
Click on the "detail photo" below the main one at the top of the page to zoom in on the exterior back panel. Here's a link to Arcteryx's page that will also show you a few details, including one of the removable padding under "alternate views".

http://www.arcteryx.com/Product.aspx?EN/Mens/Packs/Cierzo-35
Lightweight, useful, but not the sturdiest
I bought this pack for a superlightweight climbing/scrambling bag. It fits that bill, but the main hip belt buckle broke after a week, and the bag buckles feel like they could go at any time. I haven't sent it back yet, so I really can't complain, but this bag definitely has a less than sturdy feel to it, almost cheap. I guess that's to be expected with a pack this light, but a bit offputting for a company like Arcteryx, where everything I've bought in the past has been bomber.
I Want to express delivery
I Want to express delivery
What country are you looking to ship to? Certain products may not have shipping to foreign countries.
If shipping in US, express delivery is available and selected in your shopping cart.