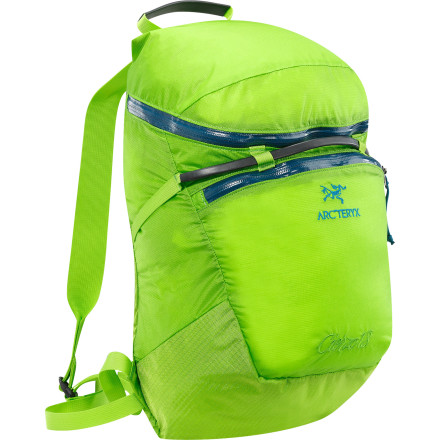 Detail Images

Community Images
Description
The lightweight pack that can go anywhere you go.
The Arc'teryx Cierzo 18 Backpack may be small, but it packs a punch. Supremely developed materials minimize weight and provide plenty of strength while remaining extremely compressible. In fact, the entire pack stuffs into its front pocket, making it ideal for day trekking or the final push to the summit.
Ultralight shoulder straps and hip-belt webbing keep the weight down
Invista HT Mini Ripstop and Invista HT Ripstorm fabrics are over-coated with silicone for strength and water-shedding and under-coated with PU for waterproofing and seam stability
EV50 foam cushions your body, resists compression damage for longevity, and will not freeze (at least not in any temperatures found on this planet)
Full-width attachment loop for your gear
Built-in tabs let you add a compression cord to increase versatility
Note: Arc'teryx products are available for US shipment only
Does this pack happen to have any kind of hydration sleeve, or spot for a bladder?
Hey Chad,

This pack does not have a dedicated hydration sleeve. Your best bet would be to have the bladder in the main compartment of this pack with the hose run through the zipper opening.
I got this pack so I could have a lightweight pack for multiple uses. I didn't have the highest of expectations until I took it to Havasupai. It was raining much of the time while I was there. The fully taped zips, and water resistant fabric were much appreciated. So cool that it can pack inside itself to stow away and take anywhere!
Versatile!
Gender:

Female

Familiarity:

I've put it through the wringer
This bag is meant to be a haul bag for multi-pitch climbs, but I have been using this for everything under the sun. Biking, camping, kayaking, light hiking, grocery shopping. The straps are made of strong webbing, so they are not comfortable for long periods of time, but for short stints, it's been great. Also, in the kayak, it's decently waterproof. It's not dry bag level, so I don't put my electronics or food in there, but it does a decent job of keeping things kinda dry, even when it's just sitting in a puddle of water.

It fits more stuff than you would think. I used this for an overnight camp out and was pleasantly surprised to find that everything fit I needed. I even had a towel and swimsuit stuffed in there. I really liked the rugged gear loop on the outside for my shoes, and portable speaker, so I could just grab my bag and have nothing left, floating around in the car. Also, it's so light and compressible that throwing it in your big backpack or climbing approach-bag is is a no-brainer.

I also use it for riding my bike around the city. The bright red color stands out, and there's plenty of room for a 2L hydration bladder, a rain jacket, and some groceries. Again, the webbing isn't meant to be worn for long periods of time, but it's totally fine for my one hour bike commute, even when wearing a tank top.

Questions? Hit me up!

Emily Jenson
Expert Gearhead
801.746.7587
ejenson@backcountry.com
Greatness in a small package
Familiarity:

I've put it through the wringer
This bag is designed for multipitch climbs, where you can attach things safely to the outside, clip the top easily to the anchor and then open it up very wide so that you can get at your food and water. Its pretty awesome for this application.



but since it is so small and packable it can be used for traveling, hiking and all sorts of other applications.
awesome bag
Gender:

Female

Familiarity:

I've used it several times
very lightweight and comfortable. perfect size for day hikes - there is more than enough space for your water and snacks. planning to take it to ice climbing too.
Unanswered Question
Capacity beyond volume? What rigid length...
Capacity beyond volume? What rigid length (ie. tent pole?) can be accommodated in this bag? 14 16 / 18 / 20"

Comparing against Patagonia Lightweight Travel Pack (11oz. 1587 cu in)

http://www.patagonia.com/us/product/lightweight-travel-pack-backpack?p=48817-0-065
Have used this bag as a daily backpack for 2 months now. Looks as good as new. Super lightweight, comfortable, well-designed. Interior pocket is is a nice touch, as well as attachment loop (good as a grab handle). Unpadded shoulder straps seem comfy to me, even with fairly heavy loads. This is a minimalist pack after all.



I used this to replace a beloved Patagonia Beeline pack because I wanted something lighter. I haven't missed the padding and straps. Haven't had a chance to use this in the mountains yet, but I think it makes a perfect bag for grabbing summits--right size for just a outer shell, water and snacks. If it won't fit in here you probably don't want to carry it.


Is there a pocket for my notebook in this...
Is there a pocket for my notebook in this backpack?
Best Answer
There isn't an internal notebook pocket
if, by notebook, you mean a computer, there isn't a specific pocket for this. For paper notebooks, the front pocket will hold accommodate this.
both the "Arc'teryx" and the "Cierzo 18" logo are the same color (a very light gray). The stock photo that backcountry.com and Arc'teryx have make it seem as though the "Cierzo 18" logo is a light blue, but I found that not to be the case. Then again, I had an Arc'teryx Firee jacket that didn't match up completely with the stock photo either.
So, this bag is killer. No doubt that the radness of this sack is one of epic proportions. I use it as my stuff-able day pack that goes into my bigger traveling bag. This a gnarly bag, the zippers are strong and stop rain, it is well structured, and the straps aren't that uncomfortable so long as you don't have 30 lbs packed in. I used to have the Marmot Kompressor stuff-able and it was not nearly as nice as the Cierzo. The Kompressor sat funny on my back and the top pouch zipper and draw string were an easy target for a thief on packed subway or bus, which always made me uneasy. The Cierzo sits well on my back and the double zipper pockets are well sewn in. There is also a little hanging pouch in the inside of the main compartment for your wallet/phone. The hip strap is nice too for extra support and the bag overall is hella light. I would buy this bag again any day. HIGHLY recommended. Hope this helps someone...cheers!
I can't find a photo of how small it is...
I can't find a photo of how small it is stuffed into its own pocket-any help?
Best Answer
See the Cierzo 18 pic above. Note that the pack can actually pack quite a bit smaller than the pocket size. This pic is the older version, but they pack down about the same.
Wish it had the padded straps of the older model
My friend owns the previous version of this pack so when ARCTERYX redesigned it with some improvements I bought it.
I use it as my crag bag and wanted to use it as a lightweight alternative to my 26 liter Osprey for multi-pitch trad climbing (carry water, rain jacket, food and extra gear).
I love the new zippers as opposed to the drawstring closer which I think is a bit more secure and keeps water out much better. It still opens very wide so i can get stuff in and out easily. I also love the new inside pocket for my wallet, phone, money, etc...
I DISLIKE the new shoulder straps. ARCTERYX indicates they changed to the nylon straps to save weight. This may be true, but it's at the expense of comfort. I used it for a 5-pitch climb at Seneca Rocks, WV. I carried two 32 ounce jugs of water (About 8.3 lbs), a couple energy bars, two sandwiches and two leightweight Sierra designs rain jackets. it wasn't much weight at all, maybe 12 pounds total. By the time I got to the top, my shoulders were killing me from the straps digging in. By the time we were repelling, I was cursing this bag and most of the water was gone, meaning the pain was from the weight earlier in the day.
I give it 3 stars because it looks cool, has some good features that make it great for going to the rock gym, or for short hikes to the local crags. but for this price, it should be good for more than just one thing. Bottom line is it's bad for multi-pitch climbing or for longer hikes. If I was to do it again, I would get the older version. maybe backcountry will let me switch.