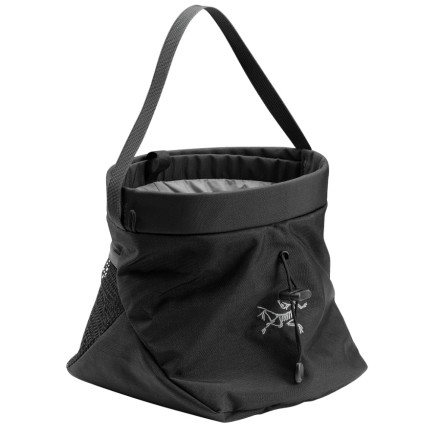 Detail Images
The Arc'teryx Caco 3 Chalk Bucket holds enough chalk for you and five of your crew to have an all-day session at the rocks or in the gym. Two internal zip pockets and a large external mesh pocket provide places for your car keys, tape, phone, nail clippers, or any other accessories that come along on a bouldering trip. A large flat bottom keeps the Arc'teryx Caco 3 Chalk Bag upright. The people at the gym would be pretty pissy if you spilled all that chalk on the mats. *Only available for US shipment.
ok for the job, yeah. Not as big as it looks and some annoyance with the drawcord if it's not filled with lots of chalk: Sometimes the cord pushes the pouch out and doesn't close anymore. I had to readjust it several times already.
Other than that, it's nice, got lots of pockets and stuff. You can also hide things under the chalk pouch.

EDIT: The cord issue is very annoying. I can't even close it anymore. Sucks.
Unanswered Question
are there dimensions on this? height width...
are there dimensions on this? height width depth?
I bought this for gym bouldering. It's everything I expected, and nothing that I didn't. It doesn't tip over, doesn't leak chalk in my car, is big enough to get both hands in, and the mesh side pocket is big enough for a big & small brush plus my keys. I dumped about 2/3 of the largest bag of Black Diamond "White Gold" chalk in it for the first fill.
The double bag design is awesome and leaves room for climbing shoes when chalk bag part is sealed off. Stays upright so no spills, unless someone kicks it over. Excellent price when compared to other bags with less storage and innovation.
Its a good Chalk bucket, but in previous review i read someone stated it didn't close all the way. We'll that is true if you dump a whole bag of chalk in it. My other pals have buckets that are bigger, was expecting for it to be larger too. There is a nice sneaky compartment to put your keys, wallet etc. Overall its a good bag, nothing spectacular. Wish it closed fully with a whole thing of chalk
this sucker is HUUUUUGE!it's a bucket!my friend has this bag and my girlfriend asked if she could use it as a purse! haha..not really...but you could store your star trek collector tin lunchbox in this puppy. i like the green one.
I should have listened to a previous review
Not as big as I would have liked to have either. I can't close it completely when I have a chalk block inside and its still difficult to close when there is only a moderate amount of chalk inside. Cool design though with many hidden pockets.
Not quite as big as I hoped
Not as big of a bucket as I wanted, and the drawstring didn't completely seal at the top. Nice product, lots of great features, but not quite what I was looking for.
lightweight, tidy and big enough for your gang at a the gym or any wall session.