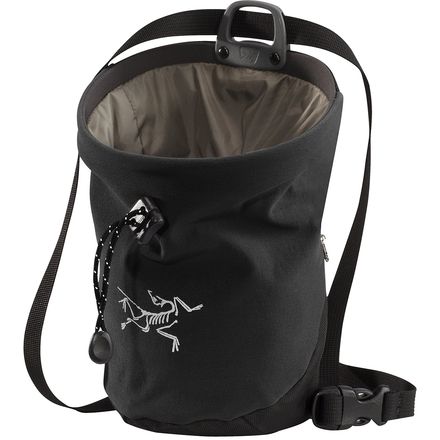 Colors

Community Images
Description
Get on the big routes with the Arc'teryx C80 Chalk Bag.
Schoeller dynamic softshell fabric gives the Arc'teryx C80 Chalk Bag a feel unlike any other dipper available, and an external zip pocket provides a secure place to stash a quick on-route snack. This medium/large-size Arc'teryx chalk bag holds plenty of chalk for a multi-pitch trad climb or full day of projecting a sport route. The C80 Chalk Bag's tapered top allows fast access, so you can get a quick dip in the middle of a crux without blowing the sequence. *Only available for US shipment.
comfortable. adjustable. highly recommend!
Excellent product / warranty policy
Familiarity:

I've put it through the wringer
I bought this maybe 5 years ago? It hasn't changed. It is the best chalkbag available in my opinion. It has a huge opening and is bigger than the other 'one-handed' bags, but just as light. Yes it is expensive - but I had mine snap recently against my back and a rock (the hard plastic ring that holds the opening wide) and Arcteryx is sending me a new one, so if you consider the life of the product, it is probably cheaper than other chalkbags that you'd have to replace.
Great besides the belt
Familiarity:

I've put it through the wringer
This is a really great chalk bag. Its size is great for someone with big hands or even for a couple people to boulder off of. It holds a ton of chalk. The only downside to this bag is the fact that you have to cut the belt to take it off and use it with a carabiner for a harness. Otherwise, it is a great bag for chalkin' up with.
Ben
brabinowitz@backcountry.com
801-746-7564
Changed the way I climb
Familiarity:

I've put it through the wringer
I used to have difficulty while chalking up on a route; getting my big sweaty mitts into a small floppy chalkbag was just not worth the hassle.

Enter the Arc'tryx C80 Chalkbag. Now I can chalk up effortlessly whenever I want. The rigid brim keeps the entrance to the chalk-cave open, and the upper nylon fabric allows my hands to seamlessly glide towards their powdery glory.

The pocket is also great for chapstick, car keys, or something of the sort.

Just be careful when climbing in chimneys! Smoosh this chalkbag and it will be permanently deformed... a sad chalkbag indeed.

Ben
brabinowitz@backcountry.com
801-746-7564
Well Done Arc'Teryx
Familiarity:

I've used it once or twice and have initial impressions
Arc'Teryx makes great quality products and this bag is one of them. It looks great and feels great and will last a long time. The opening to the bag is large so it is great when you need to quickly chalk up. I love the zipper pocket so I can put other items in there. Love it!
Finally a chalk bag that fits my hands!
Familiarity:

I've put it through the wringer
I've always had issues getting my hands into bags. Not with this one. Great product, highly recommend
The big one!
Familiarity:

I've put it through the wringer
So I've had a few chalk bags. This is the only one I love. I mean there's not too much to it. It's a bag and you put chalk in it, right? Pretty much? But! I don't really like chalk bags that I have to mess around with to get my hand in them. I love this bag because it has a huge opening and you don't have to be hanging from a 5.14c fumbling behind you to chalk up. (note: I do not even come close to climbing 5.14c?)



It cinches up fine and doesn't leak any chalk. It has a pocket on the back that zips up but I don't use it for anything. The plastic part that holds the belt is actually a bottle opener! I mean when you summit after a long day of climbing and want to drink that warm summit beer this thing works perfect. The belt works as it should. Nothing fancy about that.



All in all. This thing is great. Holds an absurd amount of chalk. Big opening to fit hands of all sizes. Except maybe like Shaq's?That dude has huge hands?
It's true what they say about size
I haven't really been the person to buy into the whole Arc'teryx brand, but I got this chalk bag and really love it.



Pros: GIGANTIC size to hold plenty of chalk and get both hands into it. Bag closes nice and tight to avoid leakage (old bag leaked like an old faucet). Big pocket in the back to hold trinkets like cell phone and/or candy. I like the thalo blue color as well!



Cons: price tag.
Great size, better than c40
Familiarity:

I've put it through the wringer
I bought the c40 a while back, and I have small hands, so it's worked really well, no complaints. I passed on the c80 originally because I thought it would be too big. However, I got a deal on one for $20, and decided to order. Turns out I like the size more. It holds more chalk, cinches up better, and isn't ridiculously large like I thought it would be. The pocket on the back is super nice, and it's typical arcteryx quality. Highly recommended, if you can find it on sale. Probably not worth the $40, but definitely for $20
Something from Arc'teryx worth the $.
Familiarity:

I've put it through the wringer
I have larger hands and before buying an Arcteryx chalk bag I would have to shake my hand out of my bag every time I used it. The best thing about this bag is the tapered opening lined with nylon which makes entry and exit very smooth. The plastic rim stays open and hasn't deformed much even when thrown in a pack. In a pack it doesn't spill or even "puff" chalk out because it closes up super tight. The material is built to last and small zipper pocket is big enough for a full roll of tape. There is enough volume for a handwarmer and plenty of chalk for a day.



Arc'teryx is notorious for having products that I would never buy at full price (or on sale most of the time) because they are just too expensive for what you get but their chalk bags are an exception to that rule.
Perfect
Familiarity:

I've put it through the wringer
I received the C80 as a gift a year ago and love it. It's not as big as it looks in the picture above,which is good, and I can get my whole hand in the bag. The pocket in the back is pretty much worthless to me, I have yet to use it once. the hard ring at the top also makes getting in and out of the bag easy during your climb, best part of the bag. the belt is easy to adjust and excess can be tied in a simple knot if you don't want to cut it. BUT $40 is a lot for a chalk bag! i can buy a $5 chalk bag, for that reason I give it 4 stars.
Fits my Hands!
Familiarity:

I've used it several times
My original purchase was the C40 version of this chalk bag. My impressions of the build quality and design of the C40 were great, but the chalk bag wasn't large enough for my hands to get in there quickly and easily. I ended up buying the C80 in Cinnabar and giving the C40 to my girlfriend (fits her hands well).



The C80 fits my hands great, and the cinch does an even better job than the C40 at keeping the contents inside. As with the C40, I love the design with the rigid ring around the mouth of the bag. No more fumbling with a floppy bag to get your hands in there. I would recommend to anyone willing to pay the premium.