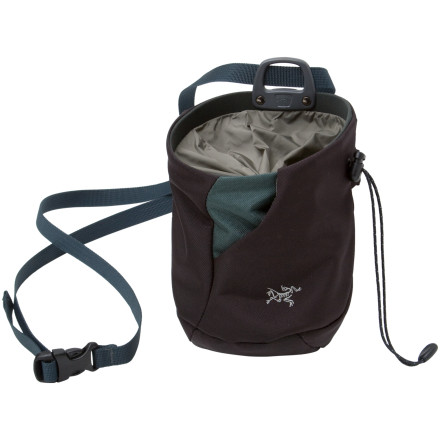 Detail Images

Community Images
Sure, the Arc'teryx C50p Chalk Bag holds a ton of chalk for long projecting sessions and big trad climbs, but it's the integrated bottle opener that really saves the day (at the end of the day). This burly Arc'teryx chalk bag withstands pitch after pitch of off-width and chimney thanks to its Superpack nylon fabric. The C50p Chalk Bag also comes with an external pocket where you can stash your keys or some GU.
Easy access
Familiarity:

I've used it several times
Bought a thalo blue, the colour is actually kind of cyan blue. The logo is in orange not red. The pocket is very shallow, dont think I would put the car keys in. Overall, this chalk bag is great of indoor climbing, if you need more chalk, I suggest to get C80.
The best thing about this bag is the tapered opening lined with nylon which makes entry and exit very smooth. The plastic rim stays open and hasn't deformed much even when thrown in a pack. In a pack it doesn't spill or even "puff" chalk out because it closes up super tight. The material is built to last.



Arc'teryx is notorious for having products that I would never buy at full price (or on sale most of the time) because they are just too expensive for what you get but their chalk bags are an exception to that rule.
First off this bag is definitely tough. I've had mine for almost 2 years and it shows very little signs of wear. A lot of people are saying that this bag is too small. The only time I have an issue with the size is when i'm at the gym and have to use a chalk ball. Any time I can use loose chalk it works fantastically. I did modify the belt so I can use it with or without. At first glance the pocket in the front looks deceivingly small to be useful but it is big enough to hold your keys. The bottle opener is a cool feature too.
C50p Gift
Gender:

Male

Familiarity:

I've put it through the wringer
I was given this as a gift. Great looking chalk bag. First, I did cut the belt at the end so I could remove it, not a big deal.Second, I find that the bag holds the perfect amount of chalk, I don't climb around needing a pint of chalk hanging off my backside. People had issues with the eyelet/pull cord coming out, I have yet to have an issue with that. I like the small ID/key pouch, angled opening is nice, it is alway in the right place. I have used the bottle opener on it once, just to say I have a bottle opening chalk bag. Great Gift!!
Okay, I've had this chalk bag for a few months now, and I have really enjoyed it. This chalk bag fits my hands perfectly, looks nice on the outside, and feels really nice on the inside. All of the Black Diamond and Organic chalk bags that I've used have a really weird material on the inside. On those, it feels like a wool blanket on the inside. But with this one, it has none of that and fells very smooth on the inside of it. The belt is very nice and fits even around my tiny waist. The only complaint that I have is that clipping it to your haul loop with a non-locker is a little awkward, but that doesn't affect me because I don't do that. I really think this is a great purchase if you are either a woman, a kid, or a man with small hands. Have fun!
When I was looking for my first bag this one caught my eye. The materials were nice, the colors were great, and hey, it's made my Arcteryx. Even though the price is a bit steep I decided to pick it up, and over time my love for this bag grew. Its a bit small, but for a good reason, its light! Really light! because it's Arcteryx I was expecting alot from it and Im continuously impressed. Its still holding up fine and has been crushed in my pack, and abused at the crag. This little bag is fantastic. Throw in the erganomic, bendable rim, and the awesome carrying pocket, this chalk bag will impress you too. The only reason it doesn't deserve five stars is the permenently attached belt.
Greetings Backcountry community, this is a great chalk bag, i have two criteria when it comes to choosing one, color and ability to hold chalk. Obviously there is no bag on the market that doesn't hold chalk so I bought this because it looks cool. Yes it is true that it is impossible to close the bag all the way. It holds enough chalk for multiple climbing sessions, if u need more get a bucket.
I don't understand how a chalk bag this size can hold so little. The inner liner is just tiny, and you can never close it all the way. Gets the job done, but there are better options out there.

Arc'teryx definitely makes some of the best gear out there, but they need to reconsider their chalk bag design.
I don't understand how a chalk bag this size can hold so little. The inner liner is just tiny, and you can never close it all the way. Gets the job done, but there are better options out there.

Arc'teryx definitely makes some of the best gear out there, but they need to reconsider their chalk bag design.
Although people say it is small, the overall performance of the bag is outstanding. It holds everything I need (great for bouldering) for a smaller accent. Friends remain super jealous of the colors, and the open mouth of the bag is surprisingly useful. Enjoy 'er!
To hold your ground up dead bird bones.
This bag is average sized, no problems getting to the chalk. Angled brim is surprisingly effective and the colors are ballin. Only complaint is the strap is apparently pretty important since it can't be removed without cutting it.
Great chalk bag. Looks good and performs well. I have 'normal' sized hands I suppose and I don't have problems getting my hands into the bag. The draw cord works really well and I haven't had problems with chalk spilling out like my friends bag does when it's sitting around in his gear bag. Tip for the strap - if you want to remove it but want the possibility of putting it back on, just cut the very end folded over sewn part and you can tie a knot or re sew it later if you like.
I prefer a bigger chalk bag myself. This bag is not very deep and does not hold very much chalk. I find myself having to refill my bag more often. Other than the size I think this is a really nice bag. I like how the bag attaches to the belt. Light and clean, overall nice bag if you have smaller hands or just like medium to small chalk bags.
It holds chalk, maybe a little small.Definitely too expensive.I guess that's what you get when you buy Arcteryx.
is this a good beginners chalk bag? if not...
is this a good beginners chalk bag? if not can you recomend a good beginner bag thanks ps. i do all my climbing in a gym
It's a great beginner bag, as well as for experienced climbers. the size is good for short climbs, but you can carry lots of chalk if you start climbing multi-pitch, too.
This is a great bag, but if you have big hands you may have a problem getting your hand down in the chalk. The bag is a little smaller than most others I have seen, but it is a great bag and I haven't had a problem with mine.
a little small. love the pocket
I like (w/ slight modification)...
I've used my new bag a few times and really like it. It bothered me that the belt strap was not removable and I didn't want to cut it so I solved the problem by using a seam ripper to undo the end of the strap that was folded over. Now I can just remove the plastic clasp and slide the strap through the plastic belt slit/bottle opener when I want to attach it to my harness and put the strap back on when I'm bouldering. I was thinking that I would have to burn the end of the belt so it wouldn't fray but it turns out that it's already been done for me-yay!
Pretty good but sometimes tough to get your hands in the bag.
I like that I have a place to put my keys.
They should make the belt removable,sometimes I do not want to use the belt!