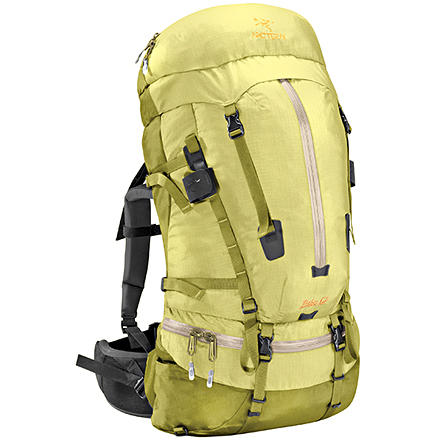 The Arc'teryx Briza 62 Women's Backpack pulls out all the stops to help you comfortably carry big loads on overnight backpacking trips. Thermoformed straps and two 6061 aluminum stays help support the weekend load that this backpack carries. Arc'teryx made the Briza 62 Backpack with burly 630D Ripstorm nylon to ensure durability and keep it going strong every season. A large front pocket, bottom sleeping bag compartment, and full side access give you plenty of organization options when you hit the trails with this incredibly comfortable Arc'teryx backpack. *Only available for US shipment.
Unanswered Question
Is it typical for the regular sized pack...
Is it typical for the regular sized pack to come with a hipbelt that is sized small? Is that the correct hipbelt for that pack?
How does the torso adjust? I just got the...
How does the torso adjust? I just got the pack and can't quite figure out how to adjust the torso height.
The shoulder harness on the Arc'teryx Briza 62 is attached by a velcro pad. To adjust the shoulder harness: place the pack on the ground-harness facing away from you. take both hands (palms away to avoid bloody knuckles) and slide them between the harness and pack body to detach the velcro. place harness where it needs to go and press it against the pack body. Done.
Does this pack have stretchy pockets on...
Does this pack have stretchy pockets on the side for water bottle storage?
The water bottle pockets on the side are fabric, not stretch mesh, so they hold the bottle really secure. You can also tuck the pockets away if you're not using them. Additionally, there is a port in the lid of the pack so you can carry a reservoir there.
Do you need a rain cover for this pack?
Do you need a rain cover for this pack?
It depends on how hard it is raining, and how long. If you plan on doing a trip, and expect a lot of precipitation, then grab a rain cover. Other than the bad rain, it is pretty water resistant.
Does this pack cinch down well when not...
Does this pack cinch down well when not filled to capacity?
You can basically smash it down flat, and pull the sleeping bag compartment up, too. I'd guess you can take it down to under 30 liter size using the compression straps.
Best Answer
It can go as low as the tops of the shoulder straps and about as high as the bottom of them
Does this backpack have a detachable...
Does this backpack have a detachable brain?

Thanks!
thats about the only thing it doesnt have! Arc'teryx is the way to go.
yes it does. The brain is where the hydration reservoir is stored, so it can even come with you on a summit day. The brain also has an internal hipbelt (so you don't have to remove the one from the pack's frame).
Back problems? Get fitted.
I love this pack. It's got all the features a girl could want in a backpack and it's a nice looking pack. I agree with what has been said in other reviews. But I'm sending it back and here's why-- I have scoliosis and the way this pack fit on my body, especially with a full load was just all wrong. I made all the adjustments I could make, but to no avail. The internal frame, the stays, the belt, the shoulder and adjustments straps just don't work for my body type. A backpack is something you may carry with you for many days and hundreds of miles-- don't take it lightly. If you have back problems or a strange body type, go to an outlet or store where there is a knowledgeable employee who has done lots of backpacking and worked with lots of people and get a pack that is right for you and have it custom adjusted. Your pack will become like a symbiotic life form attached to your body, so it's really important that it fit you perfectly. Also, do some research and ask lots of questions about how to load your pack, particularly if you are short. If you are short, you want the heavy stuff in the bottom and this will effect the type of waist belt and shoulder strap adjustments you need. It makes the difference between walking with stability up the scary ridge or losing your balance and falling to your death.
Nice pack but a little too heavy for the size. I have a cilogear pack now.
This pack is the only pack that I could find that has all of the features I was looking for. It is large enough for extended trips with a sleeping bag, pad, tent, warm clothes, etc. It would also work well for long trips abroad. I can't imagine ever needing a larger pack than this. It also cinches down to a much smaller size when it isn't full.

IMPORTANT: There are two difference to take note of

1. Even though it isn't listed in the specs, there IS a detachable waist pack for day trips. You simply take off the pack lid which has a separate belt built in. This was a big reason I bought the pack. I'm not one for fanny packs but I discovered the belt is long enough that you can wear the waist pack as an purse.

2. The berry color is not as bright as you would think from the picture. It is a very cute deep raspberry.
i use this pack mostly for every day cragging. it doesn't seem too bulky when it's not full, but it has the potential to carry gear, rope, water bottles, food, and extra clothes no problem. the bottom and side zippers are great for access. the only thing i did not like was the water bottle holders on the sides are not removable unless you cut them off. otherwise i am very satisfied...so far.
i am 5'8"...what size of bag should i...
i am 5'8"...what size of bag should i buy....regular or tall?
Best Answer
It's more important to choose the right size pack using the torso length measurement. To find your torso length, measure your back along the spine from the the top point of your hipbones to the knobby bone at the base of your neck. This will give you a measurement in inches that will determine the correct pack size.
What is the recommended weight limit for...
What is the recommended weight limit for this bag?
Best Answer
I wouldn't carry anything this heavy but the Briza is very capable of carrying loads up to 55 lbs.